The work of Texan musician Daniel Johnston is built on a terrible catch-22. On one hand, he's a man with a long history of mental health issues. On the other, he writes unique songs, touched by love, Satan and a love of rock'n'roll. How far can he have one without the other? To a degree, this is the uncomfortable place in which Johnston's work exists to this day. Admired by the Texan psychedelic punks into whose scene he stumbled in the early-80s, and later by Kurt Cobain, Johnston's career – paradoxically, he is ambitious – has nonetheless, thanks to his illness, been hairier than most, while occasionally yielding beautiful songs. A new album, Is And Always Was, is a strong one, so all being well, these should prove great shows.
Bloomsbury Ballroom, WC1, Sat; Concorde 2, Brighton, Sun; Union Chapel, N1, Mon; The Masque, Liverpool, Tue; Manchester Town Hall, Tue; Queen's Hall, Edinburgh, Wed; The Sage, Gateshead, Thu; Brudenell Social Club, Leeds, Fri
John Robinson
Given their furry name, when Grizzly Bear first emerged, the band seemed naturally to be of a piece with Animal Collective – a comparison which made far less sense then than it does now. Currently makers of an odd, pastoral rock music, Grizzly Bear's latest album Veckatimest sounds like Jeff Buckley playing covers of early Genesis, a parade of pretty voices and deep spookiness that proves completely entrancing. Maybe even more noteworthy, though, is how the songs of Grizzly Bear's Ed Droste and Daniel Rossen have attained commercial success. Following on from the heavy rotation of their track Knife on TV, the group have lately taken this music – rococo flourishes, creepy moments and all – into the heart of the US Top 20, the better to perform their extraordinary work.
Barbican Hall, EC2, Sat; Vicar Street, Dublin, Sun; O2, ABC, Glasgow, Mon; Manchester Cathedral, Wed; Leeds Metropolitan University, Thu; Anson Rooms, Bristol, Fri
John Robinson

Violinist Dominique Pifarély's languorous slides of long notes and buzzy, preoccupied mutters might serve as a neat summary of just how jazz improvisers take an instrument's tradition and a musical language and wrench it into a unique identity. Pifarély has played cutting-edge music with frontline European innovators since the 1970s, including UK composer Mike Westbrook, French piano genius Martial Solal and German drummer Günter Sommer. He also has a long association with New York saxist Tim Berne, who joins him (along with bassist Bruno Chevillon and keyboardist Craig Taborn) in this highly promising one-off. The mix of Berne's rhythmically devious, ducking-and-diving alto sax phrasing and Taborn's rich acoustic/electric soundworld is familiar to British audiences, but Pifarély's irrepressible violin lines and tradition-splicing approach should give their appetite for the unexpected a further twist.
The Vortex Jazz Club, N16, Mon
John Fordham
South African-born but now Irish resident Kevin Volans remains a hard composer to pigeonhole. Some of his music, including the string quartet that brought him international recognition in the early-90s, White Man Sleeps, would fit under the broad umbrella of minimalism, though Volans's use of African melodies and rhythms creates a totally individual musical world, while other pieces seem closer to the American experimental tradition of composers like Morton Feldman, and take part of their inspiration from the visual arts. Volans reached 60 in July, and concerts to mark the occasion have been conspicuous by their absence elsewhere in this country. But the Wigmore Hall is doing its bit, designating today as Kevin Volans Day. There's a film and a public interview as well as two concerts featuring the Smith Quartet, and the percussionist Jonny Axelsson, while the composer himself appears as pianist in the first performance of his viola:piano.
Wigmore Hall, W1, Sat
Andrew Clements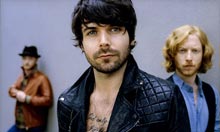 It's a crowded place, the music of Biffy Clyro. Much-loved by their fanbase, the Scottish group still seem pulled in many directions: towards heavy rock, to hardcore, and even to emo balladry. Boundless creativity or more a case of wanting to cover all the bases? New album Only Revolutions, sees them keeping their career firmly on track, from the super-compressed production to singer/guitarist Simon Neil's unappetising transatlantic vocals. The spectacle of their live show, however, is held to be where they do their most missionary work.
Caird Hall, Dundee, Sun; Barrowland, Glasgow, Mon & Tue; O2 Academy Newcastle, Wed; O2 Academy Leeds, Fri
John Robinson
Few vocal groups have consistently maintained quite such a wide repertoire as the Hilliard Ensemble, whose programmes range from the medieval period to the present day. Their two-day residency at Wigmore Hall gives a taste of those broad sympathies. Both evenings consist almost entirely of English works, but where the first concentrates on the 16th century, with liturgical music by Thomas Tallis, John Sheppard and Christopher Tye – all composers associated with the Tudor Chapel Royal – the second is bang up to date. The Hilliards will be joined by the Arditti Quartet for a concert which includes premieres of works by Simon Bainbridge and James Clarke, alongside John Casken's Sharp Thorne and Jonathan Harvey's Second String Quartet. Then the Hilliards team up with the soprano Monika Mauch for a selection of luscious madrigals by Gesualdo and Roger Marsh's Il Cor Tristo, which sets passages from Dante's Inferno.
Wigmore Hall, W1, Fri & 7 Nov
Andrew Clements