Bowerbirds, On Tour
Residents of a trailer in the woods, Bowerbirds, a duo from Raleigh, North Carolina, are a group enjoying what you might call "The Bon Iver effect" – that's to say, the apparent simplicity of their music chimes awfully well with the story of where it was made. Undoubtedly there's a folksy simplicity to what Bowerbirds do. The songs of main man Phil Moore are about birds, trees and the restorative power of nature, a not unattractive mixture of Henry David Thoreau and Bill Oddie. His partner Beth Tacular, meanwhile, herself a maker of folk art, supplies subtle accordion accompaniments. It's true, the world currently has no great shortage of such bands, but Bowerbirds would seem to be unaware of this – coming as they do from a place almost literally off the beaten track.
Cargo, EC2, Tue; Brudenell Social Club, Leeds, Wed; Clwb Ifor Bach, Cardiff ,Thu; Sneaky Pete's, Edinburgh, Fri
John Robinson
Composer Portrait: Simon Holt, Cardiff
Though no major new works are scheduled until 2011, Simon Holt's relationship with the BBC National Orchestra of Wales as its composer in association is already paying dividends. His Proms commission from last year, Troubled Light, was written for the orchestra and its principal conductor Thierry Fischer, and Holt composed a short piece for the opening of BBC NOW's new home at Hoddinott Hall. Now Fischer and his orchestra are presenting a portrait concert of Holt's music, which includes three of his finest orchestral works. Syrensong, also a Proms commission, back in 1987, was one of Holt's earliest successes; Minotaur Games is an orchestral depiction of the mythical beast and his Cretan labyrinth; while the violin concerto Witness To A Snow Miracle, first performed in 2007, is the most entrancing of all Holt's works to date, full of the textural sleights of hand and teasing tangents that make his music so fresh and distinctive.
BBC Hoddinott Hall, Wales Millennium Centre, Wed
Andrew Clements
Fleetwood Mac, On tour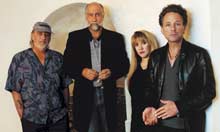 If you needed to describe the 1970s in two words, "Fleetwood Mac" would do pretty nicely. Some of this is down to what we know about the group outside the recording studio – all heavy relationship drama and era-defining drug problems. More significantly, the band put all this into their music, creating along the way a divorce rock triptych – their Fleetwood Mac, Rumours and Tusk albums – which brought sumptuous musical expression to the phrase "we need to talk about us". Most of the Mac's music still sounds great, a canon that will be faithfully revisited here by Mick Fleetwood, John McVie, Stevie Nicks, and Lindsey Buckingham – Christine McVie could not be tempted out again.
The O2, Dublin, Sat & Sun; Manchester Evening News Arena, Tue; Wembley Arena, London, Fri
John Robinson
Mayer Hawthorne, London
If Amy Winehouse had looked outside her friends and family for people to sign to her new record label, you get the impression she could have arrived at Mayer Hawthorne. In common with Winehouse producer Mark Ronson, Hawthorne is someone bringing a hip-hop influence to bear on a classic source material: soul. From Ann Arbor, but seemingly styled by Jarvis Cocker, Hawthorne is a strange mixture of influences, but there's no denying the tastefully-acquitted classicism of his current debut album. Smokey Robinson-style vocal chops, a tightly-drilled band … Hawthorne has (like Jamie Lidell and Eli "Paperboy" Reed), great taste, and his attention to detail is pretty much perfect. But until he writes a song with the character of, say, anything on Back To Black, his act, while good, tends towards pastiche.
King Tut's, Glasgow, Sat; Hi Fi, Leeds, Sun; Metropolis, Bristol, Mon; Queen Of Hoxton, Tue & Thu; Roisin Dubh, Galway, Fri
John Robinson
Portico Quartet, On tour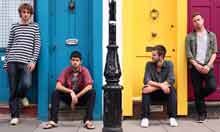 Portico Quartet's new album, Isla, is a step or two outside the band's original comfort zone – Steve Reich/Philip Glass minimalism warmed by the soft chime of their trademark Hang drums. They'll retain the fans that first discovered them as South Bank buskers, or as the 2008 Mercury jazz nominees, with plenty of new music that sustains the first successful mix. But Isla, recorded at Abbey Road by sometime Radiohead producer John Leckie, introduces electronic effects from robot-bleeps to string-orchestra swoops to widen the soundscape. The band have already performed a few village hall gigs to road-test a more demanding way of working live, and they tour with sound texture trio Sweet Billy Pilgrim in support.
Bristol Old Vic, Sat; The Anvil, Basingstoke, Thu
John Fordham
Hermeto+, On tour
Maybe Welsh composer/pianist Huw Warren isn't quite as theatrical a figure as the avuncular, huge-maned and Santa Claus-like Brazilian multi-instrumentalist Hermeto Pascoal. But in celebrating Pascoal's beautiful, dancing, labyrinthine tunes, Warren gets pretty close to evoking the spirit of a unique contemporary musician, and adds plenty of elegantly apposite music of his own as well. A formidably resourceful and highly lyrical piano improviser, Warren also plays accordion, has explored Welsh folk music and classical forms and worked with big bands. These gigs launch Warren's new Hermeto+ album, which intersperses Pascoal and Warren material, and also draws on the vigorous imaginations and techniques of Austrian bass virtuoso Peter Herbert and the British drummer Martin France.
Seven Arts Centre, Leeds, Sun; Vortex, Vortex Jazz Club, Mon; Dempseys, Cardiff, Tue
John Fordham