According to Sonic Youth, 1991 was the year punk "broke". To look at the lineup of ATP's Nightmare Before Christmas, you'd think the event had been convened solely as a total-immersion simulation of that year: a time of "indie curtains", long-sleeved T-shirts, and distortion. Curated by My Bloody Valentine, lately architects of a feedback-strafed comeback, the bill nods to the modern – the Horrors, and No Age are deemed worthy – but, really, it's all about noise nostalgia. Sonic Youth, J Mascis, Swervedriver, Harmony Rockets (the free jazz spin-off of Mercury Rev), even That Petrol Emotion … Had things turned out a bit differently, you could imagine Nirvana being at home here, too. As it is, this is a reminder of what alternative rock sounded like before anyone realised being creative was an especially alternative idea.
Butlins Holiday Centre, Minehead, Fri to 6 Dec
John Robinson
When an actor phones something in, it's generally a bad performance. It says something about the presence of YYYs singer Karen O that when she appears on the current Flaming Lips album making animal noises at the end of a phone, it's one of the talking points on the record. That fleeting appearance is only the tip of what's proved to be a hectic year. She's provided the soundtrack to Where The Wild Things Are (the film by her former boyfriend Spike Jonze), while more significantly, she earlier this year fronted It's Blitz!, an album which saw the YYYs visiting a new place: dance. The album proved an object lesson in why big bands should take more risks, not less. Synthesizers, took the place of Nick Zinner's guitars, but such is the band's character, it shone through, regardless.
O2 Academy, Leeds, Sun; O2 Academy Brixton, SW9, Mon & Tue; O2 Academy, Newcastle upon Tyne, Thu; O2 Academy, Glasgow, Fri
John Robinson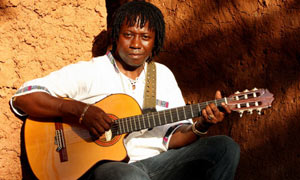 When Spanish ships carrying enslaved Africans were wrecked in the Caribbean near St Vincent in 1635, the surviving prisoners found a new home for the African vocals-and-drums tradition that came to be called garifuna. The British exiled the survivors' descendents to Honduras, where the powerful, passionate Aurelio Martinez was born in 1976. Martinez comes to London at the invitation of Youssou N'Dour as part of a three-day multi-arts showcase, introducing UK audiences to his exhilarating modernisations of the garifuna and paranda traditions. These communal, percussion-driven, call-and-response styles represent some of the freshest, least-discovered sounds in world music.
Union Chapel, N1, Fri
John Fordham
Richard Barrett turned 50 this month. In recent years his music has regularly been heard at the Huddersfield Contemporary Music festival, where his interest in electro-acoustic music has chimed well with the current artistic regime. This year is no exception; one of the opening events was the UK premiere of Barrett's Opening Of The Mouth, and the final weekend includes the first performance of another major work, commissioned by the London Sinfonietta. Mesopotamia – for 17 instruments and electronics – is the fifth instalment of an eight-part cycle, a multilayered piece inspired by the waves of civilisations that have left their imprint on what is present-day Iraq.
Bates Mill, Huddersfield, Sat; Queen Elizabeth Hall, SE1, Thu
Andrew Clements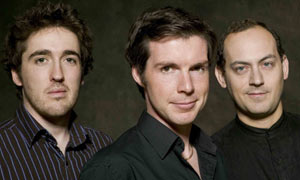 Pianist, composer and occasional French horn player Gwilym Simcock, 28, is edging towards a global jazz reputation. Like Chick Corea (who's called him "a genius"), Simcock's such a natural musician and fast learner that the temptation to try everything – solo shows, duos, trios, orchestras, improv – is irresistable, though he seems to draw the line at electric instruments. Simcock's new double album finds him working on his own, with a classical cellist, and a superb trio. For these gigs, he'll be joined by guests including saxists Julian Arguelles and Stan Sulzmann, and Austrian guitar star Wolfgang Muthspiel.
Pizza Express, W1, Sat to Thu
John Fordham
Even if you've not heard of them yet, you'll recognise Dead Confederate. Or to be more accurate – in the shape of singer-guitarist Hardy Morris – you'll recognise some a couple of indie rock archetypes: this is evidently someone who carries the weight of the world on his sloping shoulders, much as Radiohead's Thom Yorke did circa Creep, or Kurt Cobain around the time of Nevermind. In short, this Athens, Georgia, band are unafraid to engage with music that's emotionally charged, and to do so in as noisy and melodic a way as possible. A plausible cross between My Morning Jacket and Nirvana, they play what you might call epic country rock: it's filled with slide guitars and mournful, Fleet Foxy vocals, but also dynamic in the most quiet/loud, modern-rock kind of way. The band's Wrecking Ball album has already turned heads in the US. Now the south is rising again here, too.
Hoxton Square Bar and Kitchen, N1, Tue; Jericho Tavern, Oxford, Wed
John Robinson