If their festival appearances had led you to believe they were just like everyone else, then lately the Flaming Lips have served notice that they are weirder than anyone could have imagined. Last year, there was their Christmas On Mars movie, a plotless and bizarre folly that seemed destined to be understood by about a dozen people. This year, there's the band's Embryonic album, also a plotless and bizarre folly, but in a far more thrilling way. Chaos rules: elements of Can, Miles Davis and the Lips' own melodic sense run riot over a double album. Live, however, you can be assured that the band have not entirely relinquished the crowd-pleasing antics that got them to their current exalted position. They may be chaotic. But they're not stupid.
Troxy, E1, Tue, Wed; Guildhall, Portsmouth, Fri
John Robinson
Peter Maxwell Davies's first opera has not been seen, or even heard publicly in Britain since the 1970s. The Royal Opera, which premiered Taverner in 1972, revived its production once, but since then the neglect of what is one of most significant British operas of the last 50 years has been total. So the BBC Scottish Symphony Orchestra's concert performance, part of Glasgow's celebration of Maxwell Davies's 75th birthday, is a precious chance to get to grips with this challenging yet blazingly theatrical score. Martyn Brabbins conducts this performance, with tenor Daniel Norman as John Taverner himself.
City Halls, Sun
Andrew Clements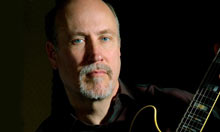 Guitarist John Scofield's expressive balance of anthemic blues phrasing, vocalised sounds, subtly deployed electronics and interpolations of funk and jazzy swing make a pretty apposite overture to the 10-day 2009 London Jazz Festival. Scofield plays the opening night with his Piety Street Band, the group that recorded his hard-grooving treatment of a selection of gospel classics. He started out playing rock, blues and gospel/R&B before he acquired a Berklee School jazz education, so when he decides to party with hot-licks groups, he always sounds as if he's enjoying himself. For Piety Street, Scofield assembled a band of gospel specialists, but he kept his own variations at the core of the venture. Gospel fans will be fascinated to hear how their music is inventively massaged without being pulled out of shape, even if there might be just too many semaphored turns for some jazzers.
Queen Elizabeth Hall, SE1, Fri
John Fordham
With Birmingham Contemporary Music Group set to introduce David Sawer and Richard Jones's retelling of the Rumpelstiltskin story less than 24 hours after Opera North unveils Jonathan Dove's new children's work, there's obviously a potential new audience for music theatre currently being cultivated. Dove's opera, Swanhunter, follows on from his 2007 success The Adventures of Pinocchio, and like that work has a libretto by Alistair Middleton. The latest piece is on a far smaller scale – with a handful of singers, a six-piece instrumental ensemble – and lasts just over an hour. It's based on one of the stories from the Kalevala, the storehouse of Finnish mythology that inspired so many of Sibelius's works.
Howard Assembly Room, Fri to 22 Nov
Andrew Clements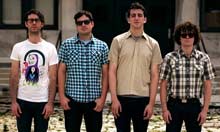 2009 has been a fine year for American indie rock, ancient and modern. It's brought the ecstasies of Animal Collective and Grizzly Bear, but it's also provided blasts from the past like a new album from Dinosaur Jr, and news that Pavement are reforming. Hearing their Why There Are Mountains album, it's difficult to see to which might most please Staten Island's Cymbals Eat Guitars. To judge by their fondness for Arcade Fire-like bursts of theatrical noise, you'd think it was the latter. To hear them in the full flight of a Mercury Rev-style epic, or their Steve Malkmus-like vocals, however, you'd definitely suspect the latter. At the moment, there's a slight tendency to quirkiness at the expense of tunes. Ultimately, though, this seems less a problem, more a dedication to the genre's finer details.
Rough Trade East, E1, Mon; Troxy, E1, Tue, Wed; The Lexington, N1, Thu
John Robinson
The LA Times has described composer-percussionist Lukas Ligeti as a "musical Superman", and on this UK tour he'll be unveiling his own blend of influences – the downtown New York jazz of John Zorn, African rhythmic ideas, contemporary classical music and electronica. He's the son of celebrated Hungarian composer György Ligeti, but his musical development has mostly been in the US since the late-90s, where jazz, improv and experimental music reshaped his early learning and gave him a significant place on the New York scene as a highly creative drummer. Ligeti's compositions have been interpreted by the Kronos Quartet, the London Sinfonietta, Bang On A Can and Ensemble Modern. Here he plays solo percussion on computers, and the electronic marimba lumina, drawing on samples from his African travels and his life in America.
Holywell Music Room, Fri
John Fordham