Dear Kele,
I am not sexy enough! I see you and wish I could be somewhere close to your level of sexiness. Or, even better, a bit like Russell. Could you please give me some tips on how to achieve this? I am desperate.
James,
Leicester

Babes, you've just got to own it. Sexiness is a state of mind and, in my opinion, there is nothing sexier than confidence. If you've got a pot-belly, start wearing some midriff exposing crop tops. If you've got a hunch back, throw some glitter on it and start vogueing down at BoomBox. Getting to where Russell and I are right now wasn't easy, it was an exhausting process of reinvention (trust me, I have the dodgy secondary school photos to prove it!) but now we are here and we can offer our advice to any emerging swans in ugly duckling garb. In the words of one of my sexiest heroes and the mistress of chameleonic reinvention, you've got to "express yourself, don't repress yourself" because at the end of the day, that's what is hot!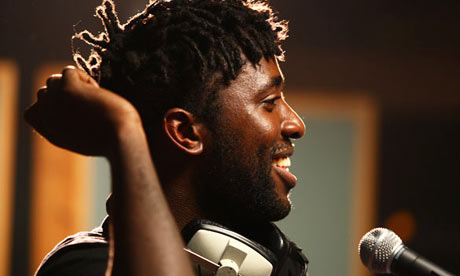 Dear Kele,
If you could have sexy time while listening to any record, what would that record be?
Fondly,
Eric
To be honest, Eric, I've never been so good with music during "sexy time". I can kind of get distracted and, anyway, I much prefer the natural music that two bodies make, if you catch my drift? But I would say something insistent and bass-heavy – maybe some sort of Ministry of Sound compilation – would be good. Banging, in fact! Although I am reminded of a time an ex put on Ravel's Bolero as a joke. What started as a sensuous tease ended up as a sticky, intense crescendo for all involved. Result!
Dear Kele,
My girlfriend and I have been together for almost a year - the sex was pretty frequent and hot to start with, but recently things haven't been feeling the same. I brought up the subject the other day, and she suggested a threesome to spice things up. I was kind of into the idea at first, until she clarified she wanted the third party to be another man! I'm the first woman my girlfriend has been in a relationship with and now I'm worried she's missing something that I definitely can't give her ... should I go with it to try and help my relationship? Or should I tell her pretty ass no?
Please help Kele!
Anxious from Bristol
Ah, the good old double team. Why not pick one of your best friends? EVERYONE wants to have sex with their best friend. Maybe vet him first, though. Take him out for a friendly game of badminton and then surreptitiously check his junk out in the showers afterwards because a) if there's the slightest chance that his balls might accidentally whack you in the face during the course of the proposed threesome, you want to make sure that there's nothing gross going on down there, and b) it would be pretty embarrassing if he happened to have a massive wang. Oh! I've just noticed you're a woman! I was answering this question thinking you were a man. I had the whole thing mapped out in my head, too. Hmm. Well in that case, I say just get involved and if the balance starts to tip in the third party's favour, just go at him until he starts screaming and jumps out the window (er … that's quite enough of this for now – ed)