It almost didn't make the album because it was too "nasty" to release, but then it was decided that it was not "nasty", but a "fun song" with "great energy" that "reads well".
Ladies and gentlemen, original American Idol winner Kelly Clarkson is back. And this time, she's shouty. Oh alright, since it's a prerequisite of winning the damn programme in the first place, she's back, and she's shoutier.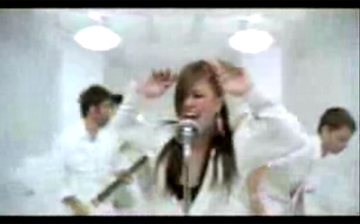 Apparently based on a real-life break-up of Kelly's, the video is open to a number of readings.
It begins. Kelly Clarkson, winner of American Idol, is sinking in the bath, in a shot damn reminiscent of the film What Lies Beneath. She looks either very pensive, or dead, then disappears underwater.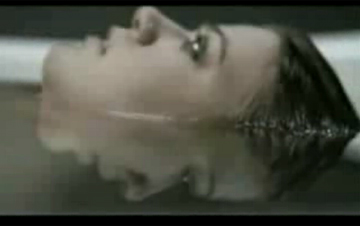 The blurred figure of a man removes his hands from the water, and desultory bubbles rise after them.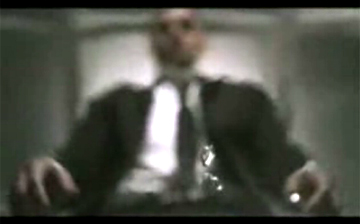 No fan of in-bath farting, he turns and leaves...
The man, let us call him Kevin, climbs into a nice car, shakes water off his hands (so that we know he was the same man that was in the bathroom just now) and receives a text message that reads "Suitcase Airport ASAP", which is either in code or written by a anti-grammatical moron. We shall look into this in greater depth later.
Kevin pulls out of the drive, and in doing so, knocks over the wheelie bin. We are not to know till later, but this is a crucially important plot point.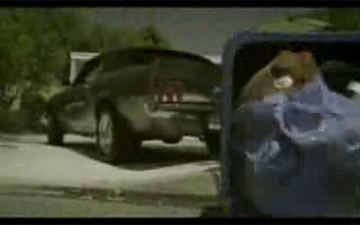 No, I'm not telling you why.
Every now and again, we cut to shots of Kelly and her band playing the angry/fun/energy-filled song in a white room, all dressed in white. Perhaps in heaven, where they don't stock white bras in her size.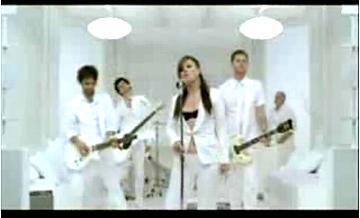 Kevin, meanwhile, is driving and being bothered by Kelly as he drives. Though she is repeatedly shouting in his ear and causing him to swerve across the road, it appears that he cannot see her. This suggests that:
a) he is imagining her;
b) she is invisible; or
c) he is legally sight-impaired and therefore possibly should have caught a taxi.
In cutaway scenes, Kevin is seen being embraced by a woman, who we initially confuse for Kelly Clarkson. Until we realise that she is an attractive blonde...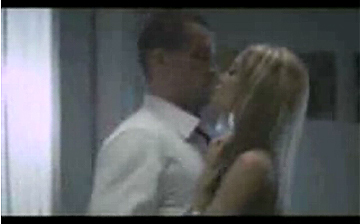 ...and not our attractive brunette heroine. (It is the lack of Honey-Monster Chin that gives it away.) Kevin looks pleased with his thoughts of blonde kisses. In extreme punishment for this, invisible Kelly licks his face. Which as we all know is very annoying.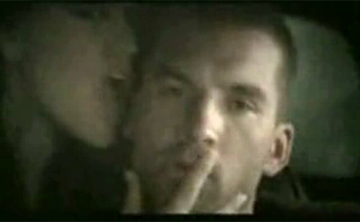 Once Kevin arrives at the airport, Kelly keeps appearing. First in one queue, then another, then behind him, then in front, switching lines all over the place. Kevin looks confused, as is fitting when confronted with someone with such little comprehension of the conventions of queuing. Cripes, woman, just pick one line and STAY there, will you? Where do you think you are, France?
Oh no, apparently Italy. A new version of Kelly has appeared. Not the one in the bath, the invisible one with the crazy hair or the one in heaven with a black bra, but one who looks like she might at any moment try and sell us a jar of invisible pasta sauce.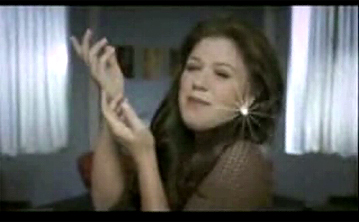 Deciding to come back to check in when the unreasonable queuing has calmed down (very sensible), Kevin goes to the bathroom and is confronted by invisible Kelly, who invisibly beats him up...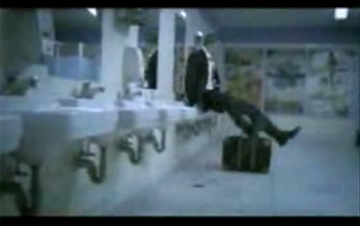 ...and leaves all the taps running, which is just socially and environmentally irresponsible, frankly.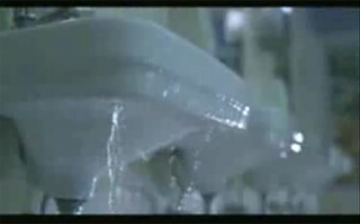 After fleeing the bathroom and, presumably, getting through check in, Kevin throws his suitcase at an attractive blonde. It is, we are to assume, the same blonde as in his fantasy earlier. She looks like Sienna Miller, he looks pleased to see her, and they have a snog.
But wait. Cutting away, we discover Kevin STILL SITTING IN HIS CAR IN FRONT OF THE HOUSE. Importantly, though it doesn't look like he has been anywhere, and it seems as if the whole thing has been a dream, the wheelie Bin is still knocked over, which signifies more complex things are afoot here.
He sits, confused and miserable, on the front lawn. Behind him, the pasta-sauce Kelly walks out of the house, gets in the car, and drives off. Kevin chases her half-heartedly.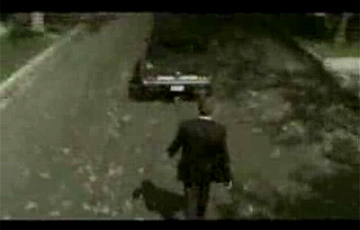 This is a complex video. With so many clever twists and turns, there are as many theories to explain of the plot as there were about Kaiser Soze in The Usual Suspects. So here, briefly, are three theories, as brought to you by Kelly gurning: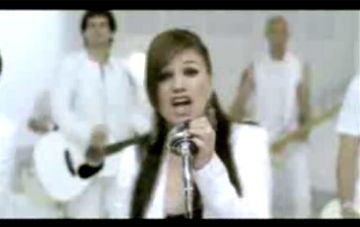 Theory One: the literal theory
Kevin, a bad boyfriend, a nasty man, a cad AND a bounder, has attempted to murder American Idol Kelly Clarkson in the bath. Being terribly handsome but devastatingly thick, he has left a reminder on the reminder function of his phone telling him he needed to go to the airport, and that he would need a "suitcase" and "A MAP" (misspelled). Fleeing the scene, he knocks over the wheelie bin.
The whole video takes place in his mind, with the invisible Kelly a product of his guilty conscience. He tries to escape. But upon reaching the airport, Kevin finds himself destroyed by the guilt and returns. Only to find that he has made a very poor job of murdering Clarkson, who climbs into the car and leaves him, promptly. Possibly to go to the police, as would be most sensible.
But, as always, the sensible, literal theory is dull, and it is much more likely to be...
Theory Two: the non-literal, interpretive theory, represented here by Kelly showing herself to be non-literally eating the microphone, tool of her art.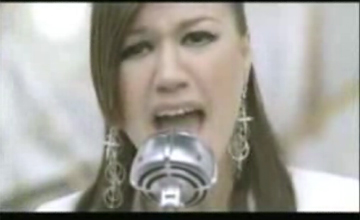 In this interpretation, Kevin is not Kevin at all, but a representation of the music industry and, specifically, Simon Cowell, pop Svengali and king of American Idol. Through the depiction of Papa Pop murdering Kelly, it is pop itself that is both victim and criminal. The imagery contained within the video therefore represents not the murder of Kelly but the murder of pop itself, of image and of the constructed nature of stardom.
The knocked-over wheelie bin is therefore an evocation of the necessary destruction that must come before the rebirth of modern music. Clarkson, out of the ashes of the toppled trash, begins again, renewed, refreshed, mature, older and more shouty.
However though this is a popularly held theory in deconstructionist circles and smoky cafes on the Left Bank, it is quite clearly rubbish. MUCH more likely is...
Theory Three: the post-modern "Mobyous" theory, in which the whole thing is not a metaphor or a story, but a dreadful construction inside the fevered mind of Moby.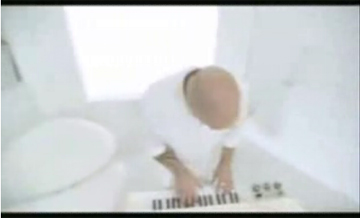 Who seems to be playing the keyboards.
In the Moby theory, nothing exists. No one is murdered, no one escapes, no one is shouty, and this song was never reconsidered as album fodder.
The text message is a red herring.
The bin was knocked over by foxes.
There is no spoon.