She's back - and she's pissed off.
Who? Sophie Ellis-Bigface, of course. Bextor, sorry. Ellis-Bextor. So pissed off is she with something (who knows what) that someone's made her a lovely coffee - and she's spurning it. Violently.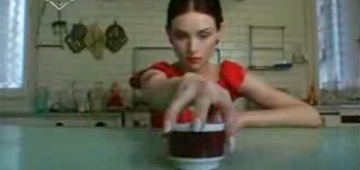 Oooh, that's one cross face. It is a face of fire. In fact, more than even those, it is a big scary homicidal face. So cruel, I know, but she's out of control; a woman on the edge.
I tell you - whoever made her that coffee had better watch their arse, because I've got the feeling that Ms Ellis-Bextor is going to be after it with those big pointy nails.
And the big pointy everything else, as a matter of fact. Blimey, hasn't she got pointy since we last saw her? Her face is still as beautiful and as weird and as wide of course, but now the rest of her is so narrow that you fear her eyes might start sticking straight out the sides of her face. Like a fly, or something. Except, in this case, the fly is thin, pretty, and about 50ft tall.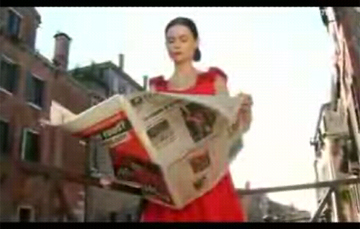 At that elevation, most normal folk would get vertigo, but no, she's calm, cool, calculating. And riding on the cusp of a guitar-heavy but mightily catchy pop wave.
The plot is this: Sophie Ellis-Bextor has lost something (or someone) in Venice. And she's very cross about it. And she runs about trying to find it. Crossly.
Judging by the words of the song, it is a boy, and no wonder he's hiding: Clad in scarlet, a 50-ft vertically stretched version of the midget at the end of Don't Look Now is hoofing it around Venice, the ground beneath her feet shuddering under her mighty (if slender) form. If I'd dumped her, I would also be making myself scarce, fearing this might be my last night on earth.
Because she's a master of disguise - one minute she's 50-ft tall, the next she's tucked behind a curtain, or hiding behind walls, she moves in mysterious ways; she's got the art of camouflage down to a tee.
And when in danger of discovery, she can, like a zebra, run behind a mass of poles, and using her unique physiology, blend in seamlessly. One second she's there...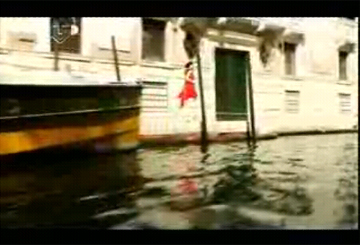 ...next minute, paf! In a line of poles, she's there, she's gone, she's there she's gone - much like a sanded-down pufferfish blushing in a ballpool, she's a mistress of disguise.
And when all else fails, she simply relies on her portable camouflage machine: otherwise known as her "really big and very obvious blue screen".
So this way she can pretend she's somewhere else Even When She's Standing In Front of You. It is a highly-skilled stalking-manoeuvre perfected by spies and known as "One you made earlier". It's understood she learnt it from her mother.
Suddenly, Sophie's dress gets longer. I think. No! It has! And we're swept into a - into a flashback, perhaps, representing a more careless time, back in the days when life was good, everything was carefree, and Sophie Ellis-Bextor was Danni Minogue.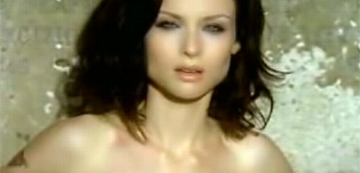 Is it just me or has Sophie Ellis-Bextor turned into the second, lesser, Minogue (if somewhat prettier); even better - it might be said - than the real thing? No? Just me then.
She is wearing a top though, before you get too excited, lads. And, in fact, more than a top. Even better than a top, it's one of those tight-to-the-knees dresses that make you look as if someone's melted your feet and used you to stamp an official document.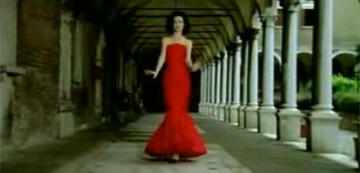 Just when it seems that we're stuck in a moment we can't get out of, and we're going to be in hair-down flashback for eternity, we're brought crashing back to the present, and find our wide-eyed anti-heroine still rushing around an empty Venice and pointing - seemingly there is no end to her confusion. Not only is her prey deeply undercover, but Venice is a bitch to navigate - not only do many of the streets have no name, but there are bloody canals everywhere.
When she can't find a bridge to run over romantically she apparently, as we see below, gets punted about by binmen (while acting).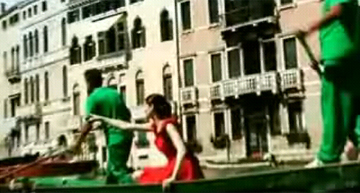 And when there are no boats and no bridges? This is no impediment to Sophie! When she hits a house she can't get around, she breaks in and climbs to the tallest point, searching for a way forward from a window in the skies. Eee, she's got initiative, our Soph.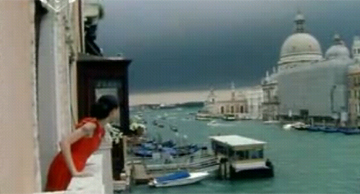 The photography is gorgeous - though admittedly it's difficult to make Venice ungorgeous - and though it's seemingly October and the clouds of some great thunder and/or electrical storm seem to be gathering, it's still a beautiful day. She doesn't notice, of course. All she wants is him. Whoever he is.
She runs on - and whoever it is she's chasing, the object of this crazy desire, we never see him, nor hide nor even hair of him. What we do see a lot of, meanwhile, is her tattoo, which she seems mightily proud of.

No, I don't know why either. As far as I can tell, it's a large heart created specially for her by an eight-year-old prison tattooist with both hands wrapped in bandages. Has she got children? Maybe they did it for her. More permanent than sticking something on the fridge, I suppose. Ah. Ain't that the sweetest thing?
And perhaps only just in time. The search, it seems, is over. Here on a wide open piazza Sophie, exhausted, finally stops, staring at the sun, and looking numb - as if she has given up for good.
Yes, the song is over. And - for those musical gonks who've noticed all those obviously crowbarred U2 references (roughly 19 at the last count) in this damn thing so far, yes, it was all leading up to one lame-ass joke - she still hasn't found what she's looking for.
Which is sad, because now she's dead.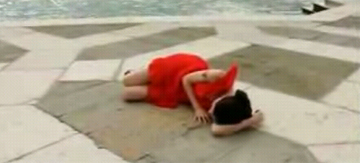 Well, either dead or kipping.
You can see some of it here or, you know, just YouTube it like the rest of the time.