Darkness. Klaxons take us back to the beginning of time. Utter darkness. And then:
In the beginning was the word. And the word was - sorry, the words were... "IN THE BEGINNING"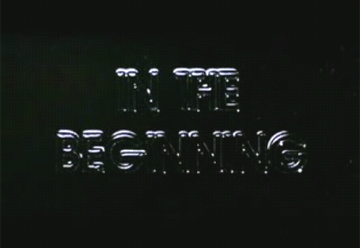 Honestly, that's what it says. It rises out of some water, and sinks back. Slowly. "IN THE BEGINNING"
Time passes. Ooh, more words.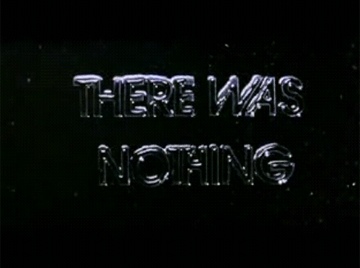 "There was nothing," apparently. Words, rise up out of water, black words, black water = high concept video, we presume. More time passes.
There is still nothing. Nothing at all, no sound, just a black screen with those words, and the water they're rising out of and then...
(Risey-risey)
IN THE END...
(Sinky-sinky)
(Risey-risey)
THERE WILL BE NOTHING
(Sinky-sinky)
Yet more time passes. A kind of irritated boredom sets in.
(Risey-risey)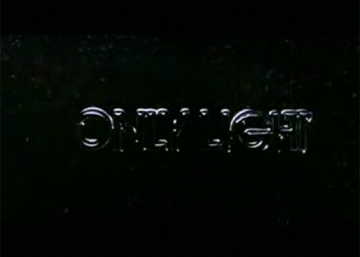 (Sinky-sinky)
What?
Oh whatever, at least something's happening - the words ONLY LIGHT have appeared and faded and now there is at last the rumble of a far-off tune.
The words crackle like a 99p packet of indoor sparklers and produce a little ball of fire, which travels around the screen, representing - if I've read the concept-level of this video right - the essential spark of life, the beginning of the universe, the beginning of everything.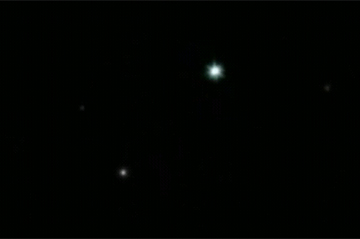 At 48 seconds into the video the song seems to be beginning. Forty eight seconds! Blimey - if seconds were degrees of pretentiousness and degrees of pretension were Celsius, we'd all be very, very hot right now.
The ball of light draws the eye around the screen and then, with aplomb, explodes. A sudden burst of light, a revelation: three pasty English boys in the nuddy pulling shapes.
Woueooweurlgh. And other noises of mild repulsion.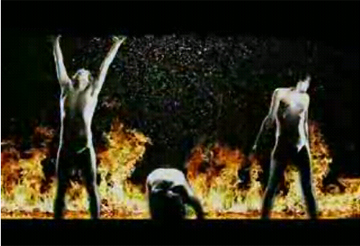 Now I'm not one to play the body fascist - but there are some people that should be naked in videos as often and as gratuitously as possible, and there are some people who should maybe not. That is all.
We close up on the pasty English boys, and discover Klaxons.
Bodies crash against water in the darkness. With the sound effects - annoyingly - louder than the song itself, hands make spray, pale stomachs ripple under jets.
And suddenly - colour. Like an underdeveloped Russian teenager waging an Olympic gymnastic rhythm war - the boys seem determined to interpret their new single through the medium of ribbon-dance. I think they're meant to look meaningful and pensive. Instead they look confused, and slightly moronic.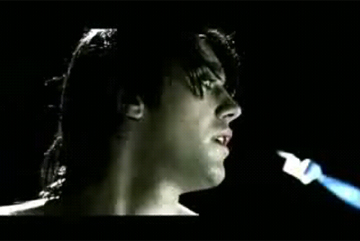 Look! The little ribbon hand is pointing! "You! You look stupid!" it is perhaps saying - though who knows what runs through the mind of these crazy ribbons.
Whatever it is, they can't seem to get enough of pasty English boys, and they artfully wrap their way tightly around their upper and lower limbs, and all the limbs in between (they are naked, after all).
Large geometrical shapes appear, floating. The ribbon-dancing boys play with them, artfully.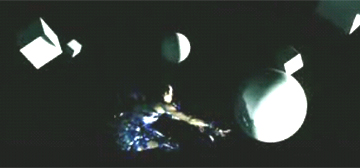 And with that, I have suddenly realised what the camerawork of this video reminds me of. It is, quite cleverly, a perfume advert in disguise.
Any second now a panther is going to walk across the shot, some bird's going to saunter on in a corset, and a French lady is going to whisper huskily: "You understand me, I understand ... Golden Skans by Klaxons", or some such guff. So that's it. It's a new tie in with Eau D'Emo: A musky happy-hardcore punk-funky scent with topnotes of surly teenagers weeping.
By now, Klaxons are all wearing spangly face-masks. Whatever. The ribbon dance goes on. Suddenly, the mothership appears: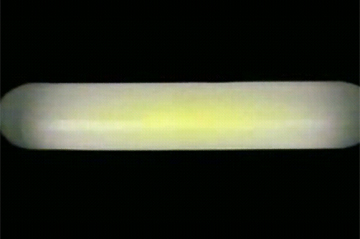 A large, vaguely phallic florescent tube, flashing. Momentarily, we wonder if Justin Timberlake has come to take them away. We can only hope.
Instead of boarding the mothership, they hit it. Fiercely. With sticks. Like hungry children confronted with a dildo-shaped piñata at Grandpa's birthday party.
It explodes in a shower of... erm...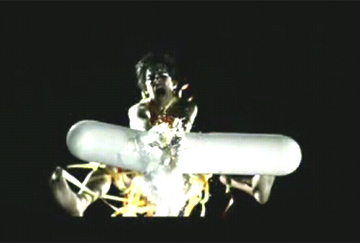 We're led down bright umbilical tubes - and the beings that we saw come into existence evolve into beings - of light.
God, this is deep. All the evolved beings crouch - exhausted, as light swirls around them and... oh. Finally. I understand. I knew it was concept, but hadn't realised quite what the concept was.
The whole thing has been a metaphor. We started in the deep darkness. The kind of deep darkness one can only find under - say - a duvet.
A spark of an idea forms, swims through the darkness, and finds the nude, prostrate male. As the prostrate male submits, fingers of ribbons twist and run tenderly over his naked flesh.
Large geometrical shapes feature strongly, cubes yes, but mainly spheres, are touched, pushed, played with.
Suddenly, a large phallic object appears which, with repeated beating, explodes in a shower of milky liquid.
Which flows strong and true, and makes the whole world bright.
Then, bathed in an exquisite glow, our pallid bare-skin Klaxons crouch, poised, ready to move on with the day.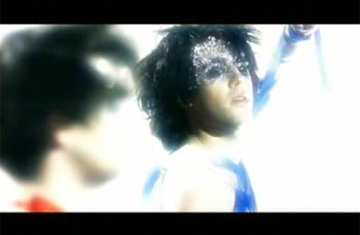 And there we have it.
Three and a half minutes of complete and utter toss.
- You'll be able to find some friendly YouTuber to provide you with the video by clicking here, bless their little cotton YouTubey socks.