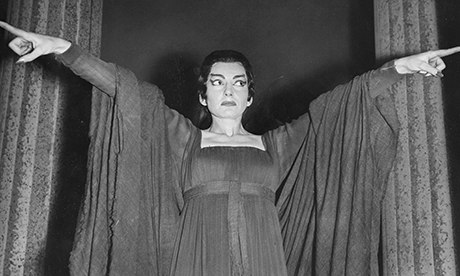 It is a brave man who dares criticise Maria Callas these days. In the 20 years since her lonely death in Paris at the age of 54 the American-born Greek soprano has been deified transformed almost beyond recognition from the controversial artist whose appearances were as eagerly awaited by some as they were detested by others.
No one detests Callas today, and yet she did not sing a single performance at the Metropolitan Opera House in New York at which she was not booed, nor did she have the pleasure of ever once reading truly enthusiastic (or intelligent) press there. Even at her debut as Bellini's Norma, an event for which I, a 17-year-old student, had queued for three days for standing room in the highest reaches of the Met, she was booed at the earliest possible moment: a sustained note in the recitative before Norma's first great aria, the celebrated 'Casta Diva.' It's not a particularly important note as these things go, and most audiences don't notice it because most Normas have no difficulty with it, but Callas did. She always did. She did the night of her Metropolitan debut and she was booed for it. She did at each of the subsequent six performances of Norma she sang, and she was booed at every one of them. What did Callas do that so outraged New York audiences? She wobbled.
But Callas always wobbled on that particular note. She wobbles on both her EMI recordings of Norma that were made before her Met debut, so the audience that evening of October 26, 1956, had a pretty good idea of what they were in for. No, Callas always wobbled and in my experience she was always punished for it. I heard her hissed at and reviled for an entire performance of Medea at La Scala when her short career was almost over and her never abundant natural vocal resources were running alarmingly low.
Since tickets for a Callas performance were always scarce, I presumed the raucous detractors in the audience had fought for them precisely to jeer the wobbles and the frequently disastrous or quickly abandoned high Es and Fs. I remember Callas being bombarded with vegetables as she took her bows after her second New York Norma, a Saturday matinee. Bunches of carrots and heads of cabbage are not sold at the refreshments bar at the Metropolitan.
They were flung that afternoon by opera-lovers who knew they were going to fling them before Callas had sung so much as a note. Callas could have been dubbed Sutherland or Caballe that afternoon and she would have been pelted. Callas, the woman, was as detested as her infamous wobble or 'incorrect' separation between her high, middle and low registers. For these audiences, Callas had three voices and none of them pleased.
Nor did the woman who told reporters that her mother could throw herself off the roof before her daughter would relieve her of her financial difficulties. Or the soprano who insisted there was simply no comparison between her and her contemporary, Renata Tebaldi. One was champagne the other, Coke. This Callas was considered a 'good' interview by reporters, though all she garnered for herself was a thoroughly 'bad' press. It was not rude or cruel to boo or embarrass such a monstrous woman. The vocal blemishes were physical manifestations of the human flaws within.
To half the audience it seemed that Callas the soprano and Callas the woman received precisely the audience and critical drubbing they deserved. If you're going to be mean to your dear old mum and say disparaging things about other singers, you had better be sure you don't wobble on the first sustained pitch before Casta Diva or have to cut off the climactic high note at the end of the Mad Scene in Lucia Di Lammermoor because what's coming out of your throat at that moment is a scratchy, arid, unpleasant sound.
At almost every performance, Callas paid the price for not being a 'perfect' singer. And yet for the rest of the audience (the good people, I want to call them) these human failings were of small importance next to the total accomplishment of Maria Callas herself and a Callas Violetta or Norma in particular. For them, for us, for me, Callas made opera live. She made the notes and words of the great 19th-century Italian Romantic composers and poets sound spontaneous, inevitable, even natural.
It was as if she were speaking and not singing, and what she was saying was being said for the very first time. A great actor makes us feel we have never heard 'To be or not to be' before and we become as one with a troubled young prince we know as Hamlet. With a good actor, we mouth the speech silently along with him and congratulate ourselves on how much of it we still remember, but we are always aware that we are watching a Great Moment from a Great Play.
Listening to Callas is never such a passive experience. With Callas, you are there as Violetta pleads with Germont or Norma contemplates killing her children. Other sopranos only sing 'Vessi d'arte' in Tosca. Only Callas talks to God. She does this in a voice some found 'beautiful', others not. But apart from the wobble, Callas is very close to perfection. She has true legato and phrases like a master cellist. Trills and coloratura hold no terror for her. She has a voice that is unmistakable after one tone.
Today's cookie-cutter voices are not identifiable after an entire act on the radio. She was beautiful on stage. Her acting was minimal in that she did very little (has there ever been a more restrained Tosca, a stiller Norma?), but what she did was make us listen to the music with a new clarity because she made us hear it through her and the character she was playing. Callas made opera mean something again.
Her limitations pale beside her interpretive genius and her intuitive gifts. The entire world should have idolised Callas in her lifetime. The fact that it does so now is ironic. The critics and CD buyers, who were the first to deny her, are now the first to ride the Callas bandwagon. La Divina, the sobriquet, has become a universal truth.
But the Callas beloved by one and all and still bigger than the Three Tenors is not the Callas I will take to the grave. I will remember her from her performances and her public masterclasses: that Callas was a fighter. She never retreated. I'm glad I was in the trenches with her. The Golden Age of Callas, the revisionists notwithstanding, was a short and bitter one. All the rest is post-Callas hype. To listen to Callas as a Golden Age Immortal is not to hear her true voice at all.
• Terrence McNally is the author of Master Class, a play about Maria Callas that opens at the Queen's Theatre, London, tomorrow.