Shervonne Colvin is ecstatic. This spring, one streetlight was turned back on at the end of her block. Last month, almost one third of her block was razed to the ground by demolition trucks.

That would hardly excite most city dwellers, but Colvin doesn't live in just any city. She lives in Detroit, where municipal neglect has become customary. Detroit has been the unwitting star of a photo subgenre christened "ruin porn", with fans in all corners of the world – except in its native hometown. Two years ago – the same year Forbes named Detroit the most dangerous city in America – local media reported that abandoned homes had become dumping grounds for dead bodies.
Good riddance to that, say residents.

"It makes me feel like the city is doing something, that they are paying attention. For years we felt like we'd been forgotten. We were frightened to walk down the street. It felt like a third world country out here," Colvin says.
For the first time in 15 years, the 54-year-old resident of north-west Detroit, a former educator and cosmetologist, says she feels like she is a part of the city again. Her block in northwest Detroit has been gone for years now. She says the only reason she has stayed is because her husband refuses to go.

The destruction of the houses on Colvin's block is the result of a renewed city effort kicked off this spring to completely eradicate residential blight in Detroit over a period of five years, at a total estimated cost of just under $1bn. Each house demolition costs around $15,000 a pop.
So far, demolitions are happening at a speed of at least 200 houses a week. Even at that pace, it's a crawl. There are over 40,000 houses and buildings that qualify for immediate blight removal.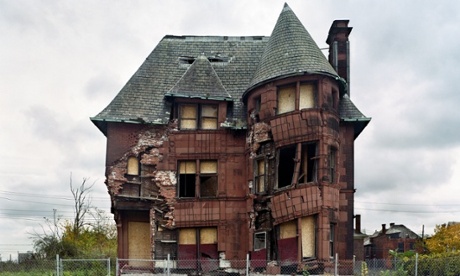 Then there's money: $1bn. Around half of the $850m needed to finance residential blight removal in the next five years is to come out of Detroit's "Plan of Adjustment", which is being scrutinized as I write by Judge Rhodes in the city's bankruptcy court. The rest of the money is to come from a variety of entities, including private, foundation and federal sources. Some will come from a federal Hardest Hit Fund of $52.3m given out last fall and originally destined towards foreclosure relief.
No other American city has ever attempted such a large-scale operation.
At stake is the city's future financial recovery – even though a meager 430 jobs are expected to be created over the next five years from the city's $1bn investment. A literal blank slate of emptied streets would free up land for new buildings and theoretically send a welcoming signal to corporate investors and potential new residents of a wealthier – and inevitably whiter – ilk.
White and middle-class flight to the suburbs, which accelerated after the 1967 race riots, is a large factor in the changing demographics of the city over the last six decades, as well as its depleted tax base. Detroit went from being majority white and a symbol of America's thriving middle class, with a population of 1.8 million in the late 1950s, to being 82% black today, with a median household income nearing the poverty line and a population now under 700,000.
According to a city data survey called Motor City Mapping, 53,000 occupied homes in Detroit are currently eligible for tax foreclosure because of owners running behind on property taxes, with over one third of those gone up for auction this month. This Wayne County Tax Foreclosure Auction is where you can famously pick up houses for just $500.
To residents of Detroit, getting rid of blight is an undoubtedly popular undertaking.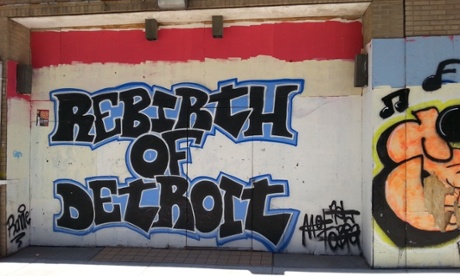 "I've been saying it for years: get the city safe, get the city clean," says John George, founder of Motor City Blight Busters, a non-profit organization that has been boarding up houses and fighting abandonment for almost three decades.
"The capitalists will take care of the rest."
When George moved to his Detroit neighborhood of Old Bedford in the early 1980s with his young family in tow, he noticed one of the abandoned houses on his block was being taken over in the evenings and on weekends by drug dealers.
After one terrible night involving gunshots and receiving no help from the city, George decided to take matters into his own hands. The next morning, he headed to the hardware store and within hours, the proud Detroiter was boarding up the offending house. That evening, when the drug dealers pulled up, they took one look at the house and left.
"They never came back," George says.
Peter Hammer is skeptical. Hammer is a law professor at Wayne State University, where he also directs the Damon J Keith Center for Civil Rights. He calls the anti-blight effort "myopically focused on destroying buildings".

"I just wish city officials would go after racism with the same manic intensity as they are going after blight."
Indeed, some of the plans' critics argue that it tackles the effects of the city's crisis with little attention paid to the structural causes and was designed by bureaucrats rather than residents. If consulted, would citizens have voted for $1bn towards building demolition ahead of the city's other pressing priorities, like water service?
"Racism is what got us into this mess, yet there is nothing in this blight removal report that deals with issues of race, or segregation, or discrimination, or white flight, which is the absolute root cause of why we have the issues of abandoned buildings and blight in Detroit in the first place," says Hammer.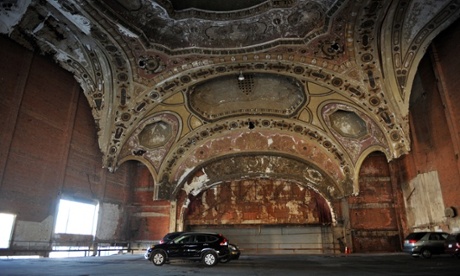 George Galster, a distinguished professor in the department of urban studies and planning at Wayne State University, likens blight removal to "putting a BandAid on a wound" and bemoans the lack of attention given to root causes, such as a deregulated housing market in the broader Michigan region that has seen the construction of 10,000 excess houses a year since the 1950s, helping to drive people out of Detroit and into the suburbs.
"As long as you don't address that, the problem of blight will persist."
Some take another view. They argue that breaking some windows now will result in fewer "broken windows" later. Detroit's controversial experience with "broken windows" policing is leaving its mark on the city's new character.

"The whole idea behind broken windows is a compelling one: a broken window begets a broken window," states Craig Fahle, who recently quit his job as a radio host and one of the city's most respected media voices to join Mayor Duggan's revamped Detroit Land Bank Authority, which is overseeing blight removal as well as auctioning off city-claimed houses and recruiting new residents.
"It's the same with blight: blight begets blight. Blight creeps," Fahle says, comparing blight to a breathing, living entity.
It's all a little sci-fi. There is a seemingly endless fondness for cancerous and zombie analogies when it comes to describing Detroit's abandoned houses.
"I know it sounds radical, but blight is like a cancer, you've got to be aggressive with it. If you don't kill it, it will kill you," says George, the grassroots blight buster.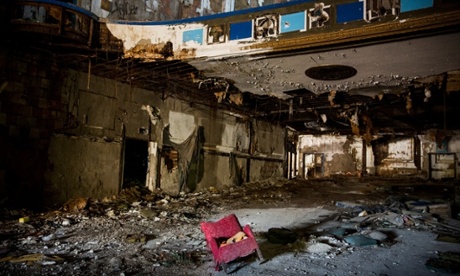 Dennis Durkin, 61, a Kroger assistant manager baker and lifelong northwest Detroit resident, is meeting the recent demolition of houses on his block by city contractors with cautious skepticism. In the last five years, Durkin's house has been burgled seven times, he says, and he knows who the perpetrators are: the people living in the house behind him. Their house is still standing. He estimates that three-quarters of his block has left in the last five years.

"It'd be good to have some policies to give these people jobs," he says. "You know, it might help with the thieving."
The proof is not quite there, some argue. Recent data based research undertaken in collaboration with Erica Raleigh at Data Driven Detroit, actually shows abandoned buildings have a neutral effect on crime, Galster says. Contrary to popular belief, there is no evidence suggesting blighted properties either attract or exacerbate criminal activity.
Bernard Harcourt, a law professor at Columbia University and director of the Columbia Center for Contemporary Critical Thought, calls the extension of broken windows to blight removal "fascinating".
Harcourt says broken windows theory has long been "a fig leaf for real estate redevelopment and wealth redistribution" – with targeted areas being flipped from the bottom end of the socio-economic ladder to the top, including in places such as New York's Times Square and Los Angeles' Skid Row.
The transformations of those areas were touted as evidence of broken windows success, Harcourt says, when in fact they were the product of decade-long urban planning and redevelopment that substantially redistributed wealth and populations from one neighborhood to another.
"Are the buildings being taken down to serve the people who are living in the neighborhoods now, or are the buildings being taken down in order to facilitate the repopulation of whoever is going to buy that now vacant property?"
'The banks wouldn't work with anyone'

Durkin, whose garden is immaculately kept "with something blooming at every time of the year", points to a quaint, yellow house opposite his, which has finally had people move in after being vacant for a while.

The former owners of that house did not want to leave, he says, but after the recession hit they couldn't pay their mortgage anymore. Eventually they were foreclosed upon.
"You ask me, banks caused a lot of this. When things got bad, they weren't helping anyone. People wanted to work with the banks, but they wouldn't work with anyone."
For Craig Fahle with the Land Bank, blight removal and getting those houses that are in good condition sold to new, good homeowners will improve quality of life for residents. He argues that it will get people in Detroit to know the city cares about them.
"We're not going to get everything right on this. We're trying new things,"
Fahle says. "We're building some excitement. And if we can make it happen in Detroit, then we've got a great model for everybody else."