London's booming housing market is rising at an unsustainable rate, the UK's largest property website warned on Monday, with the average asking price of a home in the capital surging by more than £50,000 last month.
Such is the acceleration in the capital's property market, according to Rightmove, that many buyers will need help from deep-pocketed parents despite the expansion of George Osborne's Help to Buy scheme.
Rightmove said the average asking price in London rose to £544,232 in October from £493,748 the previous month – an increase of more than 10%. Across England and Wales, the rise over the month was a more modest 2.8% to £252,418.
Describing the London increases as unsustainable, Rightmove said Help to Buy would mainly benefit buyers in the rest of England and Wales because many Londoners would not be able to afford mortgage repayments on a house costing double the national average.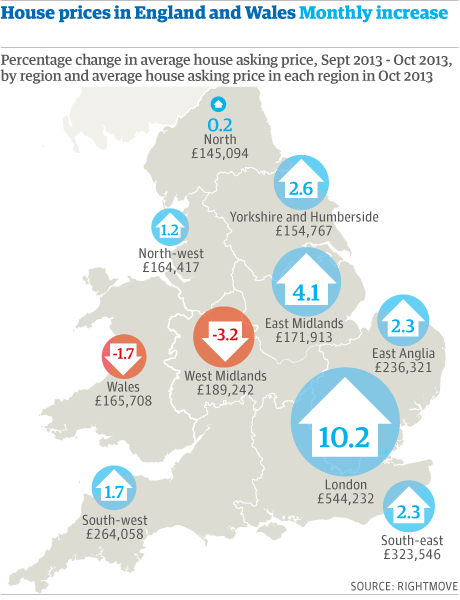 Miles Shipside, a housing market analyst at Rightmove, said: "In London, the buying power required to get on to, or move up, the housing ladder means you have to tap into the Bank of Mum and Dad rather than buy courtesy of a helping hand from Uncle George. Indeed, nearly two in five would-be first-time buyers in the capital state that they expect to receive parental assistance."
The second phase of Help to Buy, which allows buyers to acquire a house with a 5% deposit, is capped at properties costing under £600,000 – out of range for prime inner-London properties that have an average price of £937,110, according to Rightmove.
The website's analysis chimes with other recent surveys that have stoked fears that London prices are out of control, as wealthy overseas investors desperate for properties send values soaring.
High-end estate agents have said that even those with more than £30m to spend – including Google's billionaire chairman Eric Schmidt – have been struggling to find suitable accommodation in the capital, while figures released last month by Nationwide building society showed the average UK home is increasing in value by more than £50 a day.
Prices in some London boroughs, including Hackney and Islington, have doubled over the past decade.
Nationwide added that rises in house prices have been "surprisingly quick", with the annual rate running at 5% nationally and 10% in London – in both cases the strongest figures since 2010. As recently as May this year, the UK annual rate was 1%.
As concerns over a possible housing boom have grown, the Treasury has given the Bank of England an extended role in monitoring the impact of its Help to Buy scheme.
A cross-party committee of MPs has warned that such schemes risk raising demand and therefore prices, rather than broadening supply by encouraging a house-building boom.
There are also concerns about how those using Help to Buy will cope with repayments once interest rates, currently at a record low, rise. Rightmove hinted at the problem of mortgage affordability in the capital, saying the government scheme is "of no benefit to many Londoners for whom the income to service a mortgage is a greater challenge than the deposit required".
On Sunday, Ben Broadbent, a member of the Bank of England's monetary policy committee which sets interest rates, said there was some leeway to raise rates without hitting borrowers buying homes with the help of government lending schemes.
Asked on Sky News whether he worried about how borrowers would cope with higher rates, Broadbent said: "The numbers entering the scheme are relatively low. And although interest rates will at some point start to rise, you've got to remember quite how low a level we are starting from. I think there is a fair amount they could go up before borrowers got into great difficulties."
The rise in asking prices follows the traditional summer slowdown in the housing market, with the Rightmove analysis showing two consecutive monthly falls in August and September. The website calculates that October saw an increase of 2.8% – or £6,923 – in asking prices in England and Wales. Prices rose in all regions except for Wales and the West Midlands.
The 10.2% rise in London – equating to £50,484 – was partly a reaction to the capital experiencing a more pronounced slowdown over the summer, when asking prices dropped by 2.8% and 1.5% in August and September, respectively, the website said.
October's recovery in London means asking prices are now 5.6% – or £28,852 – greater than the previous high in July of £515,379, pushing the year-on-year increase for London to 13.8%, or £66,161.
The situation is exacerbated in the capital by overseas investors who are buying many of the new-build homes, Rightmove said.
Shipside added: "London is a world city where overseas investors see real estate as a safe asset, at a time when safe assets are increasingly scarce, and developers are building and marketing a lot of one- and two-bedroom flats to meet that demand.
"While they can achieve volume sales at premium prices, this eats up a much-needed source of fresh supply and drags up existing property prices at an even faster rate."