With December a matter of hours away, now is the time to get clued up on the last Christmas posting dates and what it will cost.
You still have plenty of time to send items within the UK but deadlines are much tighter if you are planning to send items abroad.
Last UK posting dates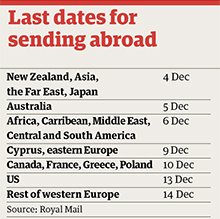 Second class and Royal Mail signed for: Wednesday 18 December.
First class and Royal Mail signed for: Friday 20.
Special delivery: Monday 23.
But you'll need to be quicker off the mark if you are sending items abroad (see table).
Remember the deadlines
Set up a Christmas reminder service at postoffice.co.uk. You are sent an email three days before the recommended last posting date for your requested destination, followed up by an optional text message one day before.
Stamp prices
These are the same as last year. A second class stamp costs 50p, first class costs 60p for a standard letter – which includes most greetings cards and postcards – measuring up to 24cm long x 16.5cm wide x 0.5cm thick and weighing up to 100g.
Bulkier envelopes measuring up to 35.3cm x 25cm x 2.5cm and weighing up to 750g come under the "large letter" format – covering items such as CDs and DVDs in their cases, some large greeting cards and most magazines. These cost 69p second class and 90p first class.
Calculating the cost
You can calculate the cost of sending larger items, based on their size and weight, at the Royal Mail's online Price Finder service. Prices to send parcels in the UK start from £2.60 second class, due to arrive in two to three days, and from £3 first class, due to arrive the next working day including Saturday.
Size matters
Parcels are divided into three categories: small, medium and large, and you will find all the dimension definitions at postoffice.co.uk.
A medium parcel weighing 500 grams, for example, will cost you £5.20 second class (£6.30 with proof of delivery), £5.65 first class (£6.75 with proof of delivery) and £6.95 by tracked Royal Mail special delivery to arrive by 1pm the following day.
You can buy and print off all these types of postage online at the Royal Mail website. You will have to go to your local post office if you want to pay more – £19.92 – for Royal Mail special delivery with guaranteed delivery by 9am the next day.
Now that the majority of prices for UK parcels depend on size as well as weight, packing your items in the right way can make a significant difference to your postage costs.
For example, when using first, second or Royal Mail signed-for services, sending an item as a small parcel will be cheaper than sending it as a medium parcel. So make sure that soft, compactable items up to a maximum of two kilograms are packed down as much as possible to fit one of the small parcel sizes (45cm x 35cm x 8cm or 35cm x 25cm x 16cm) and remember that the item in its packaging needs to fall within these limits.
You can check the prices, weight and size limits at postoffice.co.uk/price-finder so you can package up your items to fit the size and weight limits for the most cost-effective service.
Finding the cheapest option
It is also worth checking, using the Royal Mail or Post Office websites, whether using the Royal Mail's first class, second class and signed-for services is your cheapest option for sending parcels, particularly heavy items.
If, for example, you were sending a medium parcel weighing 2.5kg within the UK, the Royal Mail-owned courier service Parcelforce Worldwide offers a cheaper option. Its Express48 service, which guarantees delivery within two working days, includes compensation of up to £100 and provides online tracking of its journey, would cost £12.93, compared with £14.45 for Royal Mail second class signed-for and £16.20 for first class signed-for delivery.