After a relationship lasting almost 40 years, Penny Simpson has just been told she's being dumped by her bank. No one could dispute that Simpson is a loyal Lloyds TSB customer – as well as having her main current account and credit cards with the bank, she has Lloyds savings accounts and insurance, and even has her mortgage with its Cheltenham & Gloucester arm.
But despite all that she has received a letter telling her that in a couple of months she will no longer be a customer of Lloyds. Simpson is being offloaded – against her will – on to a new bank that is being set up. And, she says, if she wants to stay with Lloyds she will have to apply for a new current account with the bank – where she is already a customer.
It might all sound somewhat surreal, but what is happening to Simpson is being replicated up and down the country. Around 5 million people are about to be shunted over from the Lloyds group to a separate spin-off bank that will use the old TSB brand name. This follows an announcement in April that the Co-operative Bank had pulled out of talks to buy a chunk of the group's branch network.
These 631 branches (467 Lloyds TSBs, plus all 164 C&G branches), and most of the accounts held at them, will form the new TSB Bank, which is set to officially launch at the end of the summer, ahead of a planned stock market flotation.
Letters that include updated information on what the changes mean are being mailed to those who will be transferred to the new bank, and also to the millions staying with Lloyds. While the bank says everyone who is moving has already been notified, typically via a letter last November, some people are saying that the first they knew about what was happening was when they received the latest letter.
Simpson, a writer who lives in Shaftesbury, Dorset, says she did not realise she was being transferred to the new institution until a bank clerk broke the news to her a few days ago. She was told she had been sent letters, which she says she never received. She got on the phone when she returned home and received confirmation that her current account was being "forcibly moved". On Tuesday she received the latest letter, which was headed "Changes to terms and conditions".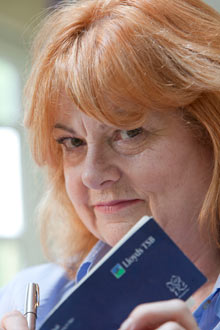 "What they are actually writing to tell me is 'You won't be banking with Lloyds any more'," she says. "I've been with them for 39 years and I wish to stay with Lloyds because I now live in a rural location and they have a branch in my village. I've been quite happy with Lloyds."
Simpson has lived in Dorset for about 10 years and the branch just a few hundred yards from her home is staying with Lloyds, but she is being moved to the new bank because the branch where her account was originally opened, in Ludgate Hill in the City of London, is one of those that was selected to be transferred.
"My mortgage is also with them, my savings, my insurances. And I am now expected to reapply for the pleasure of being one of their customers again, as if they had never met me before. They will let me know by August. I'll have to have new account numbers, new sort codes, new everything. I just can't believe the way we are being treated."
Here we look at what the transfer means for people such as Simpson.
Why is all this happening? The branches are being transferred to the new TSB bank because of a 2009 European Commission ruling aimed at increasing competition and customer choice in UK banking. It is linked to Lloyds' £20bn taxpayer bailout in 2008. However, Simpson claims the bank is "hiding behind" the ruling, adding: "If they hadn't been so greedy and gobbled up HBOS this wouldn't have happened."
Which branches are moving? The full list can be found at lloydstsbtransfer.com. The total is made up of 282 Lloyds TSB branches in England and Wales, all 185 Lloyds TSB Scotland branches, and all 164 C&G branches. Intriguingly, the 282 include around 150 ex-TSB branches. So for some customers who originally banked with TSB, taken over by Lloyds in 1995, things will have come full circle.
Of the 282 England and Wales branches, only 98 lie south of a line from the Wash on the east coast to the Severn estuary on the west coast, leaving 174 north of that line and 10 in Wales, according to an analysis by the Campaign for Community Banking Services (CCBS) pressure group. C&G branches are spread more widely, with a two-thirds bias to the south, the CCBS says.
I'm one of those being moved. What do I need to know? Most people should have had the latest mailing. Your account number, sort code and internet log-in details will stay the same, but there will be some changes to your terms and conditions for your current account and any savings accounts and credit cards you have. However, a spokeswoman insists that: "Fees, charges, interest rates and account services will remain the same."
The bank is sending out millions of debit and credit cards. All will have a new "Bank Identification Number" and some will also be renamed, the spokeswoman says.
Be aware that when all this goes through, you will no longer be able to manage your account in a branch that is staying with Lloyds; for example, you won't able to use that branch to pay cheques into your TSB account. Taking Simpson as an example, her local branch is staying a Lloyds, so under the new regime she would need to travel to a TSB to do her in-branch banking. It looks as if Simpson's nearest TSB (currently a C&G) will be in Gillingham, about five miles away.
My account is staying at Lloyds – does that mean no change for me? There will be some changes to your terms and conditions. The number of branches you can use will be reduced. If the branch you normally use is moving to TSB, for example, you won't be able to use it to pay cheques into your account. "If you have accounts that are staying with Lloyds TSB, you will need to manage them in a branch that is also staying with Lloyds TSB," it says.
Perhaps the most noticeable change you will see is that the Lloyds TSB name will change to Lloyds Bank.
What if I don't want to move? You can apply for a new current account at Lloyds and switch back. Lloyds is not allowed to encourage people to stay, as the aim is to reduce its share of the current account market, but it isn't banned from taking you back. You'll have to open a new account at a Lloyds branch. "If someone says 'I'd like to stay with Lloyds', we will ensure they can," the spokeswoman says.
However, you should probably use this as an opportunity to think carefully about who you want to bank with. A lot may have changed since you took out your current account and there may be one on offer from a rival bank that suits your needs better.
I'm with C&G … All C&G branches are being moved over, plus most C&G savings accounts and mortgages. It has been writing to customers to let them know what the transfer means for them. For example, it says mortgage customers will see no change to their monthly repayments or interest rate as a result of the move.
What does Lloyds TSB say about Simpson's case? It says she should have received her first letter in November, adding: "We are very sorry she doesn't appear to be in receipt." The spokeswoman says that as a result of her request to remain with Lloyds, Simpson had been sent a letter advising her that she would receive further contact from the bank over the coming weeks to give her advice about opening new accounts.
r.jones@guardian.co.uk