Rising petrol prices will continue to be a headache for cash-strapped motorists after the consumer watchdog concluded the UK fuel market is working well.
The announcement from the Office of Fair Trading will be a bitter blow to motoring groups who had hoped it would open a full-scale industry inquiry.
Instead, announcing its conclusions from a four-month investigation, the OFT said it had found no evidence of unfair marketing or trading between oil companies and retailers.
It said the market was working well and an increase in average petrol prices from 76p a litre in 2003 to 136p a litre in 2012 was caused largely by rising oil prices and duty.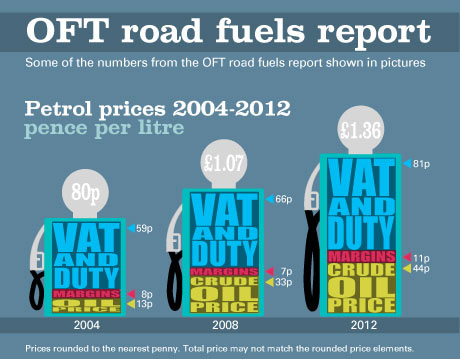 "Our call for information has not identified any evidence of anti-competitive behaviour in the fuel market at a national level, where competition appears to be strong," said OFT chief executive Clive Maxwell.
"There may be some issues at a local level. Where we receive evidence of potential anti-competitive behaviour we will consider taking action."
The OFT said it found fuel was often significantly more expensive at motorway service stations. It said that in August 2012 service station prices were on average 7.5p a litre higher for petrol and 8.3p a litre higher for diesel than at other UK forecourts.
As a result it has asked the Department for Transport to consider introducing new road signs that would display service station petrol and diesel prices for motorway drivers.
Commenting on the OFT's findings, television presenter-turned-fuel campaigner Quentin Willson, representing FairFuelUK, said: "UK consumers will be bitterly disappointed; the nation will feel let down. Quite frankly I am shocked. Every motorist and business in Britain instinctively knows that 'something's not right'."
He added: "The OFT appears to have failed to address the key issues of: why diesel is more expensive than unleaded in the UK when this is not the case in Europe; why falls in the oil price take so long to be reflected at the pump; and why there are such variations in price, often from the same branded forecourts within the same area."
Both the AA and Green Flag described the findings as a "disappointment". The AA said the OFT had missed an opportunity to insist on the publication of wholesale prices.
"Since 2005, we have campaigned for the wholesale price to be made transparent so drivers can see whether pump price movements are a fair reflection of costs," said Edmund King, the AA's president. "We continue to hold that view and will push hard for that to happen."
He added: "The OFT is not ruling out action at local level and its call for motorway fuel price signs could bring more competition. But drivers deserve a better explanation of why prices fluctuate wildly and who is driving this – from the pump back to the well."
The OFT said it had looked at the idea of "rocket and feather pricing" – the widely held perception that pump prices rise quickly when the wholesale price goes up but fall more slowly when it drops – but had concluded there was "very limited evidence" to support such claims.

It also looked at independent dealers' ability to compete fairly in the market. The big four supermarkets have increased their share of road fuel sold in the UK from 29% in 2004 to 39% in 2012, and greater buying power has allowed them to sell fuel more cheaply than competitors.
In August 2012, the OFT said, the average price of petrol at supermarkets was 2p a litre cheaper than the average at oil company-owned sites and 4.3p a litre cheaper than the average charged by independent dealers.
However, the OFT concluded it had not, "to date, received evidence of any anti-competitive practices being used against independent dealers that might lead it to take enforcement action."
According to website PetrolPrices.com the average price of unleaded petrol at the pump is now 133.62p a litre and 141.08p a litre for diesel. However, there are vast regional variations on this.
One garage in London is charging 149.9p for unleaded petrol, according to PetrolPrices, while the cheapest garages are charging 127.9p. For diesel the highest price, charged by a garage in Invernessshire, is 158.9p a litre, while the lowest is 135.9p.