Consumers giving money to help those hit by last week's Haiti earthquake have been warned about a flurry of online scams.
Fraudsters attempting to cash in on last week's disaster are sending fake emails soliciting donations, and setting up poisoned search results which can infect computers with viruses.
The technology company Symantec, which produces anti-virus software, said it had seen an email purporting to be from the British Red Cross asking charitable readers to make a donation using a Western Union transfer.
The email (below) does have the correct postal address for the charity, but it is badly written and includes a spelling mistake, and the name of the person sending it and the bank account details have nothing to do with the Red Cross appeal.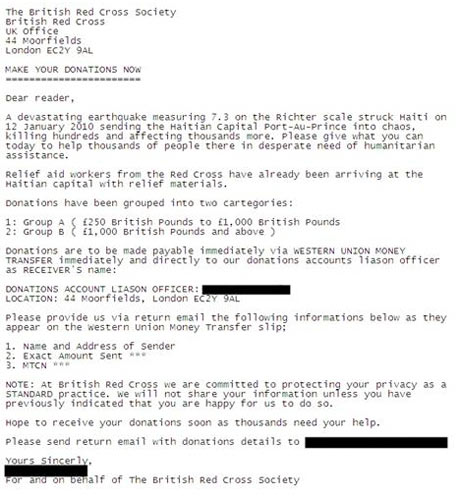 "Cyber-scammers are quick to prey on people's emotions with bogus emails and phoney websites devised to steal what should have been charitable donations," said Abigail Lovell, a spokeswoman for Symantec.
"Any money sent using the instructions in this email would not help anyone in Haiti, it would end up in the pockets of a cyber criminal."
The scam email is an example of a 419-fraud, so called because of the article of the Nigerian Criminal Code which covers this type of activity.
The website 419eater.com yesterday posted another example of an email which also appears to be trying to use the Haitian disaster as a way to rip people off. It claims to be from a London-based charity called Help the World, but the address listed is that of a pub in Islington. Again it asks for money to be handed over via a Western Union transfer – something genuine charities do not tend to do – and the charity is not registered with the UK's Charity Commission.
Kate Beddington-Brown of the fraud prevention service Cifas said she wasn't surprised that criminals had found a way to target unsuspecting consumers, but it was "particularly horrible" that the crisis in Haiti was being used in this way.
She said consumers should report scams like this to Consumer Direct, using its online form, and check the legitimacy of a charity with the Charity Commission, which keeps a list of registered causes.
A spokeswoman for the Disasters Emergency Committee (DEC) said the best way to make sure donations were going to the main charities involved with the aid effort was to give via itself. The DEC is an umbrella organisation for 13 agencies including Oxfam, Save the Children and Christian Aid.
Some reputable charities including Unicef are holding their own appeals. It is collecting through traditional channels, such as its website and by phone, while the retailer H&M is raising funds by asking shoppers to donate £1 when they pay for goods.
Earlier today the singer Wycliffe Jean denied he was making money through his US charity, which is currently raising funds for earthquake victims. Jean said claims that he had profited personally through Yele Haiti were "baseless attacks".