"I'm sniffing around for minge on the bridges," Irvine Welsh hollers. The author's not looking his usual self - he's covered in bling and wearing a wig reminiscent of Mott The Hoople as he reads from his latest book, A Decent Ride, at a Guardian Live event in the Bloomsbury Theatre. He's in character as Juice Terry, a sex-obsessed taxi driver who, in this part, is flinging questions at an increasingly peeved gynecologist in the back of his cab.
It's an intense act to follow. Welsh's sparring partner at the event, writer and co-creator of Peep Show and The Thick of It, Jesse Armstrong, admits to "feeling like one of McFly getting to do a duet with Iggy Pop". He reads from his new (and debut) novel Love, Sex and Other Foreign Policy Goals. "My narrator is a slightly uncomfortable English man, so maybe I can manage that," he said.
But what is the secret to good comedy writing? Does talking about it kill it completely? Here's what Welsh and Armstrong had to share.
Character is key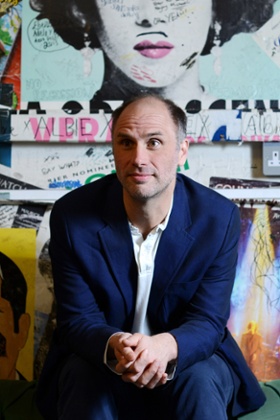 Both Welsh and Armstrong have written icons. For Welsh it was the drug-addled petty criminals Renton and Sick Boy in Trainspotting, as well as the very corrupt, very un-PC detective sergeant Bruce Robertson in Filth; for Armstrong it's inventive curser Malcolm Tucker of The Thick of It and Peep Show's mad-eyed Super Hans.
Welsh has a shorthand for creating new characters: "Where they stay, who they lay, what they play. Your writing can be as funny and as violent and as crazy and stupid as you like, as long as it is consistent with the character - then it works."
"Character is key," agrees Armstrong. "Once you've got that voice going, everything else can follow. If you've also got the right tone, you're in the right area - an inconsistent tone can screw up a project."
To get in the mood to write particular characters, Welsh puts together a playlist of songs to listen to while writing in their voice: "I have that going on a loop while I'm writing a character. That has been a device I always use to find my way in."
Use what's around you
Welsh found his inspiration in bars and Evelyn Waugh; for Armstrong it was TV comedies like The Young Ones and The Day Today. But both authors agree: the best inspiration can be found in the people around you - or yourself.
"Without being a dick, writing all has to be based on your own experience. Perhaps not directly, but it can be an imagined, perverted, reinvented, jiggled around biography," Armstrong said.
Welsh generated a lot of ideas from his experience of growing up in Leith, Scotland. "For me its very much what I grew up with. Everybody is a storyteller - your family, kids at school, the guys at work: they're all storytellers. I kinda tapped into that."
It's fine to fail
"I have failed at everything but the writing, and I've failed sometimes at the writing as well," Welsh said, recounting the time he began writing his potential third novel. "After Trainspotting and The Acid House, I kinda thought I could do anything and indulged myself - I think I did literally photocopy my gas bill about ten times in one chapter. My agent was very nice about it but he did say it was the biggest pile of shite he'd ever seen - my words, not his."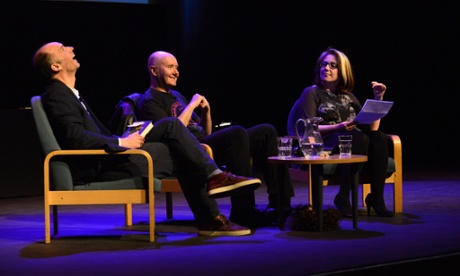 Welsh's agent's advice was: "Stop trying to show off to an invisible audience that doesn't exist. Write what you want to write." So Welsh abandoned it and wrote Marabou Stork Nightmares instead, which according to Welsh is his best book. "I think it is important to not get carried away with other people's perceptions of you," he said. "With any kind of success, you can have a false sense of omnipotence, which is deadly in an author."
It took Jesse Armstrong six or seven years to get something on TV - and even once that happened, it didn't always work. "The first big break Sam [Bain, Armstrong's frequent writing partner] and I got was to transform a very successful US show into a British show," he said. "And we turned into a massive flop." The flop was ITV's version of sitcom That 70s Show. "We made 14 episodes and seven of them have never been shown."
Collaborate
Writers can be solitary creatures, but both Welsh and Armstrong praised the benefits of collaboration, in both screenwriting and writing novels. "The best bit about having a collaborator is plot," Armstrong said. "Plot is quite hard to get right. It is a testing intellectual exercise that feels quite different to being in the flow of voice or characterisation. I like having someone to construct a plot with."
Welsh agreed. "If you are working with someone, it does become easier because you join the dots together and work this thing out. It makes it less intimidating ... you can become obsessed with structure, getting it to work in that three act kind of way."
Target the right agents
Both writers had clear advice on getting published - find writers you like and target their agents. "Agents are the gatekeepers so they're the people to target," Armstrong said. "Yes, they're tough, but that's their job, to get new talent through. When you start out it can feel so difficult you can be so self-defeating. But try and take yourself seriously and specify to everyone you contact why you're contacting them."
Invest in IMDB Pro, Welsh advised: "Every person you like is listed there in some form or another and you've got all the details for who represents them." Of course you can ask friends, but "for fucks sake, don't give it to a writer," he said. "If it's any good, they'll nick the best parts."
Between the Lines: Irvine Welsh and Jesse Armstrong was a Guardian Live event held at Bloomsbury Theatre on 21 April. Guardian Live is our series of talks, debates and interviews exclusively for Guardian members. Find out more about Guardian Membership and how to sign up.