The merry wives of Rupert Murdoch: who has the tycoon been wed to before?
Actor and former model was the fourth to marry the 91-year-old media mogul, following Wendi Deng, Anna Torv and Patricia Booker
Nadeem Badshah
22, Jun, 2022 @8:42 PM
US officials 'briefed Jared Kushner on concerns about Wendi Deng Murdoch'
Murdoch denies any knowledge of Chinese-funded garden project for which she is alleged to have been lobbying
Graham Ruddick and Nicola Slawson
16, Jan, 2018 @3:14 PM
Sky Ladder: The Art of Cai Guo-Qiang review – jaw-dropping pyrotechnics
Kevin Macdonald's documentary – produced by Wendi Deng Murdoch – is a fascinating introduction to the Chinese artist's thrilling celestial artworks
Peter Bradshaw
13, Oct, 2016 @9:30 PM
Wendi Deng Murdoch on Rupert, Ivanka Trump and her new film
She explains why she is friendly with her ex and with Donald's daughter – and why she made Sky Ladder, a documentary about fireworks artist Cai Guo-Qiang
Hadley Freeman
12, Oct, 2016 @6:34 AM
'I love fireworks, they mean good luck': Wendi Deng Murdoch on Chinese art
Rupert Murdoch's former wife makes her documentary debut with Cai Guo­-Qiang's Sky Ladder, about the Chinese artist's fabrication of a 500m pyrotechnics
Edward Helmore in New York
06, Oct, 2016 @4:11 PM
Rupert Murdoch hurt by 'closeness' of Wendi Deng and Tony Blair, editor reveals
Chris Mitchell, former editor of the Australian, tells of Murdoch 'lonely and struggling to sleep at night' after breakup with Deng and accuses rival media of treating tycoon 'vindictively'
Amanda Meade
13, Sep, 2016 @9:45 AM
Wendi Deng with Putin? She's taking on Rupert Murdoch in a romantic arms race | Marina Hyde
Three weeks after the media mogul married Jerry Hall, his ex is spotted holidaying in the Caribbean on a Russian yacht. It's better than Dynasty
Marina Hyde
01, Apr, 2016 @4:16 PM
Don't forget to watch Rebekah's roller-skating performance...
TV satire stars Maxine Peake, Harry Enfield, Nigel Planer and Johnny Vegas
Roy Greenslade
19, Jan, 2016 @1:22 PM
The Texan and the Digger: Jerry Hall and Rupert Murdoch's whirlwind romance
As the former supermodel prepares to tie the knot with the media mogul, a look at the run up to his fourth – and, technically, her first – marriage

Lisa O'Carroll
16, Jan, 2016 @7:00 AM
Rupert Murdoch and Jerry Hall announce engagement – in classifieds
Murdoch and Hall's engagement notice appeared in the births, marriages and deaths section of the Times newspaper in London
Elle Hunt
12, Jan, 2016 @2:39 AM
Imagine Rebekah Brooks roller-skating through the Sun newsroom...
Maxine Peake stars in Red Top, a TV satire that lampoons national newspapers
Roy Greenslade
06, Jan, 2016 @12:02 PM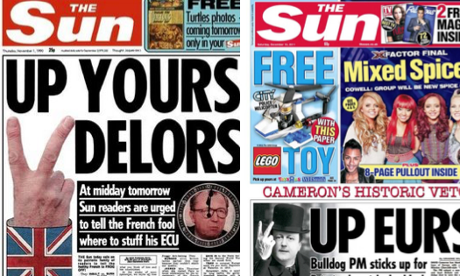 Has Rupert Murdoch changed his mind about Britain's EU membership?
Sun owner denies Mail on Sunday claim that he has made 'a spectacular U-turn'
Roy Greenslade
31, May, 2015 @10:09 AM