'There is a lot to do': Bob Iger outlines vision for Disney as he returns as CEO
Priorities will be creativity and profitability, a shift from a costly streaming services growth strategy pursued by predecessor
Edward Helmore
28, Nov, 2022 @9:00 PM
'A monopolistic blob': what the Disney/Fox merger means for cinema
This cartoon-like demonstration of alpha-capitalism will lead to stricter, safer and blander entertainment – and with each acquisition, the stakes get higher
Peter Bradshaw
20, Mar, 2019 @2:26 PM
Mickey Mouse candidate: could Disney CEO Bob Iger be the next US president?
Trump may have opened the floodgates for high-profile billionaires who fancy a stint in the White House – whether they have political experience or not
Star Wars spin-off will reveal how Han Solo got his name
Disney CEO Bob Iger says that film will also feature first meeting between character and Chewbacca, and divulges details about the franchise's future
Guardian film
24, Mar, 2017 @3:00 PM
Star Wars: The Last Jedi - Luke's first words revealed to Disney shareholders
Exclusive footage premiered at Disney's annual meeting shows Daisy Ridley's Rey handing Mark Hamill's Luke Skywalker a lightsaber
Gwilym Mumford
09, Mar, 2017 @10:02 AM
Bernie Sanders tells Disney: 'Bring Mickey Mouse home'
Speaking in Disneyland's home town, the Democratic presidential hopeful attacked the company's low wages and outsourcing of work to China
Henry Barnes and agencies
26, May, 2016 @11:17 AM
Disney boss says Star Wars saga will continue beyond new trilogy
Plus: Han Solo was once set to return as a 10-year-old boy whose adoptive dad was Chewbacca in 2005 prequel Revenge of the Sith
Ben Child
27, Jan, 2016 @10:05 AM
New model Disney roars ahead
Beset by problems only last year, Disney empire has been turned around by Robert Iger. By Andrew Clark in New York.
Andrew Clark in New York
20, Nov, 2006 @7:09 AM

Disney moves closer to buying Pixar
The Walt Disney Co has authorised CEO Robert Iger to make an offer for longtime collaborator Pixar Animation Studios, a deal valued at close to $7bn.
Staff and agencies
24, Jan, 2006 @3:43 PM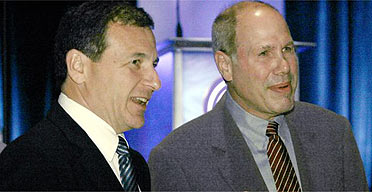 Iger plans to animate Disney
The Robert Iger era is beginning at Disney. The incoming chief executive will inherit a mixed bag on Saturday when he becomes only the sixth person to lead the Walt Disney Co, replacing longtime CEO Michael Eisner.
Staff and agencies
29, Sep, 2005 @8:43 AM

Row as Disney names new boss
Rebel Disney shareholders today objected to the board's choice of the company president Robert Iger to succeed Michael Eisner as chief executive.
Mark Tran
14, Mar, 2005 @3:33 PM
The Iger sanction
In the world of business, as in politics, leaders can overstay their welcome, as Michael Eisner found to his cost. Today, Disney announced that Eisner will be stepping down as chief executive in September 2006, one year earlier than planned, after 20 years as monarch of the Magic Kingdom. Robert Iger, his favoured successor, will take over as chief executive.
Mark Tran
14, Mar, 2005 @2:46 PM