MediaGuardian 100: your chance to pick No 101
Facebook's founder takes the top spot and our media power list features more women than ever before – but who else do you think deserves a place?
MediaGuardian 100: power elite of 2001 – where are they now?
Looking back at the first rundown in 2001 finds familiar faces who are still wielding influence – as well as some spectacular departures from the industry
John Dugdale
30, Nov, 2015 @5:00 PM
Privately educated executives still dominate the media
Guardian study of educational background of 100 most influential people in media industry shows 54% of Britons on the list went to private schools
Tara Conlan
30, Nov, 2015 @12:05 PM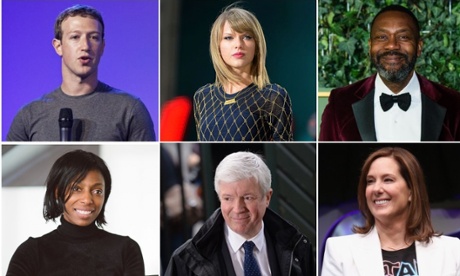 MediaGuardian 100: why 1 billion users put Facebook back on top
The 15th edition of the media power list finds change in the air, with digital challengers elbowing aside older moguls – but a long way to go on diversity
Jane Martinson
30, Nov, 2015 @8:00 AM
Mark Zuckerberg returns to top of MediaGuardian 100 power list
Facebook founder's extraordinary year propels him to top spot of list that has highest proportion of women in its 15-year history
Jane Martinson and Tara Conlan
30, Nov, 2015 @7:59 AM
MediaGuardian 100: women on the rise, but much still to do on diversity
List of the media's most influential people sees number of women increase by more than half, but finds the industry's top jobs are still dominated by white men
Tara Conlan and Jane Martinson
30, Nov, 2015 @7:56 AM
MediaGuardian 100 2015
Who are the most powerful people in the media right now?
Garry Blight, Tara Conlan, Jennifer Rankin, John Plunkett, Aisha Gani
30, Nov, 2015 @7:55 AM