David Pallister obituary
Guardian reporter who specialised in covering miscarriages of justice, official secrets, the arms trade and corruption in big business
Duncan Campbell
12, Sep, 2021 @3:31 PM
Mirror and Express owner reports 30% slump in revenues
Reach, formerly Trinity Mirror, says print and digital income fell in lockdown month of April
Mark Sweney
07, May, 2020 @11:36 AM
Quiet yet authoritative, David Meek was part of the Old Trafford furniture
The long-serving Manchester Evening News reporter, who has died at the age of 88, was a gentle and courteous man who earned the unwavering trust of Sir Alex Ferguson
Paul Wilson
30, Oct, 2018 @3:57 PM
Theresa May told to 'get a grip' on rail crisis by regional news titles
Papers such as Liverpool Echo and Yorkshire Post express readers' fury at service failure
Kevin Rawlinson
04, Jun, 2018 @11:19 PM
Trinity Mirror says 80% of phone-hacking claims settled
Publisher of titles including Daily Mirror has set aside total of £52.5m to pay damages and legal costs on 250 claims

Mark Sweney
16, Dec, 2016 @9:32 AM
Trinity Mirror share price dips as it suffers death by a thousand cuts
Chief executive Simon Fox tries to cope with falling sales, falling ad revenue, a big phone hacking financial headache and a failed newspaper launch.
Roy Greenslade
15, Apr, 2016 @11:36 AM
Why are only two women vying for regional press awards' sports prize?
Lynn Faulds-Wood wonders why so few females are writing about sport and appearing on UK sports pages in the national, regional and local press
Roy Greenslade
06, Apr, 2016 @1:33 PM
National newspapers revel in Louis van Gaal's humiliation
Headline writers greet Manchester United's defeat with Lego puns and, in the Sun's case, a reference to Hans Christian Anderson...
Roy Greenslade
19, Feb, 2016 @11:30 AM
BBC websites dominate the market in online news views
Top 10 media publishers responsible for 65% of news consumed in Britain
Roy Greenslade
09, Feb, 2016 @10:34 AM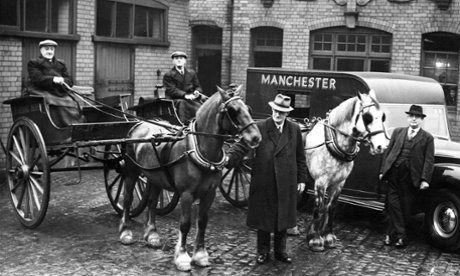 Guardian delivery horses
Delivery horses were once invaluable employees at the Manchester Guardian and Evening News, when being first with the news depended on how fast you could get your papers to the newsagents. This month, our resource from the GNM Archive looks at the horses' retirement in 1952 and the transformation of their "magnificent" stables to a modern garage.
Elli Narewska
01, Oct, 2015 @1:19 PM
Digital nonsense - local newspapers have always helped their communities
Roy Greenslade argues that British journalists acted for their readers long before the internet arrived
Roy Greenslade
17, Sep, 2014 @11:02 AM
Times editor and former PCC member join Ipso's appointment panel
Selections show 'utter contempt' for independence, says Hacked Off
Roy Greenslade
08, Jan, 2014 @8:24 AM