Krishnan Guru-Murthy says it is time for a black or Asian boss of a UK TV channel
Exclusive: Channel 4 News presenter to make case in speech to station's Inclusion festival on Wednesday
Jim Waterson Media editor
30, Nov, 2022 @7:00 AM
Krishnan Guru-Murthy taken off air for swearing about Steve Baker
Channel 4 News anchor used offensive word off air to describe Northern Ireland minister
Jamie Grierson
20, Oct, 2022 @12:57 PM
TV tonight: Alison Steadman is an interfering grandma in new BBC sitcom
Katherine Parkinson also navigates life's everyday mundanities in Here We Go. Plus: Not Going Out heads to the woods in search of drugs. Here's what to watch this evening
Hollie Richardson, Henry Wong, Phil Harrison, Ali Catterall and Simon Wardell
29, Apr, 2022 @5:20 AM
'Kids are interested in everything': Krishnan Guru-Murthy and Lizo Mzimba on Newsround at 50
From the environment to diversity, the children's news show has been setting the agenda for decades. Two former presenters explain what it taught them – and why it still matters
Sam Wollaston
04, Apr, 2022 @9:00 AM
Sunday with Krishnan Guru-Murthy: 'Normally I'm obsessing over stories'
The TV news presenter tells Michael Segalov about working weekends, teenagers in lockdown and his rock'n'roll wedding
Michael Segalov
06, Sep, 2020 @5:45 AM
Don't call me BAME. We need a new political language | Kenan Malik
We can't analyse society without categorising people. But we need precision in the categories used
Kenan Malik
25, Jul, 2020 @6:00 PM
'You don't want people judging your decor': hosting TV news at home
Presenters aware viewers will be scrutinising their bookshelves and wallpaper as well as their coverage
Jim Waterson Media editor
25, Mar, 2020 @2:23 PM
Prominent Britons of colour condemn BBC over Naga Munchetty complaint
Corporation accused of racial discrimination after presenter reprimanded for Trump remarks
Caroline Davies
27, Sep, 2019 @10:36 AM
Krishnan Guru-Murthy: 'I'm sure some people avoid me, others seek me out'
The Channel 4 News presenter on asking proper questions in interviews and why he'd make a terrible doctor
Tim Lewis
28, Apr, 2019 @6:59 AM
'Before election night, I went for a burger': how do newsreaders escape the news?
Emily Maitlis goes for a run with the dog, Krishnan Guru-Murthy plays guitar. In the midst of a relentless news cycle, frontline reporters reveal how they switch off
Interviews by Abigail Radnor and Erica Buist
08, Jul, 2017 @8:30 AM
Channel 4 News presenter tells LBC to axe Ken Livingstone
Krishnan Guru-Murthy asks if radio station is comfortable paying former London mayor after his Hitler remarks
Ben Quinn
29, Apr, 2016 @3:29 PM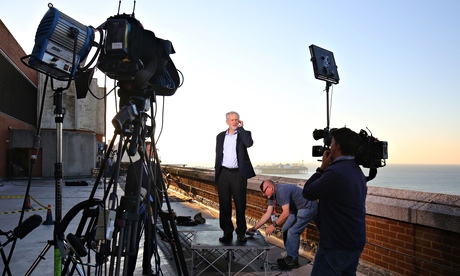 Has Jeremy Corbyn changed the art of political interviewing?
Labour leader's candid approach and lack of media training sets fresh challenges for journalists
Tara Conlan
04, Oct, 2015 @5:11 PM