News publishers contributed £5.3bn to the UK economy in 2015
Report finds that newsbrands generated £4.8bn revenue, supported 87,500 jobs and invested £97m in digital services while holding power to account
Roy Greenslade
14, Dec, 2016 @12:01 AM
Mishal Husain lets the Sun's Tony Gallagher off the hook
Editor gets a soft ride in his interview on Radio 4's Today programme
Roy Greenslade
18, May, 2016 @9:20 AM
Was it necessary to prosecute David Dinsmore over pixelated picture?
The judge agreed that the former Sun editor had taken extraordinary steps to ensure the girl standing beside footballer Adam Johnson could not be identified
Roy Greenslade
08, Mar, 2016 @3:56 PM
Sun managing editor Stig Abell to become editor of the TLS
Former Press Complaints Commission director gets a new job within News UK, succeeding Peter Stothard
Roy Greenslade
12, Feb, 2016 @11:14 AM
The Sun heaps scorn on a Tory 'bash' attended by former Sun editor
Newspaper tells readers of 'lavish' event with 'posh' auction lots attended by an oligarch, porn baron, Sun on Sunday columnist and a News UK executive
Roy Greenslade
10, Feb, 2016 @10:03 AM
Why the public should know when ministers meet media chiefs
If George Osborne meets Rupert Murdoch, Rebekah Brooks and any press proprietor, the public should be informed
Roy Greenslade
25, Jan, 2016 @11:00 AM
Rebekah Brooks praised by David Dinsmore over News UK's changes
Since she returned to publisher 12 weeks ago it 'feels like 12 years ago', he says
Roy Greenslade
02, Dec, 2015 @9:30 AM
News UK chief refuses to rule out scrapping Times paywall in future
David Dinsmore says subscription model for quality titles working much better than for the Sun, but believes ruling out strategic change would be 'foolish'
Mark Sweney
04, Nov, 2015 @5:34 PM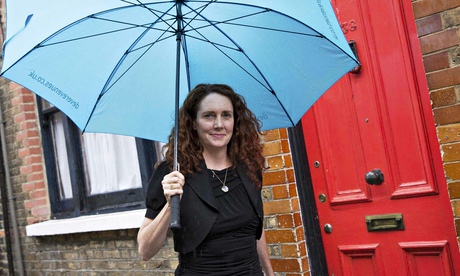 Can dropping the paywall and upping the story count boost Sun's website?
Editor Tony Gallagher and internet convert Rebekah Brooks lead push to revitalise tabloid's online presence
Roy Greenslade
01, Nov, 2015 @6:35 PM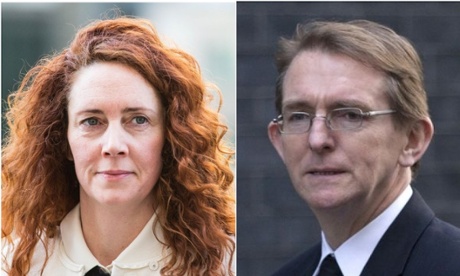 Rebekah Brooks' return confirmed as Tony Gallagher is named Sun editor
Chief executive cleared of phone hacking to head Rupert Murdoch's UK newspaper operations as former Telegraph editor takes over tabloid
Mark Sweney and Roy Greenslade
02, Sep, 2015 @10:07 PM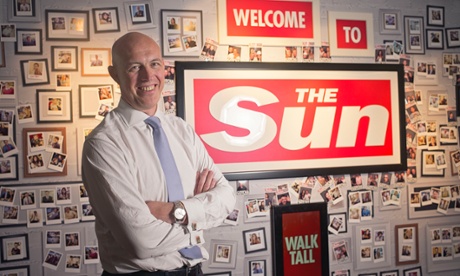 Will Tony Gallagher replace David Dinsmore in the Sun editor's seat?
Daily Mail deputy said to be 'the only name in the frame', but it's a big jump
Roy Greenslade
28, Aug, 2015 @7:13 PM
The Sun's boost in online browsers proves paywall strategy was wrong
When will Rupert Murdoch stop charging altogether for access to paper's site?
Roy Greenslade
20, Aug, 2015 @1:41 PM