Chirpy Chirpy Cheep Cheep! Why singalong 70s pop was edgier than you think
A new book, In Perfect Harmony, explores the pop hits of the 70s, long derided as mainstream and meaningless. But there was more to it, argues its author
Will Hodgkinson
20, Sep, 2022 @7:00 AM
What is driving the anti-sex backlash?
From Mary Whitehouse to the new 'puriteens', there is a growing anti-sex movement gathering pace
Eva Wiseman
24, Apr, 2022 @7:00 AM
My herpes advice for Mary Whitehouse | Letters
Letter: Stan Godfrey on almost losing his job after sending a stock reply from the health department to a prolific correspondent
Letters
08, Apr, 2022 @4:08 PM
Surviving the Mary Whitehouse experience | Letter
Letter: A BBC Two production of Zola's Nana prompted a furious letter of condemnation, writes David Conroy
Letters
01, Apr, 2022 @4:54 PM
Banned! The Mary Whitehouse Story review – this documentary will make you oddly proud of the BBC
The corporation has put its toys back in the pram to deliver an even-handed, unmalicious documentary about the Christian campaigner's fight against the evil Beeb
Lucy Mangan
29, Mar, 2022 @9:00 PM
Don't bet on gambling firms changing with paltry fines | Brief letters
Brief letters: Betting companies | MPs could do better | Mary Whitehouse's phoney morals | Talking Welsh
Ahead of her time? Programme re-evaluates Mary Whitehouse's legacy
Radio 4 programme presented by Samira Ahmed argues case for nuance in judging campaigner mocked as 'puritanical harridan'
Jim Waterson Media editor
01, Mar, 2022 @12:01 AM
Turn on or turn off: is there too much sex on UK television screens?
Despite the post-#MeToo era, TV sex is hotting up and on the increase. What does all this mean for actors and audiences?
Barbara Ellen
20, Feb, 2022 @11:00 AM
'Mary Whitehouse is living in my head': how the video nasty scandal inspired a hot new film
Censor, Prano Bailey-Bond's horror debut, was inspired by the 80s home video scandal. She discusses art versus offence, while the BBFC's head makes the case for its relevance today
Danny Leigh
30, Jul, 2021 @5:00 AM
Woody Allen's memoirs: this is the behaviour of censors, not publishers | Jo Glanville
Hachette has succumbed to moral outrage in rejecting his autobiography
Jo Glanville
07, Mar, 2020 @7:00 PM
Michael Bogdanov obituary
Theatre director and founder of the English Shakespeare Company whose 1980 production of The Romans in Britain led to an obscenity trial
Michael Coveney
18, Apr, 2017 @3:59 PM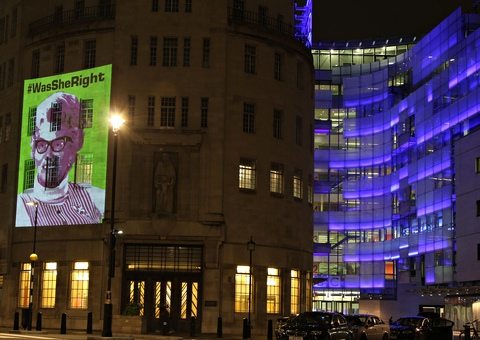 Broadcasting House has Mary Whitehouse experience | Media Monkey
Media Monkey: Mediawatch-UK projects image of group's founder onto BBC building
Monkey
17, Oct, 2014 @5:14 PM