After a two-week hiatus that had some wondering if he'd gone for good, Rupert Murdoch is back on Twitter. "Sorry, I have been busy lately with many preoccupations!" he tweeted last Thursday, a day after it emerged what those preoccupations were. Murdoch had been organising the biggest deal of his storied career: an $80bn bid for Time Warner by 21st Century Fox, his entertainment conglomerate. If successful it would create a media behemoth encompassing some of the most popular, and lucrative, movies and TV shows on the planet, including Avatar, Harry Potter, Game of Thrones and X-Men.
The 83-year old is currently in Australia and after a bleak period in both his personal and professional life seems to be thoroughly enjoying himself: "Relaxing at last. Few hours in magnificent Aussie bush. Ewes lambing, cows calving, great season. Later hoping show off mobs of kangaroos," he tweeted shortly after breaking his silence.
Murdoch is once more making the sort of news he'd prefer to be remembered for: the last of the media moguls throwing what is probably his last big roll of the dice. A gamble that could hand his children control of a media giant that, he hopes, will be his real legacy.
But even if he pulls it off, will this be a deal to really ensure his legacy? There's a reason media moguls aren't what they used to be – the companies they run are less powerful too. Disney, Fox, Time Warner, Viacom – are all big businesses, but Google and Apple are each worth more than the combined market values of the media firms. Alongside Amazon, the tech titans are today's true global giants, reshaping the media landscape in ways that Murdoch can only dream of.
Then there are the companies that deliver that content. Comcast, the US's largest cable company and owner of NBC Universal, is valued at close to twice as much as Fox. Soon, probably, it will be even bigger if Washington allows it to swallow Time Warner Cable, the second-largest cable firm, which was spun off from TW itself in 2009.
The logic behind the deal is that a bigger company with all these big brands will be able to talk tougher terms with the Comcasts of the world. Inevitably someone will soon start using the word "synergies".
It's an arguable point. High-profile cable TV channels such as Time Warner's HBO make their own deals and their fortunes rise and fall with the content they create. Lumping HBO in with Fox's FX might give it extra leverage – smooth out those less successful seasons when it launches The Newsroom rather than Game of Thrones – or it might not. Eighty billion dollars seems a high stake for that bet, and it's only likely to get higher.
One thing's for sure: the bankers are excited. "We believe this transaction makes strategic and financial sense – even at $100 a share," Marci Ryvicker, a senior media analyst with Wells Fargo Securities, wrote in a research note last week. If Fox were to offer $100 a share, instead of the $85 rejected by Time Warner last week, the deal would be valued at $91bn. With Time Warner in play, other suitors are likely to emerge and the price could go higher still. How much is Murdoch prepared to pay for the capstone of his career?
Globally, the two companies are probably most famous for their movie studios. Warner Bros films accounted for about 17% of the US box office last year, according to an analysis by the research firm MoffettNathanson. Fox's films represented 11% of the market.
Fox is currently top of the box office thanks to the strong performance from films including X-Men: Days of Future Past and The Fault in Our Stars. Warner Bros is number two with The Lego Movie and Godzilla among this year's successes.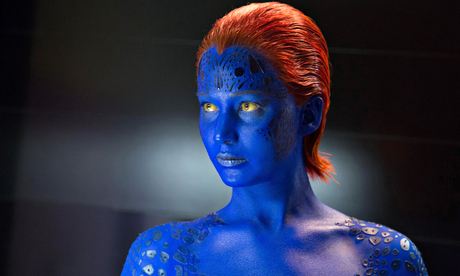 These days the film studios play second fiddle to the cable TV networks at both companies – as they do at Disney and Viacom as well. The main reason Murdoch covets Time Warner is for its prestigious cable channels – HBO, TBS, TNT – and its broadcast TV hits. Fox plans to sell off CNN if the deal goes ahead to pacify the regulators, who may fret about Fox controlling too much news. The combined group would also control more than a third of the output of scripted shows on the major broadcast networks, bringing together hits including Warner's Big Bang Theory and Fox's Modern Family and Family Guy.
The deal would also give Fox the opportunity to acquire more sport rights to help the fledgling Fox Sports 1 network compete with Disney's powerhouse ESPN. Time Warner's sports-rights assets include NBA basketball, major league baseball and PGA championship golf. "It's the most important programming out there and probably gets more important as everything else fragments," Chase Carey, the president and chief operating officer of 21st Century Fox, said in a conference call in February.
So far Jeffrey Bewkes, Time Warner's chief executive, has shown little interest in Murdoch's ambitions. In many ways Bewkes is the anti-Murdoch and an example of how the media landscape has changed. He's a seller of businesses, not a buyer. Under his tenure, Time Warner has unwound its disastrous merger with internet provider AOL, sold off the cable assets, and pitched Time magazine and the publishing business over the side. Bewkes is a numbers man. He has an ego – which chief executive doesn't? – but empire-building is not what gets him out of bed in the morning.
Time Warner sat out the fight for NBC Universal, the last time a media asset of this size was on the block. After Comcast won that war, Bewkes told a TV industry conference: "Somebody has finally noticed that these things don't work out so well. We love to see our competitors taking risks." It's not a remark one can imagine Murdoch making.
Time Warner's rebuff of Murdoch's approaches highlighted where Bewkes sees the weak points in Fox's strategy. The price was too low, the company said. On Friday, Time Warner's shares were at $86, already above Fox's $85 offer. Nor were the shares being offered to Bewkes's liking.
So far Fox's offer has been made largely in non-voting shares, which would mean Time Warner shareholders effectively handing control to Murdoch, who has signalled that he plans to install one of his sons as his replacement. "There is significant risk and uncertainty as to the valuation of 21st Century Fox's non-voting stock and 21st Century Fox's ability to govern and manage a combination of the size and scale of 21st Century Fox and Time Warner," the company said when it rejected the offer.
The company's comment was a clear warning that Murdoch's legal woes could still come back to haunt him even as he seeks a deal that will eclipse the memory of the hacking scandal.
It's difficult enough for any merger to succeed. One KPMG study found that 83% of mergers and acquisitions (M&As) failed to enhance shareholder value and the accountancy firm argued that culture clash was often a major reason why deals failed to work out. Time Warner and 21st Century Fox are very different companies. It's going to take more than $80bn to convince TW's number-crunching, downsizing, risk-averse boss that Fox is a good fit.
Anthony DiClemente, media analyst at Nomura, sees a number of reasons why the deal makes sense, including the power to broker better deals with the cable companies and the new generation of web-based TV services like Netflix and Amazon Prime, and save money on distribution in film. But he still believes Bewkes was right to reject the offer at $85 a share.
Alongside the price and possible regulatory concerns, he cites the Murdoch family as a possible deal-breaker for Time Warner: "It is possible that the [Time Warner] board has concerns about the leadership of the new company. The new company will be controlled by the Murdoch family, and chief executive and chief operating officer succession plans are not exactly clear. As of now, Rupert Murdoch is chief executive of [Fox], Chase Carey is president and chief operating officer, and James Murdoch is co-chief operating officer. The thornier questions would be, what is the succession plan here, and where might Mr Bewkes fit in?"
Everything is for sale at the right price, especially for a potential seller like Bewkes. Now it remains to be seen just how much Murdoch wants this deal to go ahead.
Cannily, he has made the move as some of his rivals are busy with deals of their own: Comcast has Time Warner Cable, AT&T is planning to merge with satellite broadcaster DirecTV. But DiClementi also wonders whether, having put Time Warner in play, Murdoch has invited in the new moguls.
"At some point, technology companies such as Google or Amazon or Apple may begin to identify the value of professional content – and rather than licence that content, they may attempt to acquire a media content company," he writes.
"Given its investments in Google Fiber, Chromecast, YouTube, and Google Play platform, it seems YouTube wants to get involved in the living room."
Murdoch's final deal could be undone by the moguls who have come to replace him.