Sir David Attenborough has anointed the BBC's favourite particle physicist, Professor Brian Cox, as his approved successor to take over fronting the corporation's landmark natural history documentaries.
Attenborough, who has just celebrated 60 years in broadcasting, offered a glimpse into his vision of the future after Cox paid tribute to him at an event hosted by the Radio Times on Tuesday night, said: "If I had a torch I would hand it to Brian Cox."
Cox, the former pop star who has become a household name on the back of his BBC2 series Wonders of the Solar System and Wonders of the Universe, said Attenborough had "genuinely made a difference to the world in which we live".
Speaking afterwards, Cox told the listings magazine he had not expected Attenborough's comment. "Obviously I couldn't have expected that. David is not ready to pass on the torch yet, that's the first thing to say," said Cox.
"I'm sure he's got many more series he's going to make. But it's an honour. I'm actually lost for words and I'm rarely lost for words."
There has been no shortage of speculation about when Attenborough will retire, stretching back at least a decade.
But predictions of imminent retirement have proved premature for the 86-year-old who is busier than ever, currently appearing on three different television channels.
As well as his landmark BBC series, the latest of which is BBC1's Africa, he has become the face of Sky's 3D natural history programmes including his most recent, Galapagos 3D.
Attenborough also has a series on digital channel Eden, part of the UKTV network, called David Attenborough's Natural Curiosities.
Speaking earlier this month, Attenborough said: "I'm 86 now and I've been broadcasting for 60 years. I don't want to slow down. Retirement would be so boring."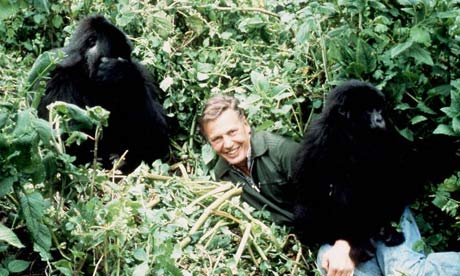 Cox, appearing at the Radio Times Covers Party at Claridge's hotel in London, said Attenborough was an "inspiration".
"There are many, many scientists across the world who cite David's programmes as being the original inspiration that got them into science," said Cox.
"He's contributed to science, and thereby contributed to society, to Britain and indeed the world. That's what great science communicators can do.
"It's very important for us in our industry to recognise that when you do great things as Sir David has done continually for 60 years, they genuinely make a difference to the world in which we live. Sir David, thank you for inspiring me."
Cox, the one-time keyboard player with 1990s pop group D:Ream, found fame on the small screen presenting BBC2's Wonders of the Solar System.
His most recent series, Wonders of Life, began with just more than 3 million viewers on BBC2 on Sunday. Cox has also recently featured in the same channel's Stargazing Live.
Cox's previous BBC series have seen him look to the heavens, but the starman came back down to earth with Wonders of Life swapping physics for biology as he explored evolution.
Cox, who had not studied biology since the 1980s, asked two professor friends to teach him "everything that's happened in biology since 1986".
The new series expands Cox's track record beyond astronomy, putting him in pole position to follow Attenborough's broader TV remit.
• To contact the MediaGuardian news desk email editor@mediaguardian.co.uk or phone 020 3353 3857. For all other inquiries please call the main Guardian switchboard on 020 3353 2000. If you are writing a comment for publication, please mark clearly "for publication".
• To get the latest media news to your desktop or mobile, follow MediaGuardian on Twitter and Facebook.