It was the final everyone had been waiting for - three men waited to find out who would take the Masterchef trophy that would, it was promised, change their lives in some way as yet unspecified.
For the Word of Mouth readers, other victory was at stake: Masterchef bingo.
We all had one (or more) of our six MasterChef bingo cards printed out and ready (depending on how many of you there are, or if you're a bingo king or queen how many hands you reckon you can play simultaneously) and some sort of pen.
Easy. Fun. And open to personalisation such as a glass of something every time you ticked off one of your quotes.
Here are the cards: Card 1 | Card 2 | Card 3 | Card 4 | Card 5 | Card 6
And this is how the show played out ...
7.51pm: Ten minutes to go, and I'm sitting here, as excited as a piece of pie on its first meeting with double cream, warm and trembling with a thick crusty top like a perfect creme brulee.
And what do we have to get us in the mood? The Money Programme, on the problem of finding employment in a recession. Oh.
Well, it's still doing nothing to dim my fiery excitement. Tonight, Mat, Christopher or Andy will take the title of Masterchef.
Waiting Doesn't Get Tougher Than this.
7.57pm: I should state first that MasterSub on the food blog, Rick, has informed me that the man I referred to as 'Matt' all the way through last week is actually called 'Mat'. My apologies to him, and to all fans of naming themselves after floor coverings. I will attempt to keep that straight all evening. Or at least just refer to him as Ming, like all our commenters.
7.59pm: "This is Waaaaan Tuff competition!" we sit, and wait, and stare in anticipation at the screem
"Whoever wins." Yes? YES? "It'll chaaaaange their life!"
It's almost here! We join in as that familiar, completely meaningless sentence rings though the air:
"Cooking doesn't. git tuffer. Than this!"
Hurrah!
Do you have your bingo cards ready?
8.03pm: We go through the contestants one more time, clips of best dishes, worst dishes, and talking heads about just. how much. this means to them. As Torode would put it.
We learn that Andy loves London. Which is very nice for him.
We learn that Christopher doesn't have much creative outlet in his job.
We learn that father-of-three Mat, once more, loves to forage for his food.
And what's more - "I was born here, but grew up in New Zealand" says Ming, finally putting those questions about his accent to rest.
8.08pm: The mystery box of ingredients are here: And it's a HUGE box. Venison, quail, sea bass, bacon, fennel, chilli - and a billion other high-class ingredients.
"We have never ever had a comeback winner" saus Gregg to Andy - unsurprisingly not putting a single dent in his daunting levels of confidence.
"No? Well, I'm planning on changing that"
Christopher's attempting pasta, which has been difficult to him in the past.
Ming just wants to cook something good.
I think he's using venison.
Which, as we all know, can be tricky.
Because meat doesn't. Get tougher. Than that.
8.13pm: Andy's seabass makes John Torode happy. I begin to wonder if it can make everyone happy. All these people. Searching for happiness all they need is a little nibble on Andy's seabass.
Christopher's pasta is a thing of great joy also, which is good, because the poor lad's had a hell of a time.
They come to Mat, with his venison and his beetroot and his mushroom. It's rustic and not beautifully presented: are the flavours too strong? Ask the judges?
"I'm not going to criticise until I actually stick it in my mouth!" says Gregg. Boo YA! That's on the bingo cards, ladies and gentlemen, mark it down, and have yourselves a drink.
8.22pm: After John and Gregg go into their sound-proofed shouting room and shout platitudes at each other for a while about how good the three finalists are: "YES THEY ARE GOOD AREN'T THEY?", "YES, THEY ARE" "THEY'VE COME A LONG WAY" etc
The three are thrown to the winds - or rather to exclusive, Michelin-starred restaurants to try their hand at cooking some of their signature dishes.
8.27pm: In 3-Michelin-starred Arzak in San Sebastian, Andy must prepare the world's faffiest - and admittedly most yummy-looking - seared tuna.
In France, Christopher is making some kind of combination of oyster, porridge and possibly snails involving much pureeing and suggestions of sliminess that that, as a texture-neurotic, make me feel a bit sick just thinking about it.
Worse still, he has to make it for the chef's father - a stern looking man with, the voiceover says, his own Michelin star (what, just for being him? Does he have a restaurant too?) but he likes it.
"Oui." he says, in a severe but grumpily pleased way. "Oui. Oui"
The man from that restuarant in France: he says "Oui!"
Christopher is meekly pleased. "Well. s'not like cooking at home ..." he says, about one of the most incredible days of his life.
Meanwhile, Ming the Merciless, exiled to the frozen wastes of ... well, Copenhagen, does very well too.
8.33pm: The three then have to cook the signature dish of the restaurants they've been working in - for the chefs that created it.
And when they all do really REALLY well, with full-hearted plaudits from the chefs, applause, congratulations, compliments and high fives, it's actually a heart-warming, affirming moment.
Sorry, no snark here, folks. It's just lovely. I teared up.
8.38pm: I won't tell I lie here: knowing full well that I never manage to transcribe the menus as they're saying them, I've got these in advance, in an attempt to anyone who's actually trying to use this blog to catch up on what really happened (and good luck to them, frankly).
So here:
Mat
- trio of rabbit with nettles and pancetta crisps
- spider crab thermidor with mussels, foraged sea vegetables and a
side of chips
- creamy lavender and blackberry mousse with honeycomb and
blackberry sauce
Judges say: Big Flavours!
Chris
- scallop mousse ravioli with black pudding and cauliflower puree
– roast belly of pork with clams, bubble and squeak cake and a cream
calvados sauce
- chocolate tart with a sesame seed snap and crème fraiche
Judges say: They're not quite sure: could be dangerous.
Andy:
- Thai style coconut crab salad with chilli lotus root crisps and
micro herbs
- glazed duck breast with duck leg ravioli mushrooms chilli spring
onions and ginger,
- mango, crispy coconut and passion furit sundae
Judges say: "Risky. Why have you suddenly gone all Asian cusine on us?"
8.43pm: It's not on the bingo cards, but then, how could you ever expect a quote like "As soon as you bite in, the scallop rushes up and gives you a big wet kiss!" from Gregg.
And, in fact, why woudl that be a good thing?
But it is, of course. They're reasonably nice about the fact that Christopher doesn't seem to have cooked his pork belly all the way through - though they mention it.
His starter and his chocolate tart are well recieved. There almost aren't enough superlatives in the world. Well, almost: this is Masterchef we're talking about.
8.46pm: By the time they've finished with Ming's meal, he's crying and looking like he's having to fight hard not to rush up and give them a big wet kiss. You know, like you might expect from a scallop.
They're blown away by every single dish. The starter melted in their mouths - they could neither of them hardly speak after tasting that and the main. It was lovely and quiet for a bit.
Mat takes all their praise, humbly, and with tears.
"This is what I love, he says. This is what I'm about."
I'm getting nervous for them now.
On to Andy and his Asian feast ...
8.49pm: Andy's food is a flavour sensation, say the judges.
His main faux pas seems to be serving his sundae in a sundae glass. Which just makes it look a bit cheap, says John. Well, maybe he's aiming for a recession market. Cheap is the new dear, dear...
And off they go into the Soundproof Superlative Booth for shouting...
I mean judging.
8.52pm: I think it's safe to say that they liked all the food.
They liked all the food a great deal.
The only point of confusion, for me, was the moment I thought I heard Gregg say that Andy's dessert was so good he would happily have barfed in it.
Turned out he said bathed. Barrrrthed.
Thank goodness.
8.53pm: They love them all, but there's a wee hint. "The only problem for Christopher is that he's sharing kitchen space with two such brilliant chefs ..." they say.
Oh dear.
We see the contestants, the chefs - however you want to call them: all tired, all nervous and all of them tearful, to a greater or less extent.
Finally ... everyone's called back into the same room.
8.55pm: We've made our decision ...
and our Masterchef champion ...
Is MAT!
Oh Yay! YAY!
8.56pm: "I did it. I bloody did it!" he says, tearful.
He's so lovely. And he's having a cry, and I can't deny it, so am I.
8.58pm: I finally open the email that Susan sent me with "DO NOT OPEN UNTIL 9PM!" in bold in the subject line.
And the quote from the winner it contained is this:
"My final three courses were very personal and incorporated my love of food, foraging and catching great ingredients. I'm humbled and proud that my dishes won such an amazing competition.
"It's been a fantastic experience and I've learnt an enormous amount. Although, at times, I have never worked so hard in all my life, it's been great fun and, yes I hope it will change my life!"
And here he is. lovely Ming the Marvellous.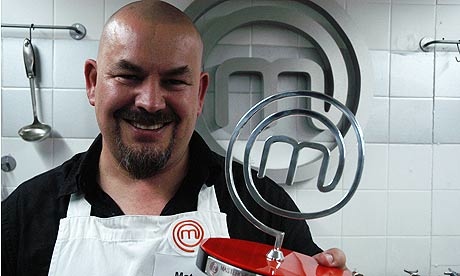 Thank you, and good night.
Oooh, Did anyone call housie in the Bingo..?
I'll go look.
9.04pm: SpoonPR! You will be getting prizes! Congratulations.
Susan or someone will be in touch.
And well done all of you. You all did marvellously.
Crikey, I feel like a primary school teacher. Sorry.
Thank you again, and goodnight all.