Name: Cheese Postie.
Age: Just born.
Appearance: Lovely and crisp on the outside, soft and unctuous in the middle.
Is this something you eat? Definitely! It's a toasted cheese sandwich that arrives in the post!
Won't that be a little cold? Ah, but you toast it yourself, you see.
So it's a sandwich that arrives in the post? Not quite. You have to butter the bread, spread the sauce, arrange the cheese, put the whole thing in a toaster-proof bag … but otherwise they've done everything! All for just £3.99 a week!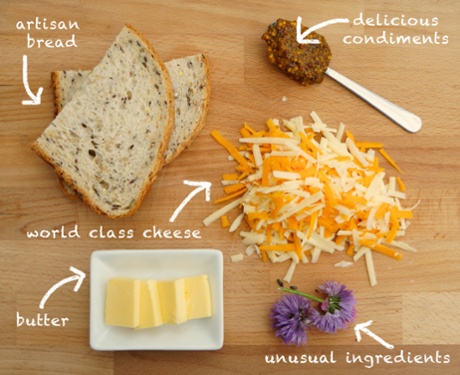 Won't the bits go manky? "The cheeses we are using are OK to be out of the fridge for up to four days and the bread is a really good quality that stays fresher for longer than your average loaf," says one of the co-founders, Dave Rotheroe.
He's a chef, is he? Not exactly. Technically, the word for what he does is "IT contractor".
Right. And the other co-founder? That will be Dan Jennings. He works in logistics. The two men have devised about 100 different combinations of bread, cheese and condiments.
To recap then: I get day-old ingredients for a needlessly unusual cheese sandwich designed by two blokes, and at a much higher price than I'd normally pay. I can't eat the sandwich when I like, or make another if I'm still hungry. I just have to wait until the post arrives. That's a good summary, yes. Want to invest?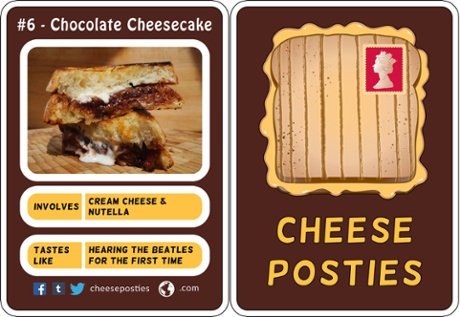 I'll pass. That's a pity. Because Cheese Postie is going places. Rotheroe and Jennings sought £2,000 for it on the crowdfunding platform Kickstarter, and ended up being swamped with £3,809 from eager customer-investors. The first packages will leave the factory in late August or early September.
Well I never. There is actually quite a big market for postal food and drink, remember. Graze.com is doing well with its needlessly expensive snacks, while the needlessly expensive craft beer service Beer52 was startup of the year in 2014. Rotheroe has already crowdfunded a chilli-sauce-by-post business called Lick My Dip.
Both eurgh and ow. You forgot kerching.
Do say: Credit where it's fondue.
Don't say: I'll brielieve it when I see it.