In a brutal kick in the teeth for those of us who were planning on doing our best work in November and December, GQ has announced its Men of the Year, and the final list is a peculiar mix of the annoying, the half-decent and the Men Who Haven't, On the Face of It, Had a Particularly Good Year At All. Here's an alternative guide to some of GQ's winners.
Pharrell Williams – solo artist of the year
There's a strong argument that anybody who was even vaguely involved with Blurred Lines, let alone its chief architect, should never be honoured for anything they do in music ever again; that you could drop a genre-blitzing all-time classic, melding The White Album with Enter The Wu Tang and still be dismissed with a simple, "Yeah, but … Robin Thicke." Yes, it has been another good year for Pharrell doing what Pharrell does, but if pop is all about being entertaining, then surely a more deserving solo artist of the year would be Thicke himself, whose painfully public career apocalypse has been one of the most hilarious and richly deserved in pop history?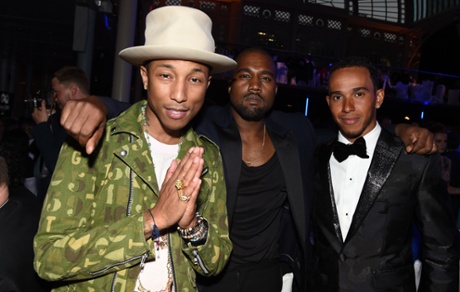 John Bishop – comedian of the year
Really? We ask again, really, GQ? Given the huge wealth of comic talent at our nation's disposal, the best we can offer up for celebration is a man with the most annoying delivery since England's one-day bowling attack, the first major graduate of the Michael McIntyre School Of Saying Unfunny Things In A Voice That Suggests They Are Funny And Hoping People Don't Notice That They're Not. For shame.
Tony Blair – philanthropist of the year
If we can accept the idea that at the start of every new year one's moral slate is wiped completely clean and we are absolved of previous sins, then Tony has been up to a lot of good, establishing charities both local and international, and continuing to act as a peace envoy in the Middle East, a role in which, we'd argue, he is only enjoying limited success. There are some, of course, who'd counter that such concerted goodliness could only be the actions of a very guilty man. Indeed, one of the people to express their disbelief at his award is Match of the Day's Gary Lineker - and when he's bussin' off shots at you, you know you're in trouble.
Lewis Hamilton – sportsman of the year
A profoundly peculiar choice for the sportsman of the year, this, given that Lewis continues to lag behind his team-mate Nico Rosberg in the Drivers' Championship and regularly sulk about it in public. Considering that he has his own personal parking space at Asda, we'd argue that Lewis doesn't need any more awards, but since he has had this one bestowed upon him for a year of meh, we'd like to throw in the England World Cup squad in there as an alternative.
Benedict Cumberbatch – actor of the year
You can't knock his hustle, neither on the small screen, nor increasingly on the big screen, where he'll soon be playing a dragon again in the final instalment of The Hobbit and criminalising it up opposite Johnny Depp in Black Mass, the story of the Bulger mob. But my beef with Benedict is quite simply that he perpetuates the posh British male totty archetype, with his fringes and his cheekbones and his names like "Benedict" and "Cumberbatch" an archetype that normal menfolk simply cannot live up to.