No 10 has so far made no comment about its 30 June reception to celebrate "the best of Britain's creative industries", nor the draft guest list, revealed yesterday, that includes Chiwetel Ejiofor, Benedict Cumberbatch, Emma Watson, Bryn Terfel and (with Cameron favourite Gary Barlow in the doghouse) just one pop star, the low-wattage Eliza Doolittle. But organiser Gabby Bertin can't be delighted that every report has mentioned Cool Britannia and Tony Blair's infamous post-election shindig.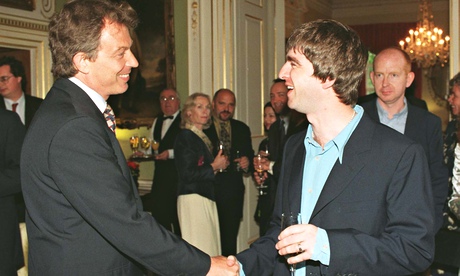 It's not just that it makes this bash seem like a weak cover version – prime ministers did, after all, court stars of stage and screen long before Blair. It's that the 1997 reception where victorious New Labourites sipped champagne with the likes of Ross Kemp, Lenny Henry and Simon Mayo has become the kind of party that some people (notably Damon Albarn) boast about not attending. The snapshot of Noel Gallagher laughing it up with Blair has long been shorthand for mid-90s hubris and the very phrase Cool Britannia provokes an involuntary stomach-clench, like the stale whiff of empty bottles after a party that went awry. Gallagher spoke for many fellow guests when he said, just three years later: "I wouldn't do that again." At least you could forgive lifelong Labour supporters such as Eddie Izzard for getting carried away by the arrival of the party's first prime minister in 18 years. A gathering less than a year before an election is likely to be more delicate.
Unlike Blair's event, this one doesn't appear to be partisan – Simon Cowell and Michael Caine are the list's only out-and-proud Conservatives – but nevertheless many guests must be hoping to avoid the photographers and any implication that they are the PM's BFFs. Cumberbatch has railed against the "fat-faced, flatulent Cameron" version of Toryism while Daniel Craig, specifically referring to Blair's celebrity love-in, has said: "Politicians are shitheads. That's how they become politicians, even the good ones."
At the very least, these should be fun icebreakers.