When I meet the playwright Enda Walsh, his nine-year-old daughter hasn't yet seen his version of The Twits – it is still in rehearsal – but he had explained the story to her. She was particularly upset by one strand: a trick the vile Mr and Mrs Twit play on the stuttering Waltzer Boy, humiliating him horribly in front of a crowd of pretty girls. "She said, 'And what happens to the Twits? Do they die at the end?' So I had to say," Walsh puts on a tentative, break-it-gently grownup voice, "'Well yes, they do, darling, I suppose, yeah, you could say they do die at the end.' And she said …" Walsh pauses, taking a deep breath in order to convey the full force of her reaction: "'GOOD!'"
Childhood, as Roald Dahl knew, is a complicated, unsentimental affair. He created characters and situations that allow his young readers to respond passionately, viscerally, to think the unthinkable, to will on the undoable. The Twits, one of his shortest but most popular books, contains two of his most vile characters, and for Walsh, whose work (including The Walworth Farce, Misterman, Ballyturk) often treads a line between darkness and exhilaration, this was extraordinarily liberating. "The themes that swirl around in Dahl – bullying, the stories of revolution, people standing up to terrible parents, these disgusting adults – it is all so ridiculously robust and large, it just makes great theatre," he says. "And in our production, there's nothing cute. There's real abandon. You think any moment it's going to spiral into chaos. Like a band being thrown down a cliff. It's a good place for a kid – being properly frightened as opposed to sitting back and watching something unfold sweetly. It's dark and scary and terrifying. It's dangerous."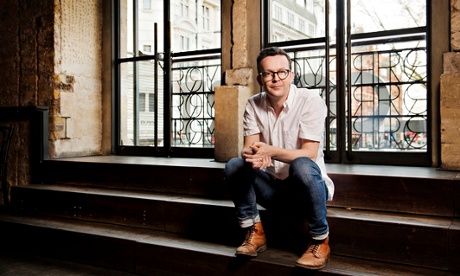 I meet Walsh on a blustery spring morning at the Old Vic rehearsal rooms in Borough, south-east London. High levels of secrecy and excitement abound. I am forbidden from seeing the actors in rehearsal, and have to promise not to reveal any plot twists that slip out. Having handed his draft over to the actors, designers and director John Tiffany (with whom he worked on Once the Musical), Walsh doesn't really have to be here. He has "loads of projects" he should be getting on with (his next is the libretto for an opera about assisted suicide), but, he says, sitting in a greasy spoon round the corner: "I find it hard to leave it alone. It's just so much fun. I'm waking up at four in the morning; I'm giddy with it. I'm already beginning to mourn that it'll be out of the rehearsal room soon, and for me it's going to be over then. I'm jealous." He makes an expression, wrinkling his nose, jutting his chin forward, like a small boy, left out.
It has been a collaboration – he is adamant about that – with all the team, but largely Tiffany, and Steven Hoggett, the movement director. "I'm very good at creating worlds, but I don't really care about story very much. I write something and I think, 'Oh, John will sort that out.'"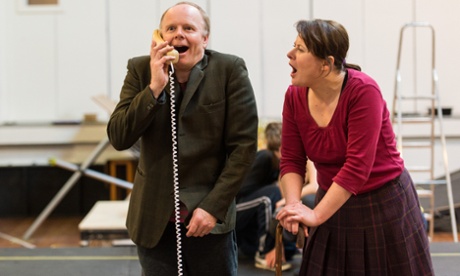 They have taken Dahl's horrible characters, complete with Mr Twit's loathsome beard, and "expanded their nastiness", adding three new characters – "Yorkshire people" – whose fairground the Twits have stolen. Walsh is "pretty new to Dahl; when I was a kid in Dublin, you didn't read him" (he and Tiffany were approached by the Dahl estate to adapt the book), but he can't believe how funny he is. He wriggles in his chair, physically transported with glee when he tells me about the monkey suits based on Heidi Klum's Halloween outfit, the visual references to the Sound of Music, the moment when the Twits notice the audience: "It's like, 'Oh fuck, the Twits have seen us now!'."
He keeps slipping into the voices of the Twits, posh and uncouth. He makes them sound like the F***ing Fulfords from the Cutting Edge documentary. "Completely. They are just like that – Barbours and stiff tweed and dog shit all over the kitchen, filthy aristocrats, cruel to everyone, disgusting, they hate everything. They've got Welsh monkeys: oh, for fuck's sake!" He's still using his upper-class voice. Do his Twits swear? "We would LOVE to have swearing. It's our dream."
Back at the rehearsal room, work has broken for lunch. I am left to pick up clues – a huge metal cage, a skateboard ramp, stuffed birds, a "dead" cat, some disgusting-looking plastic rollmops ("It's a Twit hors d'oeuvre: don't ask"). Jason Watkins and Monica Dolan, who play Mr and Mrs Twit, are sloping about; someone else is having a massage. Tiffany and Hoggett, who met as teenagers in the Huddersfield choral society youth choir, are eating sandwiches and slurping soup in a small room at the top of the building.
Hoggett talks cogently about the Toy Story effect, how you can have "smart pieces of art which operate on two very successful planes" and how enjoyable it has been to create on that level. Tiffany adds, "I'm fascinated by kids' whole love of cruelty and violence – that release of witnessing slapstick within a safe space. The adults will think more about the dysfunctional marriage – long-term relationships, the suffocation, the desire to murder somebody." He lets out an enormous guffaw. "But also, without layering anything too heavily on it, this idea of two people who hate everybody, who want to keep everybody out – the people in the garden they want to be their subjects, they hate foreigners, and anything from outside what they know. It feels very good for now." He nods his head, widening his eyes. "To have a pop at that."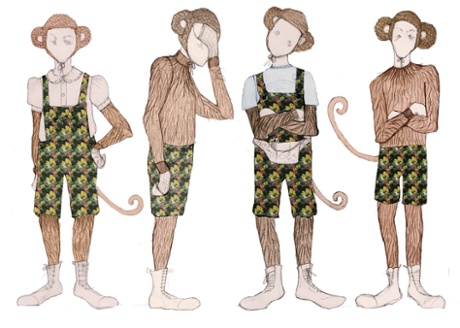 Hoggett says, "As an educated audience, we're happy to be informed, we'll follow certain lines of inquiry, whereas a child is always looking for the next thing. We've done a couple of run-throughs with kids from local schools and they spot the visual immediately; they are promiscuous with their eyeballs. And you know you can't be too cautious with narrative. I watched my three-year-old nephew on his iPod last weekend. His eye/hand coordination, the speed at which he watches a series of events and manipulates them, it's just extraordinary. Ten years ago, that wasn't the case but now, in the digital age, you can't do, 'Here we are kids, here we are plodding along.' That's the mistake some family dramas make. These days you bore kids at your peril."
Tiffany continues, putting his soup to one side: "That wonderful JM Barrie thing, that our imagination decays as we get older. A kid's imagination is huge. But if you don't stick to the logic you set up with that fantasy, they are absolutely ruthless. That's what I love about a young audience."
He says, "I remember when I was doing Carol Ann Duffy's adaptation of the Grimm tales [at the Leicester Haymarket], there was a big banquet scene and we got the audience involved in a food fight, and the kids: they were very precise. If you mimed breaking a chicken drumstick off, chewed it and threw it, they would catch it like a chicken drumstick, look at it and throw it back like a chicken drumstick. It could never change mid-throw into a bread roll or something. Isn't that brilliant? It's so … I don't know, vibrant."
After the run-throughs with local schools, they asked the children to name their favourite character. It was always the same answer: "Monkey son, monkey daughter". The monkey family are caged by the Twits and spend most of the play attempting to escape. "And of course that's the kids' way in," Tiffany says. "It's the excitement of their predicament, but also the total identification. Your family is trapped. It's like Hansel and Gretel, or Jack and the Beanstalk. You have to get out."
Enda had told me the play was "basically, despite everything, about friendship and family". His collaborators agree. "The kids love the darkness of the Twits' world, but our job was to take them on a journey within that, to give something to contrast," Tiffany says. "Even Mr and Mrs Twit," Hoggett adds. "They are rock solid as a couple. Even at the end, they don't pay any price for their coupledom."
The monkeys are central to the idea of family, and the values that go with it. Hoggett says: "I don't want to give anything away, but at the end, the Monkey family puts the safety and future of another family – the Fairground people – before their own. A family that responds to another family in peril: it's a very elegant point that's made; it's really on the nose actually. The monkeys are seen as even more collective, even more sincere. It goes further than other modern dramas might – a family that is prepared to sacrifice its own hopes for another family."
Do Tiffany and Hoggett have kids of their own? They shake their heads in unison. Tiffany picks up a packet of ready-cooked noodles ("worms" for a Twit dinner). "I'm still a kid in lots of ways myself," he says, putting it down. "We're men. We work in theatre. Two things which mean you never have to grow up."
• The Twits is at the Jerwood theatre downstairs at the Royal Court theatre in London from 7 April to 31 May. The show is suitable for children aged eight and over.
Free workshops are available when you buy a ticket to The Twits. Budding writers can explore the world of The Twits in interactive workshops for 8- to 11-year-olds. Or you can bring the whole family along to take part in creating a new piece of theatre together. Workshops will focus on the art of storytelling, royalcourttheatre.com/whats-on/the-twits-workshops