My early childhood was really happy because I hadn't fallen into my delinquent ways, so aged one to seven was pretty good. We are from quite a close family; we all visited each other, my grandparents on both sides. It was quite conventional.
One of my major problems growing up was my father's occupation: he was a policeman. So I had a strong authoritarian background, and that was difficult. I became quite unruly, but I've worked out why that is now. I was deemed difficult to deal with and I blame my behavioural problems on the measles jab. I've got no proof though; it's just hearsay, but I do believe a lot of these vaccinations were absolutely unnecessary.
My sister went to Oxford University and works in the City as a high-flying lawyer. She is 18 months younger than me and very intelligent. She had those vaccines 18 months later than me, so they affected people differently. My mum was an auxiliary nurse and my dad ended up as a Life on Mars-style chief inspector in the anti-terrorist squad in the 1970s. He was that typical hard-drinking, hard-living policeman. I don't think my dad understood my character as a child growing up. I'm close to both my parents and now we have a good relationship, and I still hold close to me the family values I grew up with. At least the ones they instilled from the age of one to seven.
I grew up in a very working-class area with a high crime rate and when I first started to break away from my social conditioning, I fell into a life of crime. We used to spend a lot of time out on the street having fights with various neighbourhoods. There used to be a lot of gang battles, so I got involved in all that bullshit. It didn't last very long because I realised what I was doing wasn't the right way and it wasn't the lifestyle I wanted to live.
I went to live with my grandparents when my parents threw me out. Then I went to prison at the age of 17, to detention centre, and I remained there until I was 20. That – and having kids – made me change how I wanted to live as I didn't want my kids growing up thinking that was the way to live your life.
My dad's dad made me into a honey monster [Bez is a beekeeper]. He fought against Rommel in Africa, then spent the rest of the war in Italy. The only thing he came home with was these tins of honey, and, ever since, it has been an integral part of our family's life. Every time I have honey, I always think of my grandad.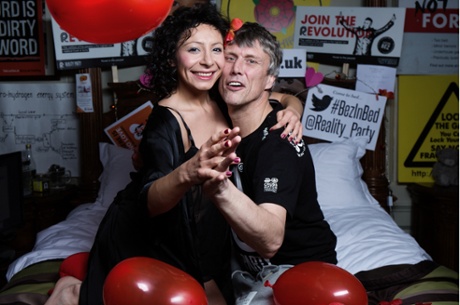 I was 26 when I became a father for the first time. Arlo is now 24, Jack is 22 and my third kid, Leo, is six. I'm a hands-on dad and my two eldest boys are still very involved in my life and I have a good relationship with their mums. I'm also a grandad to Arlo's little boy, Luca, which is a great experience because you're looking at a little bundle who you are indirectly responsible for. It's an overwhelming feeling to hold your grandson in your hands. I'm 51 now, so that's it for me with kids. Having more at my age would be irresponsible really.
Leo is amazing. He's a lot cleverer and more intelligent than me. He often goes to me, "Dad, I know everything don't I?" I say, "Well, not quite everything …"
Arlo and Jack used to think I knew everybody in the world. People used to stop me all the time, and they'd ask, "Dad, how do you know him?" That used to confuse them a little bit, until they found out what it was I did.
• Bez is running for parliament in Salford and Eccles. For more information, visit wearetherealityparty.org