In a picturesque house on a Cumbrian fell, Daniel's dad, Leonard – in his 80s and in poor health – has bedded down on the sofa and is refusing to ever get up again. His mum, Mariah, only a few years younger, is at her wits' end with the stress of it all. In desperation, she calls Daniel and asks him to take some time off work so he can help look after them in their hour of need. Reluctantly, Daniel does as he's asked; and when he arrives, he's horrified by the relentless round of grumpiness, feeding, verbal abuse, toilet care and domestic chaos that is the basis of the couple's daily life.
This is the plot of the movie Radiator, being premiered at the London film festival next week. But it's not a work of fiction: Daniel is based on director Tom Browne, and Leonard and Mariah – played movingly by 86-year-old Richard Johnson and Gemma Jones – are his parents. A number of years ago, Browne was summoned to their aid exactly as Daniel (played by Daniel Cerqueira, who co-wrote the script with Browne) is in the film. Like Daniel, he was appalled by the uncompromising reality that accompanies the end of life. But what happened next in real life was poignantly different from what happens on screen.
"I found their life very painful and upsetting and infuriating," he says. "Dad was bedbound and very angry, and Mum was exhausted and getting worn down. What I most wanted to do was help them, so I was always trying to sort things out or advise them on how they could improve the way they lived. But what I didn't do was just give them a good time. I should have cooked them a feast, taken them on an outing, given my mother the chance to get away on a little trip on her own."
In the film, Daniel does all these things – even if they don't work out quite as planned. "It was only after they had died that I could reflect on it all calmly and realise that was what I ought to have done," says Tom.
So in a way, Tom agrees, his film is a kind of atonement. This is how things were, this is how they might have been. It's very common, he says, to feel after your parents' deaths that you should have done more or done things differently: friends of his of about the same age (47), who have also lost parents, have told him how much they identify with his feelings. "I know when they were still alive I spent a lot of time thinking, if only they could change their lives a bit, they'd be so much happier," he says. "But now I can see that they weren't capable of change, they were never going to change. What I should have done was just meet them where they were and work with that, because it would have made them a lot happier than what did happen, which is that I spent a lot of time shouting at them about how they needed to do things differently."
It's clear from the film that Browne's parents lived in an unusual level of chaos: Leonard and Mariah's home is crammed with junk and furniture, as though every item they ever owned or used in their long marriage is still there. They weren't hoarders, Browne insists: they were simply people who had a clear idea about what mattered to them. "And it definitely wasn't cleaning the kitchen floor, buying new carpets or chucking things out."
In fact, the house in the film is an exact representation of the way his parents lived – for the simple reason that it is their house, still virtually untouched since their deaths in 2011 and 2012. The house, outside Penrith, just felt right as the location, says Browne.
But how did it feel, trampling over his parents' space with his film crew? "It was awful, really," he says. "It felt like an insane thing to be doing, almost like some weird sort of art project." His parents had another home, in London, where they had lived at the end of their lives – but the house in Cumbria, which they had owned for many years and where they had spent a lot of their time, was "full of them".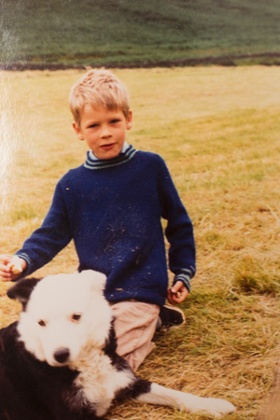 In setting the film there, Browne hopes he was able to tease out the issues he was trying to illuminate about family life. One of the things that interests him, and which he tried to examine, is how, as a couple's child, you think you know quite a bit about your parents' relationship, but when it comes down to it, you realise you know very little. "There are some things that are always a mystery when you're outside the relationship – and they go on being a mystery even when your parents are elderly and you're physically very close to them."Another issue he unpacks is how an individual's characteristics are magnified in later life. So his father, who had always been grumpy and obtuse, became even more difficult, and was at times almost impossibly frustrating.
The film opens up excruciatingly intimate aspects of Browne's parents' lives to people who will never know them – in the movie we see a naked Leonard being helped into the bath by Daniel and a nurse, and we see Daniel having to clean him up after he's used the commode. Leonard and Mariah argue, and Leonard sometimes treats her cruelly. What on earth would his parents have made of seeing themselves laid bare in this way?
The truth is, says Browne, they would have been appalled: they were private people who would never in their wildest nightmares have imagined that their final months together would become a movie script. Perhaps because he feels he's exposed them enough already, Browne says he'd rather not name them, and says he hasn't got any photographs of them. He says they were slightly eccentric people but very clear-sighted about what mattered to them. His father was a doctor, his mother a teacher. Would they, could they, have forgiven him for this film? He pauses. "I think they might have done," he says.
• Radiator is being screened on 15 and 17 October. For more information, see bfi.org.uk/lff