It began with the kind of question parents just love. "So, Dad," said David Baddiel's young son Ezra, as the pair were in the lift on the way up to the opening of the Harry Potter studio tour, "why doesn't Harry just leave the Dursleys and run away and find better parents?"
It was a good question, to which Baddiel – who doesn't have a double first in English literature from Cambridge for nothing – had a ready answer: "It's because JK Rowling needs to ground Harry's muggle life in dire boredom and misery, so that when he goes to Hogwarts it's a proper escape."
That isn't what he said, of course – first because Ezra was seven at the time, and second because the question set Baddiel thinking. So he said: "I don't know."
What emerged, two years later, is The Parent Agency, the funny, sometimes moving and always engaging story of nine-year-old Barry, who, after one moan too many about his parents – too boring, too tired, too strict, too poor, not famous – finds himself in a magical world where, instead of parents randomly having children, children can choose their parents.
"I really thought it was an interesting idea," says Baddiel, whose early career as a high-voltage comedian seems to have morphed pleasingly into the slightly less stressful (only slightly, mind: he has turned his 2010 film The Infidel, about a hapless Muslim minicab driver who discovers he was born a Jew, into a stage musical that opened earlier this month) one of novelist, screenwriter and occasional presenter.
As soon as Ezra came up with the idea of a child setting off to find alternative parents, Baddiel says, "I knew it had the elements of a classical story. I didn't really stop to think that I wasn't a children's book writer. I think I just thought: 'This is a children's book.'"
It is also, though, a book about a child who reckons his parents are so lousy at the job that he'd rather swap them for another set. Anything particular going on there that Baddiel might care to talk about?
"I think," he says, "obviously, any human being only has a couple of marks against which to gauge their own ... parentness. One is their parents, and the other is their relationship with their children. And I'd have to say my own parents are very ... different to how I am as a parent."
Baddiel's father, a chemist for Unilever until he was made redundant in his 40s, when he made a living selling Dinky toys on a market, was "a total bloke. He had three kids and then spent most of his life at work. We didn't see that much of him, and to be honest, when we did he was a bit gruff – it was come home from work and, 'Right, I'm off to the pub.'"
He would, Baddiel says, "probably hold his hands up and say: 'I was not a reconstructed modern dad.' He just wasn't. Whereas I am. Maybe I've just imbibed all the good lessons of political correctness, but I think also it's because I've discovered I really like being with my kids."
So he's a good parent? "I'm sure I make lots of mistakes. But I don't actually know whether my dad liked spending time with us particularly, and that's the big difference. That's the basic fact. It's going to be crap to say I'm probably a better parent than my parents were, but it's going to be true."
Parenting was very different in the 1970s, obviously. But Baddiel says in many ways he feels he was parented more by his older brother, Ivor – also now a comedy scriptwriter – than by his parents: "Both my parents were only children, so just not that used, I think, to having a family with a lot of people in it."
He has said before that his impulse to do comedy, "which is, let's face it, quite an attention-seeking thing to do", may have stemmed from his feeling that he was not his parents' favourite. The same experience may explain Barry's feelings of exclusion when he sees his parents' apparent preference for his twin sisters: "I think actually a lot of kids feel that. It may not be true, but they do feel it."
Baddiel's mother, who was born in Nazi Germany and fled with her parents – whom she has long been convinced were not her real parents – barely three months before war was declared, is "in a way quite functional considering that was the upbringing she had," he says.
"Most of her family were killed. They had been very wealthy in Germany, and they found themselves living in one room in Cambridge during the war, speaking German. My grandfather was interned for 18 months, and clinically depressed for much of my mum's childhood. So yes, she's not uncomplicated. But really, considering all that, quite upbeat and stoic."
Life at home in the Baddiel-Banks family (Baddiel's partner is Morwenna Banks, the comedy actor and writer) does seem fairly relaxed. Baddiel is Jewish, if "more of a fundamentalist atheist in terms of my approach to the existence of God. But I'm really very happy to be as Jewish as I want to be culturally, which is pretty Jewish."
Banks is Catholic (although likewise, more aesthetically so than religiously). And, Baddiel says: "I hope the kids feel a bit of both. I mean we do Pesach and Rosh Hashanah; I quite like them, they're fun evenings. And then we go to church at Christmas. So it's pretty ecumenical, or at least eclectic. There's not much Jewish-Catholic tension in this house."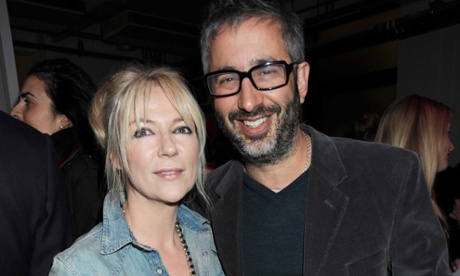 He does feel, though, that compared with when he was growing up, "kids are presented with alternative lives far, far more often: glamorous, sports star, rich; it's all just instantly available, and in your face – you just have to touch a screen".
In his quest for the ideal parents, Barry tries several in quick succession: from the posh Lord and Lady Rader-Wellorff to the chilled-out Cools and the uber-celebrity couple Vlad Mitt and Morrissina Padada to the sporting Fwahms.
"I do think that illusion of choice sort of irritates the yearning more than when we were growing up," says Baddiel. "That sense kids have now of 'I can just step into another life.' That feels very there now, and it's just not true. It's possibly damaging, actually. Creates a potential kind of low-level unhappiness in people."
Though this is his first children's book, Baddiel has been telling Ezra, now almost 10, and his elder sister, Dolly, 13, stories all their lives. "In the early days you read picture stories, and later they started reading for themselves. But between maybe five and nine, I made up a lot of stories. I prefer it: it's an improvisational process I'm used to, and it's interactive. They'll say, 'No, Dad, I don't think it happens like that.' It's live, and interesting. You feel connected."
Both children helped enormously with The Parent Agency, Baddiel says. "I definitely sought their input: is this bit funny? So does that bit work? They had a lot of ideas for him and some went straight into the book."
Ezra, "who I think probably feels a bit more ownership of this thing than Dolly", proved an inspiration in many ways: "He just thinks like me a lot of the time. I really relate to his sudden overwhelming desires, the urgency with which he wants stuff. It's that sweet shop thing, 'I have to try everything.'"
But the process of writing a children's book was not always an easy one. "It actually takes quite a lot of literary effort," Baddiel says. "There were moments when it was hard, when I was thinking 'Right, here's quite a complicated, abstract idea, but I want a nine-year-old boy to say it in the book, and also to understand it when he reads it."
But he has signed up to do another. First because, as a comedian, he says, he feels "quite a close connection to the child within. Really, however old you get, however distinguished, I think inside you're still a child. I think adulthood is essentially a masquerade, and that comedians are just more aware of that than most people. So I feel I know where the child is."
But also because it has been "just a huge, huge joy to do something professionally your kids like. I mean, Ezra wants me to come into his school and talk about it. He's been badgering me to do it for months … Hasn't quite contacted my agent yet, but it won't be long. And that's just really great, you know? That they feel proud of it."
• The Parent Agency by David Baddiel is published by HarperCollins, £12.99. To order a copy for £9.74, including free UK p&p, go to bookshop.theguardian.com or call 0330 333 6846