Recycling makes people feel good. We see those three arrows chasing each other and we like to believe that our garbage is part of a virtuous circle of production where a milk jug comes back as a milk jug. After all, the prefix "re" means "again" and implies that it is being used for the same purpose.
In fact most of the time it is being what architect Bill McDonough and chemist Michael Braungart call "downcycled", turned into a product of lower value. Recycling is not a virtuous circle; it's a downward spiral. It should really be considered a poor third choice after reducing and reusing. There is also a fourth option that is seriously gaining ground, and that's repurposing.
In 1968, the critic and landscape architect Charles Jencks wrote about repurposing design. He called it "adhocism" and described it in his book, Adhocism: The Case for Improvisation.
"Basically it involves using an available system or dealing with an existing situation in a new way to solve a problem quickly and effectively. It is a method of creation relying particularly on resources which are already at hand."
It was a very big deal in the counterculture, as writer Alastair Gordon describes in his book Spaced Out:
"There was scrounging and recycling of old materials, living off the spoils of straight society. "Trapped inside a waste economy, man finds an identity as a consumer … Once outside the trap, he finds enormous resources at his disposal – free."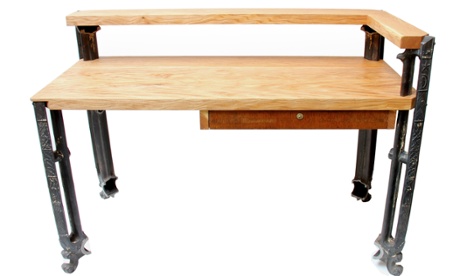 Alas, the design of many of these upcycled items retained a hippie vibe well into the current century. However the last few years have seen talented designers take an interest in working with found, repurposed materials. It is often clever, whimsical, cheap and cheerful and it is the best kind of recycling, adding significant value. They are taking our detritus and "upcycling" it into something better, something useful, giving a second life to what otherwise would be landfill.
In Britain, Stuart Haygarth builds giant light fixtures out of discarded water bottles collected at Stansted Airport; he focuses on "the overlooked sculptural beauty of these plastic water containers."
In the Netherlands, Piet Hein Eek builds cabinets and kitchens out of discarded windows, chairs out of waste wood, seating out of old pipes and beams. It is often rough and appears unfinished. He writes: "I wanted to show that products that aren't perfect still can appeal to our sense of aesthetic and functionality. I also wanted to design a product that could be made with limited means, material that was abundant."
In France, Paul Coudamy turns the inner walls and windows of old Airbus 300 jets into giant light fixtures. "These marvels of engineering with their ultra functional curves resulting from uncompromising technical research, are diverted from their original function in order to be integrated in our daily lives, thus offering them a second life."
In Canada, Castor takes old burned out incandescent and fluorescent bulbs and buries new, energy-efficient light sources deep within, giving new light from old bulbs. The Brothers Dressler are making furniture out of cast-iron radiators.
In Germany, Design Direct combines old drawers into new frames to build marvellous collages that have a shape all their own. "The design is actually an anti design, where the shape resulting from the compilation of existing finds. The beauty is then less often in the form, as for example in the character and appearance of the individual drawers and their interplay."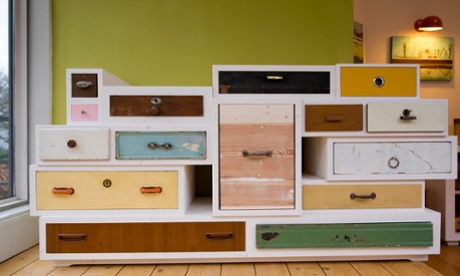 Enter "Recycled" on Pinterest and you enter a world of creative adhocism, with garden rakes turned into glass holders, wallets made out of juice cartons, ottomen made out of everything from old tires to washing machine drums.
It isn't all high design. One of the problems of having millions of industrial shipping pallets made every year is that there are almost as many clunky, rough and uncomfortable pallet furniture designs that are guaranteed to give you splinters or poison you from either the insecticides they are treated with or the food contamination that is soaked into them. And except for the hilarious allusions to mid-century modern classics from the Skate Study House, Sk8r bois should stay out of the furniture business.
One has to ask if this is making a difference, even the tiniest dent in the amount of waste we create. Of course the answer is no. Haygarth might use parts of a couple of hundred water bottles in his drop lamp; Britons throw out 10bn of them in a year. However, it might inspire us to think differently about what we do with our waste. More of us might agree with futurist Alex Steffen, who says: "There's no such thing as garbage, just useful stuff on the wrong place." Adhocism lives!
Lloyd Alter is managing editor at Treehugger and tweets @lloydalter.

Feeling inspired? Show us your best upcycled creations for the change to win a Panasonic Lumix TZ40 camera.

Interested in finding out more about how you can live better? Take a look at this month's Live Better Challenge here.
The Live Better Challenge is funded by Unilever; its focus is sustainable living. All content is editorially independent except for pieces labelled advertisement feature. Find out more here.