There are some upsides to being a professional cyclist with alopecia, concedes Joanna Rowsell. While her team-mates of both genders are slaves to the razor, she almost never has to shave her legs. And while Laura Trott and Lizzie Armitstead struggle to fit their hair under their aero helmets, Rowsell's slips on to her bald head with ease.
But mostly, the 25-year-old says cheerfully, wearing a Rachel from Friends-ish wig the colour of maple syrup, she doesn't think about her alopecia much. "Everyone does their hair in the morning. I put a wig on. That's just what I do. It's not something that enters my day-to-day thoughts. The more I get asked about it, the more I think maybe I should be worried about it, maybe I look awful."
She doesn't, of course. She looks fighting fit, sitting in her GB tracksuit in the velodrome cafe in Manchester. She's back on form after missing the inaugural women's Tour of Britain in May with flu and is ready and raring for next month's Commonwealth Games in Glasgow.
Rowsell followed the women's Tour of Britain from her sickbed and was cheered to see so many people turn out to watch Holland's Marianne Vos power her way to victory. "Before the race, people said to the organisers: 'You won't get big crowds, people only come for the men.' They really proved that wrong. Cycling is a very accessible sport; it can come past your house if you're lucky enough. You don't have to pay to go to a stadium."
When the Tour de France rolls through Yorkshire next month, Rowsell plans to be by the roadside watching. She'll probably be up Cragg Vale, Britain's longest continual hill, a five-mile slog from Mytholmroyd, on one of her regular training routes. Rowsell loves the six days a week she spends training, especially riding in the hills near the home in Rochdale she shares with her boyfriend, trainee accountant Dan Shand. He once dreamed of getting paid to ride his bike and has no truck with her whingeing. "Whenever I moan about it raining outside or having to get up early, he always tells me: 'Well, I'm up at 6.30 every morning and I have to sit in an office all day while you're out on your bike. You don't know how easy you've got it,'" she says.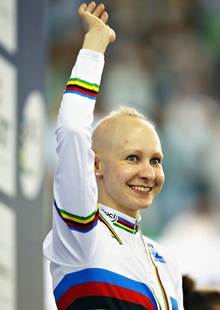 Dan isn't bothered about her alopecia and nor, it would seem, is she. But she concedes it was very hard when her hair first started to fall out, back when she was 10. "I always had bald spots but over time it all started coming out in clumps," she recalls. "People say I was brave to go on the podium in the Olympics with my bald head but I just wanted to get my medal. Really, the brave thing was learning to deal with it when I was young – going to my first training camp when nobody knew me or about my condition. That was brave."
Alopecia is a general term used for hair loss; this can be anything from a small bald patch on the head to the loss of all the hair over the entire body. According to Alopecia UK, it affects approximately 1.7% of the population, and 25% of those affected have a family history of the condition. The exact cause is still not known, but it is generally agreed that it is a disease of the immune system, which attacks affected hair follicles by mistake. It doesn't affect the sufferer's physical health, though it can certainly cause psychological scars.
Rowsell has lost almost all her hair, hence not having to shave her legs and having to pencil in her eyebrows each morning. By the time she won gold in London aged 23, she had stopped obsessing over it and was surprised by the reaction her bald head caused. "People would ask me: 'What would you say to young girls with it?' And I was a bit stumped, because I've made my peace with it."
But she doesn't like people treating her wigs as fashion accessories: she remains unhappy about a photoshoot with a national newspaper post-Games, which got her to wear six different wigs with six different outfits. "I like to look consistent, like me," she says.
Despite being softly spoken and certainly more of an introvert than Trott and some of her other team-mates, there is a steeliness to Rowsell. She doesn't react when anyone shouts sexist remarks at her when she's out on her bike, reasoning, she says, that "I think I've made something of my life. It fires me up a bit."
Of her alopecia, she says: "I don't want it to define me, but some people do. Like putting on their Twitter profile: 'Alopecia sufferer.' I would never say that. I would never put: 'I'm an asthma sufferer,' or 'I've currently got flu.'" Rowsell's Twitter bio currently reads: "Olympic Champion cyclist London 2012. Current Double World Champion in Individual & Team Pursuit. World record holder. Chocoholic."
"Since the Games I've met quite a few girls with the condition and I've been surprised by how badly people have handled it. They said they've been depressed, in hospital. I was shocked at that sort of thing. Anything I can do to make things better for people is great, even if it's them saying, when someone asks them what's wrong: 'Oh, I've got what Joanna Rowsell's got.' Of course it's very hard, especially at first, but you need to not let it define you."
Joanna Rowsell was speaking at the launch of British Cycling's all-new fan package. To become an official British Cycling Fan visit britishcycling.org.uk/fan