The desire to drink coffee yet also walk around has led to more than 2.5bn cups being thrown away every year in the UK. You may have assumed that they were recyclable, as they are made out of paper; in fact the recyclable bit is trapped under a film of plastic that stops the paper getting soggy. It's also difficult to remove, so most go straight to landfill.

Over a year, this adds up to about 25,000 tonnes of waste, apparently enough to fill London's Royal Albert Hall – but that would be an even stupider place to put them than a landfill. Frankly, if every discarded paper cup were to be sent straight to the Albert Hall, it probably wouldn't have taken until 2014 to create the world's first fully recyclable paper cup. Aside from that, we see only two solutions: grab our culture by the lapels and convince everyone it's fine to sit down for five piddling little minutes to have a coffee, or convince people to go down the reusable route. We've looked at five reusable coffee cups, and graded them out of five according to the taste of the coffee, comfort, attractiveness, how easy they are to clean, and, just for a laugh, "clever points".
The JOCO Cup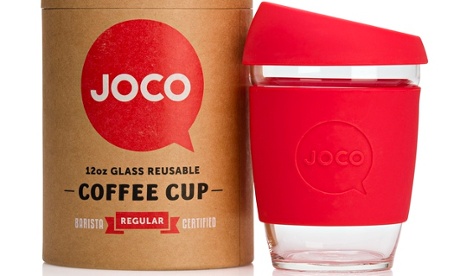 Reviewers praised the JOCO's rubber grip and for being "durable, but light". One person reported that "the seal on the lid is poor, so it leaks and drips".
Our verdict: We hit it off with this cup straight away. It's glass, which means there's no danger of the taste of the coffee being affected, but there is danger of smashing. The tough choices we have to make in 2014.
We liked the rubber grip. If you're clumsy, a giant band of rubber reduces the likelihood of it breaking when it, inevitably, meets the ground. Also, it stops the coffee burning your hand but feels warm and pleasant on your face. Is it weird to put a coffee cup on your face when it's cold? Well, we did, and we encourage you to do so as well.
Our favourite feature is the lid – we disagree completely with the reviewer above. It clips perfectly on to the cup, and on the first try. On paper coffee cups the plastic lid seems to have a one in six chance of clipping on without careful maneuvering. We've spilled enough cappuccino down ourselves to have a healthy suspicion of lids – and probably too much to be considered intelligent. But now your days of lid anxiety are over. Major clever points to the JOCO.
5/5
The KeepCup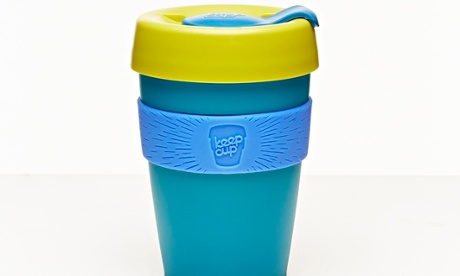 A happy customer said the KeepCup "cleans very easily and I throw it into my bag knowing it won't break", but someone griped that "the Keepcup is really just a plastic beaker and so all of my drinks tasted of plastic".
Our verdict: We can't say we thought the drinks tasted of plastic, but it takes a moment to ignore the smell of it so the taste of the coffee is slightly affected at first. Another fantastic lid, with a moveable clip than clamps over the sip hole – very useful if you're on a rocking train with a full cup of hot tea or coffee, and worthy of clever points. Unlike glass, plastic needs a more vigorous scrub to not be left with a stale coffee smell. Because of being forced to scrub and the slight plastic smell, we award this cup:
3.5/5
Starbucks reusable cup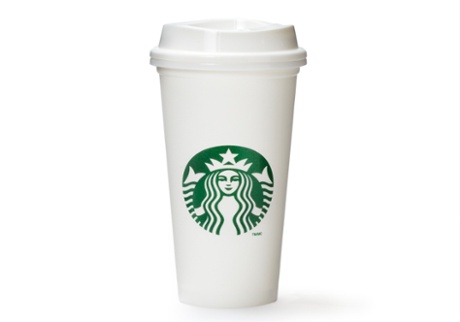 Starbucks love being thought of as green. For me they lost all eco-credibility with the strategy when they were found in 2008 to leave their taps running all day in order to combat germs – but we don't turn our nose up at someone trying their hardest, so we gave their cup a go.
Reviews are mixed and some are quite funny. John Davies, vice-president of GreenBiz, gripes that the Starbucks reusable cup's uncanny similarity to the paper cup has led to four of his cups being thrown away. This was in October 2013 so we can only hope he's managed to hang on to the fifth.
Our verdict: This cup will please those who see Starbucks as a fashion label, and the takeaway coffee cup as the ultimate accessory. It's incredibly light and only costs £1, and if you use it instead of a disposable cup when you buy from Starbucks you get 25p off – so if you insist on buying coffee from Starbucks (and I realise millions do) this pays for itself in four drinks.
The real downside is that it has a short life – Starbucks only recommends it for around 30 uses (even less if you put it in the dishwasher). Is that because the cup falls apart after 30 uses? If so, it's only marginally more durable than the 4 billion disposable cups the company sells every year. Or is it a way to keep reselling the reusable cup to their eco-conscious customers? Like the water bottle companies who say you could get ill if you reuse them – yet never expect to hear "brilliant, thanks for selling me a bottle of dormant diseases", Starbucks aim to have 25% of all their drinks sold in reusable cups by 2015. We can see how those 25p discounts would add up – as would a monthly £1 bonus from a quarter of their customers.
1/5
BYO Cup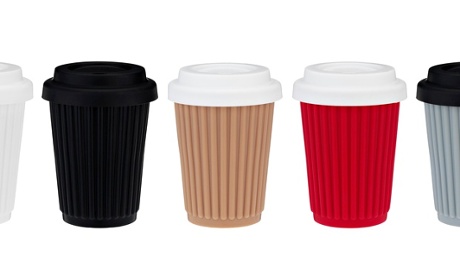 Designed to look just like a brown ripple-grip takeaway cup, this one is made of silicone which is fully recyclable (BYO Cup suggests charity wristbands as its next use). Reviews are thin on the ground, though this chap had a good old gripe about the squishiness of the silicone cup, foreseeing a health and safety issues from people who grab it or push the lid down with too much vigour.
Our verdict: The design is clever, and the silicone is shiny enough not to be mistaken for a real takeaway cup and chucked away. We were pleasantly surprised by how little the silicone affected the flavour of the coffee. Unlike the other cups on this list it isn't rigid, but bendy like rubber. You do have to handle it with care when it's full of hot coffee, but we found the bendiness to be a massive plus since it can easily be squished into a full bag. It's easy to clean as well.
The main downside is the lid is a bit fiddly to put on, so you'll have to exercise the same care you do with a paper cup. At this point we'd already been spoiled by the JOCO lid so we were annoyed to slip back into our old spilling ways.
4/5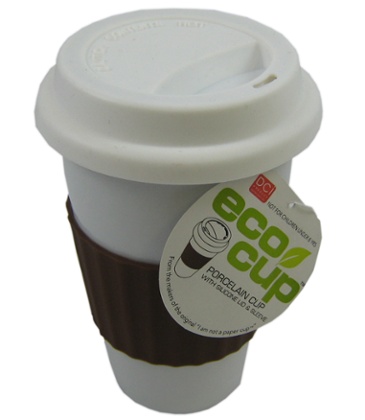 With an average rating of three and a half stars on Amazon, this cup seems to be less popular than its predecessor, the double-walled ceramic "I am not a paper cup" cup. The newer, sexier model, the Eco Cup, has a similar silicone lid but fewer complaints of leaks. The Eco Cup is single-walled, like an ordinary mug, and has a silicone strip to protect your hand from the heat of the coffee – but reviewers are pretty consistent about the cup getting uncomfortably hot when full of coffee or tea.
Our verdict: The heat definitely gets through. If you like your coffee super hot, the silicone grip will get very warm and the porcelain much too hot to touch. Basically, it's a mug without a handle, and the drink loses heat almost as fast. The lid is fiddly to fit on to the cup, and smells so strongly of silicone it almost entirely ruins the taste of the coffee if you don't remove it. As it's made of porcelain, it's also quite heavy.
On the plus side, it's a cute design and does look like a paper cup until you notice the gleaming surface of the porcelain. It's also easier to clean than its predecessor, which had ludicrous instructions involving "boiling it in a pan with lemon juice" – with the Eco Cup, a rinse with washing up liquid will do.
2.5/5
Why is it beyond us to hold onto a coffee cup? Ed Gillespie ponders the problem here.
Interested in finding out more about how you can live better? Take a look at this month's Live Better challenge here.
The Live Better Challenge is funded by Unilever; its focus is sustainable living. All content is editorially independent except for pieces labelled advertisement feature. Find out more here.