Snapshot: The day we met David Niven
This is a picture of me and my sister Emmeline with David Niven, taken in August 1976. The Hollywood star had come to our village in Warwickshire to film Walt Disney's Candleshoe. On this day he was filming a scene in the small church within the grounds of Compton Wynyates.
Mum, an ardent fan of David Niven and buzzing with excitement, drove Dad and us girls up to the location. After watching him for some time from a distance, one of the local people said he would introduce us all to him.
Still dressed in character, Mr Niven came over, shook our hands and was very complimentary, his first comment to my sister and me being, "Aren't you both pretty."
Even though he was much older than us, we both thought he was incredibly charming with intense blue eyes and a lovely speaking voice. He came across as a real gentleman, albeit with a bit of a twinkle in those eyes!
He asked us about ourselves, we chatted about the film, then he was whisked away to makeup. Mum took this picture just before he left. The director was looking for extras for a ballroom scene being shot the next day but after auditioning, much to our disappointment, my sister and I weren't picked and Mum decided not to audition claiming to have two left feet. Dad tried as a stand-in for David Niven, as he was also slim with a moustache, but sadly wasn't chosen either.
Despite our lack of success to be film extras and stand-ins, we all had a wonderful day staying until filming ended at 6pm. Meeting one of the Hollywood greats is still something we all talk about, and even now when we watch a film it makes us appreciate how much hard work and effort goes into shooting just one scene.
Abigail Vizard-Williams
Playlist: I was rescued from dire straits
Tunnel of Love by Dire Straits
"And, girl, it looks so pretty to me, just like it always did / Like the Spanish City to me when we were kids"
One Sunday morning at the tail end of 1980, I found myself standing barefoot on the cold lino. I spooned cat food into a saucer, put the kettle on the gas and switched on the radio.
As I waited for the kettle to boil, a song came on that I'd never heard before. I stood in the kitchen waking up while watching the cat push the saucer along the skirting board. By the time the music stopped and the cat had abandoned the saucer for a sleep on the bed, I found myself smiling for the first time in weeks.
The American woman I'd been living with for three years had gone back home two months before, leaving me with guilt and Zooey the cat in our tiny flat in Islington, north London. I wasn't enjoying my new independence and the weekends were always the worst time. Everywhere I looked there were reminders. Even the cat was a reminder.
Somehow this song gave me energy again and filled me with a sense of new possibilities. I still don't know how it did that, and I like the not knowing.
Later that morning, leaving the black furball of Zooey still pinning down the duvet, I went up the Northern line to Camden to buy the new Dire Straits album, Making Movies, even though it was only the one song that I really wanted to hear.
Somehow it had given the day a purpose and a meaning and I found myself dropping the stylus on to that track over and over again, until it became like the childhood comfort of a familiar bedtime story.
Every time I hear it, I'm reminded of how it rescued me on that long-ago Sunday, and I find myself smiling again.
Chris Winterflood
We love to eat: Pink Stuff
Ingredients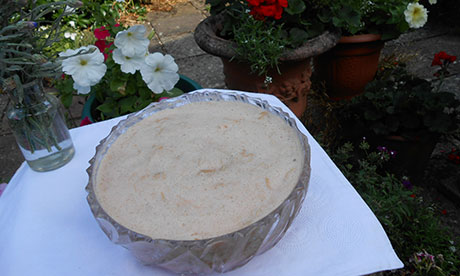 Packet of red jelly
200ml unsweetened evaporated milk
1 pint stewed rhubarb
Seasonal summer fruit
Dissolve a red jelly in a pint of stewed rhubarb while the fruit is still hot, then allow to cool. Whisk the evaporated milk until thick. Stir the fruit and milk together and leave to set in the fridge, preferably in a pretty glass bowl – you can see the one I use from the picture.
As the eldest of six children, there were invariably three generations collecting at my home most weekends, and this basic pudding was met with delight every time. Often I made double or treble the quantity and it wasn't only Pink Stuff. As the season progressed it would be Green Stuff (gooseberries), Red Stuff (redcurrants/raspberries) Purple Stuff (blackcurrants/blackberries) and even Yellow Stuff (apples and pears). We just varied the colour of the jelly to match the fruit.
Apart from using my summer fruit gluts, it was a surefire way of getting the children to eat oodles of produce from the garden when they were younger.
Having moved, adventurously, from Slough to Wiltshire, we considered we had discovered the best kept, pre-M4 secret in the county. Enticing my greatly extended family there each weekend was an easy task and a pleasure, shared by my parents who kept a small caravan in the garden so they could pretend to be independent!
Today, as grand- and great-grandparents ourselves, we now gather four generations together regularly and a bowl of Pink Stuff is always the catalyst for a train of nostalgic anecdotes – "Do you remember that evening when ..."
Somehow the sun always seemed to be shining – simple pleasures!
Marlene Corbey
We'd love to hear your stories

We will pay £25 for every Letter to, Playlist, Snapshot or We love to eat we publish. Write to Family Life, The Guardian, Kings Place, 90 York Way, London N1 9GU or email family@theguardian.com. Please include your address and phone number