The three most beautiful things in the world are a rose in bloom, a ship in full sail and a woman with child." This proverb made me roll my eyes when my mother used to pronounce it, her eyes misty at the memory of her five pregnancies. Back then sailing ships and roses were on show, but pregnant women did all they could to conceal their burgeoning bellies. What's more, for months they put themselves into self-imposed purdah. When I bore my only child 25 years ago there was no such problem, but my wardrobe resembled a field at Glastonbury. And during the last couple of months of pregnancy, I grumbled to my friends that I felt like a garage and looked almost as attractive. While I watched an explosion of blue veins and cellulite appear on my formerly slim body, everybody around me – perhaps understandably – was more interested in what was tucked away in the "garage".
Nothing sums up better the changing attitudes around women than the way they now handle themselves when pregnant. Now a bump is worn, nay flaunted, with pride. If my generation's glass of body consciousness was near empty, this generation's is brimming to overflow. Even when things get so extreme that the tummy button starts sticking out and balance becomes problematic, women take every opportunity to display their unborn cargo, quite often showing the duff in the buff – but still wearing stacked heels, naturally. Thanks to the tireless work of the paparazzi, we know that in private the famous resort, like the rest of us, to trousers with a kangaroo pouch and flats, but in public they adopt a bodycon look that even the most let-it-all-hang-out of vegan doulas might consider extreme.
It isn't enough to love your bump; the world is expected to join in this worship. Pregnancy has spawned a niche industry entirely dedicated to the lavish display of late pregnancy. Bumps are painted, photographed and poured into bandage frocks, sometimes by women who pre- and post-partum wouldn't pose in anything other than a neat blue suit. Dressing in pregnancy has become an homage to Azzedine Alaïa.
Of course, celebrity culture has got its manicured claws into this bump culture. The nine-month "journey" can be parlayed into a thousand photo opps for people who don't think they are alive – or could carry a child – unless the rest of us know about it. Celebrities at the top of Fame Mountain use the chat shows to tell the world – Tina Fey announced her second baby on the Oprah Winfrey Show, while David Beckham got more than 3,000 comments on Facebook when he went public about VB's imminent fourth baby. Slebs such as Rachel Zoe and Dannii Minogue announced their happy news on Twitter, the Court and Circular for announcements of these immaculate conceptions. Mariah Carey went further when she kept posting some seriously tasteless pictures of herself with butterflies and other wildlife painted across her engorged, twin-bearing belly. She did at least keep private "the intimate, tasteful (naked) portraits" of herself and her husband.
The red carpet is put to good use by mothers who are expectant of publicity as well as child, as they emblazon their bellies in pregnancy couture across the showbiz firmament. They are following Demi Moore's pioneering strip on the cover of Vanity Fair in 1991. That bump has now become Scout, aged 19. I don't know what she thinks of her prenatal appearance on the newsstands, but she sure isn't camera shy. Indeed, for Hollywood preborns it seems the snap of the pap is as seminal a prenatal influence as soothing Mozart melodies.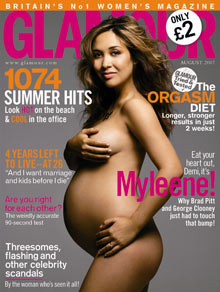 A magazine cover is now de rigueur for their mothers in the snakes and ladders of celebrity. Recently we've seen Monica Bellucci in the Demi Moore spot on the front of Vanity Fair and Miranda Kerr for Vogue Australia looking lovely wearing Orlando Bloom's bump. They at least kept some clothes on, but the normally modest Claudia Schiffer bared all for the cover of German Vogue. In place of the weird food fetishes that drove our grandmothers to eat coal, modern pregnancy apparently produces overwhelming urges to take all one's clothes off for an adoring public.
My pregnancy wardrobe gradually filled up with a series of tents – some borrowed, some bought in depressing maternity shops that seemed to have no regard for the colours of the season or the trends coming down the catwalk. Now Topshop sells short shorts for the heavily pregnant. It's a consolation for those of us who feel deprived of all these opportunities by having had babies before the dawn of the internet and the high street that if you search Mumsnet for pregnancy dressing you find strings of complaints by soon-to-be mothers who can't find a wide choice of maternity clothes on their local high streets. (They can, however, get their bellies painted by any number of entrepreneurial artists who have set up shop in malls across the country.)
Victoria Beckham is one celebrity who looks to be bringing back some sanity into dressing a bump. It helps if you have your own label or shop at Dior, of course. She looked the model of taste in her navy dress, immaculate make-up and sizzling hat at the royal wedding. And no doubt we won't catch the Duchess of Cambridge wearing spray-on frocks when pregnant.
Back in the 1980s, Anna Wintour was our role model in how to conduct ourselves during the bump months. She stuck it out in tiny but relatively forgiving couture outfits and wore 6in Manolos right up to the moment critique, when she disappeared to the maternity ward. Preceded by an even larger bower of flowers than usual, she returned to the offices of British Vogue only a week after giving birth. But this was a time when alpha females in a male-dominated world couldn't allow pregnancy to undermine their progress and taking maternity leave was perceived as being strictly for the professional lower orders.
Drusilla Beyfus, now in her 70s and mother of the current British Vogue editor Alexandra Shulman, confirms that her generation did all they could to conceal the fact that they were pregnant, largely because of job insecurity in a much more uptight and male-dominated world. In her 1956 manners guide Lady Behave, she wrote: "The working woman wears a large satin bow above her stomach and calls it indigestion. When she feels a heel not lifting the typewriter herself, she is better off at home." In that postwar era, working mothers were held back by a crazy contradiction: women were expected to stop work when they needed doors holding open for them and spent an average 10 days in hospital after giving birth. Yet maternity leave was not nearly so generous, or as protected as it later became. But what did it matter? For, as a general rule of middle-class life, no one really expected women to return to work at all after a baby: their husbands particularly didn't like it, as it implied that they couldn't support their families. It's now almost unbelievable, but a wife going back to work was a stain on the reputation of an alpha breadwinner.
So bearing the bump in the 21st century signifies so much more than just pride in pregnancy – it is a symptom and a symbol of how far we have travelled down the rocky road of equality. But please, girls, you've made your point. Take Victoria Beckham as a role model and go for the conceal rather than the reveal – a postmodern maternity look involves keeping your clothes on.