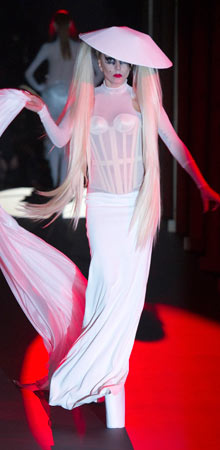 With star designer John Galliano now disgraced, dismissed from Christian Dior, and rumoured to be headed to rehab, Paris fashion week is facing a huge dilemma. How to refocus its audience's attention away from the scandal and back on to the actual clothes? It fell to Lady Gaga, multitasking as both catwalk model and musical director at the Mugler show, to steal the fashion spotlight.
The opening day was one of stark contrasts and featured a classic sartorial duel: wearable clothes versus theatrical tactics. It started with the Belgian designer Dries Van Noten and his established yet quieter label known for beautiful and inherently wearable clothes, and finished with Lady Gaga wearing a skintight-white sheer and latex bodysuit, swishing fake pigtails, writhing around a plywood gothic arch constructed on the catwalk for Mugler.
The revitalised avant-garde label Mugler is now under the creative direction of Nicola Formichetti, who is also Lady Gaga's stylist. Amid the backstage frenzy after the show, Formichetti said that working with his "best friend" was "so much fun, we were like kids together at the fitting earlier." He explained that he wanted "to bring back fantasy to the brand."
Models careered between fake gothic arches wearing corsets, PVC leggings, black tailoring with pinched, exaggerated shoulders and raccoon fur sleeves. The overall look could be described as taut and futuristic. The claw-like shoes were so high that some of the models stumbled but Lady Gaga, herself in impossibly high wedges, negotiated the theatrical catwalk with expertise, managing to dance as the sound system pumped out her new song Government Hooker.
It was Formichetti's debut womenswear collection for the label, previously known as Thierry Mugler. The 33-year-old's career demonstrates how the fashion industry is inextricably linked with pop culture. He began as a stylist and consultant for various labels but it was his work with Lady Gaga where he has helped to create her most fantastical looks, that propelled him into the limelight. He was named creative director of the renowned but floundering French label in September last year and won a prestigious British fashion award in November.
Earlier, Dries Van Noten pitched its new collection firmly at its loyal customer: ostensibly a relaxed but chic woman who is to be found at upscale art openings. The show, left, took place in the opulent surroundings of the Hotel de Ville and matched its ornate surroundings perfectly. Relaxed silk dresses made with a patchwork of different prints had an art deco feel, collarless coats had fur sleeves and were cinched in with skinny belts. Blouses were trimmed with copper-coloured sequins and there was a healthy smattering of tweed, metallic and brocade.
Snakeskin ankle boots with amber Perspex heels, a David Bowie soundtrack and messy ponytails subverted the niceness of the collection.
In the hands of another designer, this mix of fabrics could have equalled disaster but clothes that carry a Dries Van Noten label are never less than tasteful and wearable.