The Shane Richie fan
'I just looked at him and thought, He's dishy'
She might seem like a mild-mannered tattoo artist and mother of two, should you ever run into her around the shops in Chorley, but Mandy Crowther is a celebrity when she drives. People want their picture taken with her; they yell witticisms; she empties pubs just by stopping at the lights. And once they get talking to her, there is one question that everybody asks. Her neighbours have been saying it for months. Why, Mandy? Why? "Do you know," she says, having clearly given it some thought, "I don't know." But then what reasonable explanation would you suggest for covering one's car in photographs of Shane Richie?
It was in 2002, when he joined EastEnders, that it began. "I just looked at him and thought, He's dishy, him," Crowther says. "And it went from there." First she collected just pictures, though her husband Stan did not appreciate it. "He'd whinge. I'd put EastEnders on, and he'd be like, 'Oh God, not this again.'"
She and Stan are separated now, after he left her last year for the teenage girlfriend of her oldest son. During that painful time, Richie – improbable as it may seem – became a symbol for her freedom. It was then the collecting took off seriously. "I went really mad on him, downloading pictures, getting the mouse mat, everything to do with him, basically," she says, "because I wasn't allowed to do it before."
With no official merchandise to gorge on, Crowther was forced to make everything herself, or have it made. A quick tour of her house reveals posters, a clock, a mug, key rings, and several fridge magnets, each one encasing a different photograph of Richie. Around her neck is her Richie pendant. His nearly finished portrait is tattooed on her back. Soon she hopes to have her wheelie bin done. Yet the car was always her ultimate dream.
"I was looking on the internet for ages, asking for prices." In the end, the best deal she found was from a local sign-making firm. "The guys laughed and said, 'Yeah, we could do it. But it's going to cost you.'" The price was £1,000, still too much, but her mother raised the money secretly from among her friends and family. "I was ecstatic when I saw it. I'm still on a high now when I go out in it. I love it to bits."
The Terry Pratchett fan
'I hesitate to say we've become friends'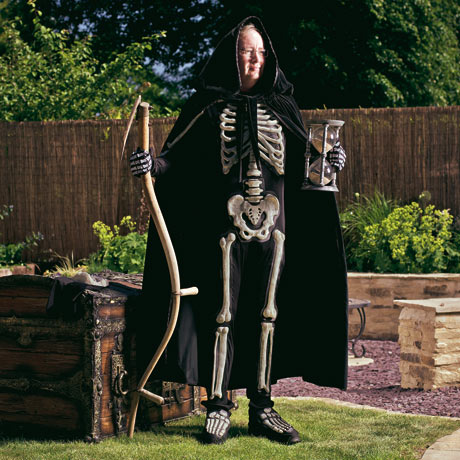 "I am a hoarder, not a collector," says Dr Patrick Harkin, a tutor of medical students at Leeds University, without a trace of shame. The truth of this is on display around us. One could inventory the shelves and surfaces and cabinets that fill his house in Leeds and never quite be certain there was method in them.
Examples: a souvenir potato shrivelled with desiccating gel; a fibreglass facsimile of a medieval trunk; a box of fake teeth; a real and rather sharp scythe (with a blunt replacement "party blade", part of a Death costume, which had to be imported from America); a murky jar reputedly containing an onion grown and pickled by Sir Terry Pratchett; a photograph of Sir Terry, shirtless, signing books; a shell casing fired by Sir Terry; a knighthood certificate bestowed by Sir Terry; a convention lanyard worn by Sir Terry… Ah yes. A theme is beginning to emerge.
"He said that when I die, all this is going on eBay," Harkin says, indicating his 22-year-old son, Patrick Jnr, who is our lugubrious companion on the tour. "I had absolutely no chance being normal growing up," Junior shoots back. "I think I have been immunised, so I'm not – sorry Dad – as mental as you are."
His father thought the first Discworld book was "hilarious" when he borrowed it from a friend 25 years ago. Swiftly, he bought more. Queueing to have them signed by the author came next. And within two years, he was spending the weekend of his birthday at the second British Discworld convention, not having known about the first. "Then," he says, "it sort of grew."
What it grew into was a life inside one of the world's most active fan communities. Now Harkin visits multiple conventions, in many countries, several times a year, often acting as their compere and auctioneer. Like many other fans, he often appears as an extra when Pratchett's books are filmed. In between events, he and the others keep in touch on thronging online message boards. For a man of his stature, Pratchett is unusually approachable, too. So, having got to know him, Harkin has visited the author's home – and still occasionally receives phone calls to research, for instance, "how much force it would take to rip a man's head from his shoulders". "I hesitate to say we've become friends over the years," he cautions me. Yet it will clearly be a heavy blow when the great man does eventually succumb to Alzheimer's disease. Harkin expects to cope, he says wearily, "by a process of denial".
The Mika fan
'Obviously I've got a very accommodating husband'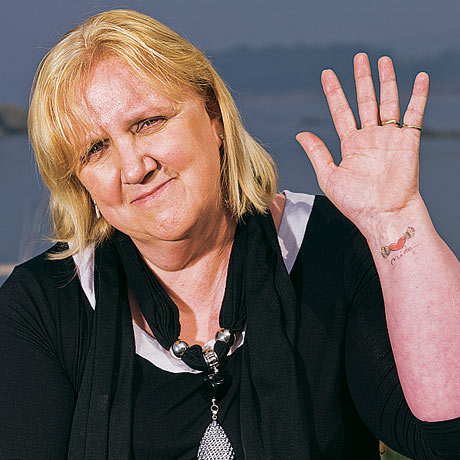 Mika was half Kath Drummond's age when, relaxing in the hot tub at her home, she first heard him sing Grace Kelly on the radio. "It was December 2006," she remembers, "and I was just totally blown away."
Immediately, she climbed out of the water and began Googling the singer's name. Within a fortnight, she had found and joined the Mika fan club, and within a year, her interest had spun into what she is now quite comfortable to call an obsession.
First, she began using her savings to attend Mika gigs across Britain – then across Europe. With other fans, she shared travel costs and squeezed into cheap hotel rooms. "Suddenly I was talking to people from Italy and they were inviting me to their homes," she recalls. "The whole fan-club thing was such a community… My kids had grown up, and it just took over my life really." Nor has the passion waned, as Mika's moment did. When he is touring, Drummond still sees every show she can, documenting it in overflowing scrapbooks. "Obviously I've got a very accommodating husband," she says.
Indeed. But then Dave Drummond knew what he was getting. His wife's life has been a string of passions, for the Bay City Rollers, for Liverpool Football Club, for Robbie Williams. "He's been married to me for 27 years," she says. "He knows that I'm a nutter."
In 2009, Drummond, who lives in western Scotland, flew to London, and approached Mika after a gig in Camden. Would he sign her wrist, she wanted to know, so she could get his autograph tattooed? At 45 years old, a coordinator for a childcare charity, it would be her first. "He was shocked, I have to say," she says. "But he thought about it for a while. I pleaded and did the puppy-dog eyes. So in the end he did."
The adventure is recorded with especial thoroughness in her scrapbook. And here, the permanent record still shines bright and large on her left wrist: Mika's name and, above that and larger still, a drawing of a heart with wings.
Is this a logo of his? "Yes," Drummond admits, "but I'd only asked him to sign his name. I mean," she adds quickly, "I do realise that I could have got rid of it. I literally had about 40 minutes back at home before the appointment. And I said to Dave, 'It's obviously bigger than I thought it was going to be. I didn't know that it was going to be the picture as well. He said he was happy, so I just went with it." She also had her husband's initials, and their children's, added on her leg. "I suppose to appease my family," she says.
The Kylie Minogue fan
'It helped me through a difficult childhood'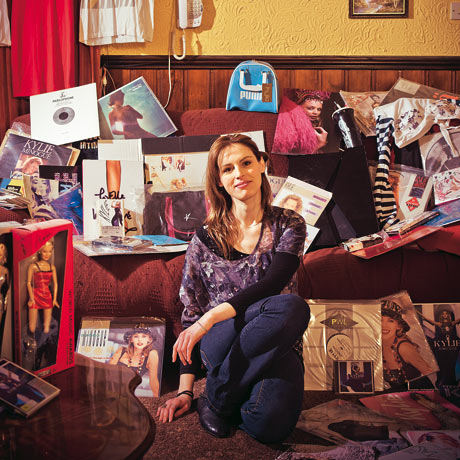 Until this year, Elle Richardson had been to every British gig that Kylie Minogue has played. As determined a collector as she is a fan, she also saves up to perform a ritual at least once on every tour. "I go up to the merchandise stand and say, 'Can I have everything you've got?' I usually hold up the queue. They're all saying, 'Oh my God, she's buying everything!' The most it's ever cost me is about £650."
Open the cupboards at her parents' house in Hampshire, and you'll see what 25 years of this behaviour looks like: Kylie dolls, Kylie books, Kylie clothes, Kylie advent calendars, Kylie posters too gigantic to unfold, Kylie magazines, Kylie bowling bags, Kylie USB sticks, Kylie Easter eggs, Kylie programmes, Kylie records, cassettes, videos, CDs, DVDs, DAT tapes, even Kylie media files, downloaded and stored. To the best of her knowledge, she has tracked down almost every Kylie item of importance there is to own. She says she can recite, in date order, every single Kylie's released anywhere in the world.
Yet these are now the relics of a mania whose peak has passed. Richardson was six or seven when she first encountered Kylie, playing the feisty char, in five episodes of The Henderson Kids, an Aussie soap. Kylie's rise through Neighbours and on into the pop charts, became an inspiration to a girl at a difficult time in her childhood and who also dreamed of one day making a career in music. "This stuff helped me through," she says. "It was always something I could rely on, whereas I couldn't rely on anything else in life… It would always give me an uplift if I got a CD in the post from Taiwan or something."
Now, however, at 32, Richardson is ready to relinquish the devotion that has sustained her for more than three quarters of her life. In April, for the first time, she allowed herself to miss some of Kylie's dates at the O2, and it has been years since she last looked through the older items at her parents' house. Doing so today, her expression fluctuates between nostalgia and alarm. "Bizarre," she says, over and over. Then: "Getting my collection out to look at and talk about has made me re-evaluate what I really want to do with it, and what my plans are for the future. Maybe I have decided it's time to move on." When she is ready, there will be many buyers.
The Neil Diamond fan
'My dream is to open a museum'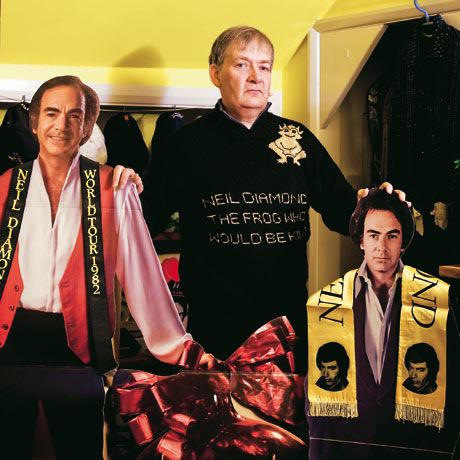 You might not expect a 56-year-old retired policeman to count another man's unwashed shirt and underpants among his most cherished possessions. But Ian Graham can explain. "Many performers did it, Neil Diamond wasn't alone," he says. "They used to have their shirt stitched to their jockey shorts, because they would wear very tight-fitting trousers on stage and they wanted to make sure the shirt would not ruck up." And here is the proof. Held reverently in Graham's hands: the blue sequined shirt and black silk boxer shorts that Neil Diamond wore in 1984 for the Statue of Liberty's 100th birthday concert.
Graham is aware that others might regard him as eccentric, or worse. But if one is going to spend one's life obsessed with Neil Diamond, it would surely be impossible to manage it more sensibly. All the items on display in his Surrey home are neatly framed and captioned – and substituted regularly "for a change of scenery". Graham's vast collection of rare vinyl, meanwhile, is stored alphabetically by country along the wall in his converted loft. "Angola, Argentina, Australia…" the boxes' labels go. Wait… Angola? "Yes." He nods. "The country doesn't go into the system unless there's at least one."
It was 1968 when Graham heard his first Neil Diamond record, on the public address system at Heart of Midlothian football ground. The song was Solitary Man, and something about it moved the 13-year-old boy who sat alone in that empty football stadium waiting for the match to start. "It was very mournful," he says now. "I thought, Oh, I quite like this." But with little knowledge of the singer, and no big record shop in Hawick, his home town, it took months to find the album. Even before it finally arrived – before he even played it, you suspect – the bond was strong.
Since then, through six different decades, he has followed Diamond's career avidly, and attended 184 of his concerts throughout the world, a number that will rise to 201 after this summer's European tour. His wife Jenny, a "fan by marriage", has been to 63. At all but the first 15 of those gigs, moreover, he has worn the same black and gold jumper, bearing the knitted legend "Neil Diamond. The Frog Who Would Be King" – a reference to one of the singer's best known songs I Am… I Said. Like everything else in his collection – the plectrums, the guitar, the microphone-shaped soap ("I've been offered a small fortune for this") – the jumper looks pristine. Even now, a day when Graham does not listen to at least one Neil Diamond song is highly unusual. His dream would be to open a museum.
"It gives me enjoyment… It's as accurate a portrayal of Neil Diamond's professional life as there can be." This is the only explanation Graham can give, or needs to. But how about Jenny, whose own cat collection does battle with her husband's all around the house, would she say the same? "Sometimes she gets frustrated," he admits. "She says, 'Oh for goodness sake! Does it matter?'" He pauses, considering the question. "But it does to me."