New York fashion week
9-17 February

Age: 68.
Appearance: Glossy-looking, patrician older lady who has a house in the Hamptons and her hairdresser on speed-dial.
So it's all about the money then? That's right. New York fashion week is the most commercial of the four fashion cities: the one that is most concerned with the actual business of selling clothes.
I get it – the clothes are all dull, safe and wearable? Well, yes and no. There is a lot of bland blah stuff and a fair amount of preppy pastel, but that's not the whole story. For starters, Marc Jacobs shows there – his Studio-54-meets-Taxi-Driver hybrid last season was far from dull. And since he is fond of surprises, who knows what could be next?
Any other designers I should pay attention to? Victoria Beckham.
Ah yes, I'd heard the critics all love her dresses. But she doesn't actually design them does she? That smooth French guy does. For the 50 millionth time, Roland Mouret does not ghost-design Beckham's collection. He's bored of the accusation. She's bored of the accusation. She has a design team in London whom she directs from LA via Skype while wearing a dressing gown. She's bona fide. The end.
That's told me. So who will be in the front row? Anna Wintour, It girls from reality shows that you've never heard of . . . and Blake Lively.
Should I care about her? Not really, she is US Vogue-approved is all.
What about Michelle Obama? She loves a bit of designer fashion doesn't she, or does she prefer to wear British labels? Don't even open that can of worms.
OK. But what should I wear? It's freezing in New York. Can I get away with my Uggs and Puffa? Not if you want to sit in the front row, then it's bare legs and cashmere all the way.
Don't say: "God, US fashion is so boring, no wonder the first lady chose McQueen."
Do say: "I love the way Marc reconfigures his vision every season. It's so modern."
London fashion week
18-23 February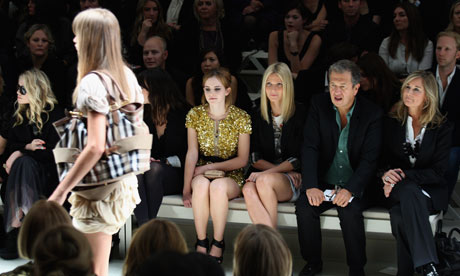 Age: 27.
Appearance: Recent graduate who has ditched the Converse and grown out the undercut.
But I thought London fashion week was the wacky one. Has it gone serious? A bit. Things have got more wearable recently but there's still a fair amount of brilliant catwalk nonsense: last season there was a baby styled as a rucksack.
That sounds scary. Who will be on the front row? Saint Martins graduates and that Alexa Chung? Could be. It's a hi-lo mix in London. Samantha Cameron may well be seated between Kerry Katona and Pixie Geldof.
Sounds jolly. What will be the best shows? Erdem, newcomer Mary Katrantzou, Christopher Kane who has just won 200 grand from the British Fashion Council to develop his brand, and then there's the Berries – Mulberry and Burberry.
Aren't they the same? No. One is more coats, one is more bags, both sell brilliantly.
So are they the biggest names showing in London? Well Tom Ford is coming.
That's brilliant news! Does that mean there'll be a starry catwalk with Beyoncé and Julianne Moore modelling like last time? Not exactly. Ford has decided that he'll only do one-to-one viewings with international glossy monthly magazines and there will be no photos so the plebs can't see and the high street can't get "inspired".
Bummer. Who else can I stare at then?
Emmanuelle Alt. The new editor of Paris Vogue is coming to London to add a touch of international chic.
What should I wear?
Sleek 70s trousers and posh blouses. Oh and Downing Street is hosting a reception for fashion editors where the dress code is described as "suits", which is a bit weird, but whatevs.
Do say: "I was chatting to Samantha at No 10 and we were saying how brilliant it is about Christopher's grant."
Don't say: "Why does that man in the front row have a fluorescent fur stole?"
Milan fashion week
23 February-1 March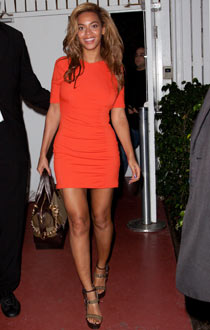 Age: 53.
Appearance: Molto sexy glamour-puss. Think fur and leopardprint, with a face full of makeup and fillers.
That sounds a little too cliched for its own good. Which labels show there? Basically it's a roll-call of the fashion powerhouses. The gods of glossy advertising – Armani, Gucci, Versace, Dolce & Gabbana – and then there is Prada, which both stands apart and sets the trend agenda.
Ah, the banana people. What will it be this season? Carrots? Don't be ridiculous. It's sacrilege to try to second-guess Mrs Prada, anyway. If her recent menswear show offers any clues, then she could be interested in Lurex and suede. But don't bank on it.
If it's all about big brands are there loads of big parties? You're getting the hang of this now. In Milan someone is always launching a shop, a perfume or a book and hosting champagne-fuelled parties in glamorous palazzos.
Any celebrity action? The megabrands are all about a glitzy front row. Think Beyoncé, J-Lo, Kylie. Megan Fox is the new face of Emporio Armani, so is likely to be posing for the snappers by the side of the catwalk. Anyone who is the face of a big brand will have to pay their dues by sitting in the front row and applauding the evening wear section.
You mean they will be shopping for Oscar frocks? Yes, it's a possibility that some dresses shown in the early part of the week will be flown straight from the catwalk to Hollywood.
Do say: "We had a wild time last night at Donatella's place – January Jones looked amazing."
Don't say: "Really, Milan is just like Manchester but with more fur."
Paris fashion week
1-9 March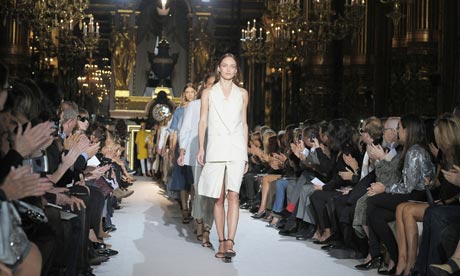 Age: 38 in this incarnation, but the city also hosts the couture shows, so is without a doubt the grande dame of fashion. Ageing elegantly.
Appearance: Whip thin. Dishevelled hair. Smoking. Collar turned up. Fancies itself – with good reason.
Very chic! Well it is the spiritual home of luxury fashion. Louis Vuitton, Dior, Balenciaga, Céline, Lanvin, YSL and Chloé all show here.
It sounds beautiful. But expensive. Does anyone actually buy these clothes six months down the line? Hell yes. LVMH, the conglomerate that owns lots of the Parisian brands, described last year as "a great vintage year". Profits rose 73%.
Blimey. Which are the unmissable shows then? Loads. But Céline is the insiders' favourite, and it is designed by a Brit – Phoebe Philo, who was recently named British designer of the year.
Then why doesn't she show in London? Because the label is French. It's like football – the star players flit around the international clubs.
So what should I wear? Go either sleek and minimal and pray that everyone thinks you are wearing Céline, or channel the French Vogue look – skinny leather jeans and a power peacoat. You'll know you've got it right if the street-style bloggers snap you.
Do say: "I have fashion flu." (It implies you've been invited to every show for the past month.)
Don't say: "I don't think Emmanuelle will be as good an editor as Carine."