"There was no containing his contradictions," said Anna Wintour in her address at today's memorial service for Alexander McQueen. This turned out to be true even in death.
As London fashion week paused to remember the designer, who took his own life in February, McQueen's family were joined by his friends Sarah Jessica Parker, Kate Moss and Naomi Campbell at a service of memorial and thanksgiving at St Paul's Cathedral.
It was a morning of conflicting emotions, the shock and sadness surrounding McQueen's early death, tempered by a desire to celebrate his gifts and remember his triumphs. During the service, the London Community Gospel Choir led the congregation in a joyous rendition of Amazing Grace. Shortly afterward Björk, accompanied by a pianist, stood to perform an extraordinary, haunting solo of Gloomy Sunday, the song about contemplating suicide made famous by Billie Holiday.
McQueen's friends told fond tales of his legendary mischief-making and iconoclastic ways; in between addresses, they stood together and sang traditional hymns, including Jerusalem and I Vow to Thee My Country.

Michael Nyman brought serenity to the cathedral with a piano rendition of The Heart Asks Pleasure First before lone piper Donald Lindsay played the piercing fanfare of the Braveheart motif. The clipped, confident tones of Wintour, editor-in-chief of American Vogue, contrasted with the east end accents of the designer's nephews Mark McQueen, who gave a bible reading, and Gary Hulyer, who led a prayer.
The sea of black that inevitably dominated the congregation was interrupted, broken by a flash of violet from the satin stiletto sandals of Wintour's French counterpart Carine Roitfeld.
The complications and contradictions befitted the man. McQueen was almost unique in having an innate understanding of the 21st century women for whom he designed. He never dealt with stereotypes, but instinctively saw the coexisting impulses towards romance and independence, the serious and the frivolous, nurturing hearth and home and making one's mark.
As the clock neared 11am, the imposing and unfamiliar setting during London fashion week, felt eerily familiar. The attendees sat in rows, with Wintour in sunglasses, Parker in a fitted black dress, Moss in a black leather skirt, whispering in her neighbour's ear – and Campbell making a late dash for her seat. It felt, fittingly, like being at one of McQueen's legendary catwalk shows. Suzy Menkes, fashion editor of the International Herald Tribune, said in her speech, "I can't help thinking that this would have been his ultimate venue."
But the McQueen remembered yesterday was Lee, not the Alexander he used as a professional name. The Reverend Dr Giles Fraser, canon chancellor of St Paul's, began the service by observing that McQueen's "was a life lived in the public gaze, but it was as vulnerable and retiring as it was glamorous".
Wintour, dressed in a black McQueen coat embroidered with gold birds, a favourite motif, spoke of the "complex and gifted young man, born not far from here, who as a child used to sit on the roof of his tower block and watch the birds circling overhead."
She told the story of the first time she encountered McQueen, when as a promising young designer he failed to appear for his portrait session with American Vogue and answered the phone call asking about his whereabouts with a string of expletives and assurances that he didn't give a fig (not the word he used) about Vogue.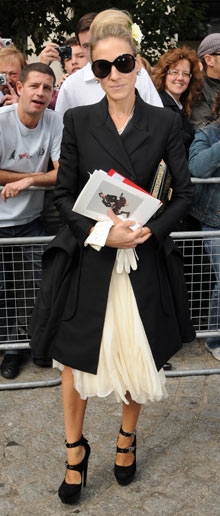 Wintour later discovered that he had, in fact, pulled out because he was concerned publicity might jeopardise the dole money on which he depended.
Wintour related a story told to her by Sarah Burton, McQueen's closest studio colleague and now his replacement as head designer, in which his studio team left one evening with the designer in a bad mood, having been told his latest idea for a coat was simply technically impossible. The team were astonished to return the next morning to find the coat finished to perfection and the designer, exhausted after having worked on it all night, fast asleep on a sofa with one of his beloved dogs.
Perhaps most tellingly, the fearsome Wintour, whose very presence memorably reduced Yves Saint Laurent designer Stefano Pilati to a stammering wreck in the documentary The September Issue, told of a visit to McQueen's studio, where she tried on a dress. "I heard him say, 'What do you think?' but before I could answer, I realised he wasn't talking to me. He was asking his seamstresses, whose opinion he valued far above mine."
Insect shoes
Suzy Menkes referred to the controversy that constantly surrounded McQueen, in particular the giant "insect" shoes from his penultimate collection that Lady Gaga has since adopted as favourite stagewear: "some of the most chillingly misogynistic footwear ever seen on the runway … but quite, quite beautiful". Menkes finished her address by quoting John Keats: "'Beauty is truth, truth beauty,' – that is all ye know on earth, and all ye need to know."
Two of McQueen's close friends, Annabelle Neilson and jewellery designer Shaun Leane, addressed their words to McQueen himself. Leane recalled the house they shared as students in Tooting Bec, south London, where McQueen's room was arranged around a sewing machine, and always ankle deep in lace; he remembered his friend's sharp tongue, sense of humour, filthy laugh, amazing memory for detail and piercing blue eyes.
During Amazing Grace, a collection was taken in aid of the Terrence Higgins Trust, the Blue Cross and Battersea Dogs and Cats Home. Next, Björk emerged from behind the heavy swagged cathedral curtains, resplendent in a fragile, winged silver and grey McQueen stage costume, the like of which St Paul's has surely never seen before, even in half a millennium. It gave her the appearance of a butterfly who had got halfway through emerging from a chrysalis and then changed her mind.
Wordless symbolism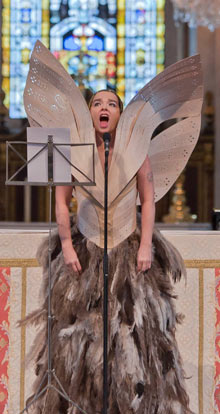 The hour ended with a moment of pure visual drama that seemed to have come straight from a McQueen catwalk show. Milliner Philip Treacy, McQueen's nephew and McQueen's CEO, Jonathan Akeroyd, led final prayers of intercession in which they also remembered the designer's mother Joyce, who died a week before her son, and his late friend Isabella Blow. As they did so, the sun blazed through the windows of the great dome above, throwing shafts of sunlight on to those below. It was just the kind of wordless symbolism in which McQueen used to specialise.
As the lone piper led the crowd out on to the west steps, Moss added black sunglasses before facing the camera lenses and bright daylight.
Daphne Guinness, her face and blonde hair wrapped in black net that cascaded down her back in a reverse image of a bridal veil, hooked her arm through that of her friend Naomi Campbell, dressed in honour of McQueen in a splendid coat dress of glossy black feathers, like a bird of paradise in strict mourning.
Outside, the National Youth Pipe Band of Scotland played, and a large crowd had gathered. London fashion week had long hoped to welcome McQueen back, but this was not how it should have been. We knew he loved to shock, but nothing could have prepared his audience for this.