In July 1969, the Rolling Stones were riding high. Honky Tonk Women was about to be released, and they were gearing up for a triumphant gig in London's Hyde Park.
Then tragedy struck. On 3 July, guitarist Brian Jones, who had left the band by mutual consent a month earlier, drowned in the swimming pool of his Sussex home, aged just 27.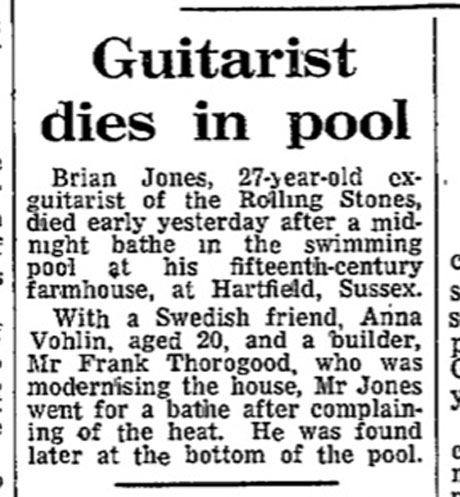 At the inquest, held on 7 July, the coroner ruled death by misadventure "while under the influence of drink and drugs".
A memorial service was held on 10 July at Cheltenham parish church, attended by Rolling Stones Charlie Watts and Bill Wyman (Mick Jagger was in Australia, where girlfriend Marianne Faithfull had been hospitalised following a suicide attempt).
But the most lasting memorial was held two days after Jones's death, when his former bandmates paid tribute at the free concert in Hyde Park. Jagger, asking the audience to "cool it for a minute", read a poem by Shelley before thousands of butterflies were released above the crowds.
John Gale, who reviewed the concert for the Observer, wrote that "from far off you might have supposed that this great gathering had come to hear a famed religious leader or some Eastern mystic."

Richard Gott, writing in the Guardian, saw the gathering as "a great and epoch-making event in British social history", though "most of the music...was indifferent".
But in the end, it was the sentiment and not the music that mattered most.