Néstor was 14 when a local drug trafficker first hired him to help bring in the harvest. "They need 20 to 30 people, because you have to harvest an entire hectare in two or three days while there's a gap in the rains," he says. "When the marijuana's ready, you can't leave it for long."
Growing up on the outskirts of Pedro Juan Caballero, a lawless town on Paraguay's north-eastern border with Brazil, wasn't easy. His father, a ranch manager, was away from home for three months at a time. His mother washed clothes to put food on the table.
"Then they approach you, and say they're going to pay you 80,000 guaraníes [£9.56; $15] a day, with an advance. You know how much your family is in need, so you're forced to take it. And then you're committed. That's why everyone gets corrupted and goes to work there."
Thirty years later, Néstor – not his real name – is still in the business. He has his own plantation up in "the mountains", the low fists of red sandstone that punch through the jungle of Amambay department. He employs a clutch of workers to live there, growing, guarding, and harvesting the crop. They are farmers who sold their small plots of land out of economic desperation, according to Néstor. They jump on the offer of any work, even if it means cultivating illegal crops.
Néstor's small house in Pedro Juan is dotted with souvenirs from his plantation. A feral baby jaguarundi scurries out from underneath a wardrobe to snatch chunks of meat from his wife's hand. A pair of parrots sit on a tree out back, and watch as he brings out six bricks of pressed hashish – the potent, THC-heavy resin of the cannabis plant – weighing a kilo each.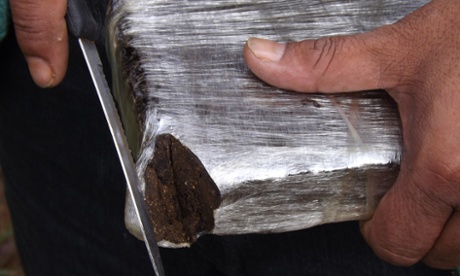 It is a fraction of what Néstor can produce from Paraguay's fertile red soil in two harvests a year. The landlocked nation of 7 million inhabitants is Latin America's biggest producer of the narcotic after Mexico, and 80% of the country's marijuana ends up in the megacities of Brazil, transported by criminal enterprises like Rio's Red Command. Paraguay also increasingly serves as a corridor for Colombian, Peruvian and Bolivian cocaine bound for Brazil, Africa and Europe.
The marijuana and cocaine trades are fuelled by the underdevelopment that has dogged Paraguay since independence. Over the past 10 years, successive modernising administrations have produced a GDP boom by supplying Brazil with beef, wheat and soybean. But mechanised agribusiness has left many of Paraguay's rural communities behind.

"Paraguay is a rich country, but full of poor people," says Eladio Flecha, general secretary of the Partido Paraguay Pyahura (PPP; Party for a New Paraguay), a new political movement made up of several leftwing groups. "The distribution of wealth is very unequal: 80% of land is held by 2.5% of the population, and 161 people control 90% of the wealth of our country. Sure, the economy is growing fast, but it doesn't reach the most vulnerable groups."
His party's name is a mix of Spanish and Guaraní, the indigenous language spoken by more than 90% of the population, and as a first language by many. Lack of Spanish, the formal language of politics and business, joins other obstacles – such as low levels of education, poor communications and dirt roads that quickly turn to mud in the rain – to isolate rural communities.
Flecha says small-scale farmers scarcely earn 8,000 guaraníes for a 70kg sack of the Paraguayan staple manioc. Over the past decade, more than 1 million small farmers and their families have migrated to informal jobs on the edges of towns, easy prey to the "temptation" offered by traffickers.
Stemming the flow of marijuana
"Eradication operations are the only real way of diminishing the supply of drugs and financially hitting the plantation owners. Here, in a single day, I can take up to 150,000kg of marijuana out of circulation," says Captain Oscar Chamorro, from Paraguay's overstretched National Anti-Drugs Secretariat (Senad), as 60 special forces troops line up in a hangar on the edge of Pedro Juan at dawn.
They check their weapons, pile into cars, trucks and helicopters, and make their way out to a rendezvous in the mountains. On the way, Chamorro – who has 21 years of military experience, with 10 in Senad – dismisses the notion that Paraguayans are turning to pot to escape poverty.
"They don't do it to survive, they do it to earn money. Marijuana producers will tell you, 'No, I don't have anything else I can do'. But in reality, if the campesino cultivated his 10 hectares of land well, or put 10 cows on it, he's going to earn enough to live on," Chamorro says.
"They're just looking to boost their income. There's not a single small farmer who doesn't have his cell phone, his motorbike. They can earn more with narcotrafficking, but I don't believe this is a valid excuse."
It is day three of a nine-day operation. Reconnaissance flights have already identified the marijuana plantations, dotted among private forest reserves. The helicopters drop off teams of six among the green stalks, where they work until the midday heat becomes too oppressive. Major Aldo Pintos jumps out and heads for a camp in the trees. A couple of tarpaulins cover a sleeping area, filled with colorful duvets and sacks of marijuana. A few toothbrushes are in a jar tied to a tree, and a pot sits over some glowing embers.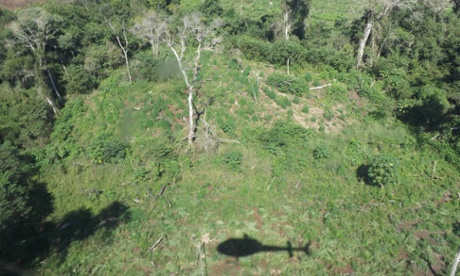 "They hide when they hear the rotors. They're probably still nearby," says Pintos, cradling his assault rifle in one hand. With the other, he pours cooking oil over the tents and touches a match to the plastic. In the next valley, the soldiers burn presses used to make the bricks of marijuana. Then, they form a loose line and take out their machetes, walking forward and hacking the plants to the ground.
Chamorro's men are highly motivated and disciplined: one of his officers was trained at Sandhurst, others by the US Drug Enforcement Administration (DEA), which paid for the base in Pedro Juan. As they zoom around the hills, a casual observer might dismiss them as cowboys — Chamorro's ringtone is Danger Zone from the movie Top Gun — but Senad put in the most hours of all of Paraguay's public employees. It is, says Chamorro, "a vocation".
"You feel very proud knowing that you're preventing these drugs going out on the streets. We all have a friend, a relative who's living with the problem of drugs, and we know how much damage it does to society," says Chamorro. "But we have a more modern drugs policy than many developed countries: we don't lock up the user, but treat it as a health problem."
Eradication eats into the traffickers' profits, he explains, and prevents them from moving into the cocaine trade: a trend borne out by Néstor, who has spent time behind bars in Uruguay and Brazil for transporting the powder. Senad agents periodically swoop on hidden airstrips, light aircraft and makeshift laboratories used to bulk up Andean cocaine paste and export it across the invisible border.
The rivalry this lucrative business creates plays out to gory effect in Pedro Juan, says Cándido Figueredo, who has two decades' experience reporting for the national daily ABC Color from his home town. "Here, a life is worth absolutely nothing," he says. "The police sometimes find a body near the border in the morning, and they dump it on the other side. It's less paperwork."
According to police figures, an annual average of 105 homicides occured in Pedro Juan between 2009 and 2014.
Drug trafficking was a familiar feature under the military dictatorship of Alfredo Stroessner. Drug money has further infected national politics since the return to democracy, contributing to endemic corruption and a culture of silence.
"Loads of politicians, especially ones from the border, are 100% contaminated by the mafia and receive mafia support for their campaigns. In this country, if you have money, you can buy anyone: from a journalist to a minister," Figueredo laments.
The few independent journalists who speak out do so at their peril: disgruntled narcos have twice riddled Figueredo's bungalow in Pedro Juan with machine-gun fire, forcing him to accept round-the-clock police protection. He also carries a 9mm pistol whenever he leaves the house with his guards.The mafia has killed four journalists since May 2014, including two within metres of the border between Pedro Juan and Brazil's Ponta Porã. In October, when gunmen shot Pablo Medina, Figueredo's colleague, national soul-searching gave rise to a new term: narcopolitica. It emerged that a marijuana-trafficking local mayor, allegedly protected by a congresswoman, had given the order.
"Before Pablo Medina died, we believed we were on the right track. We ignored the fact that the marijuana business had grown, and occupied political space," says Senad minister Luis Rojas in his office in Asunción, Paraguay's capital.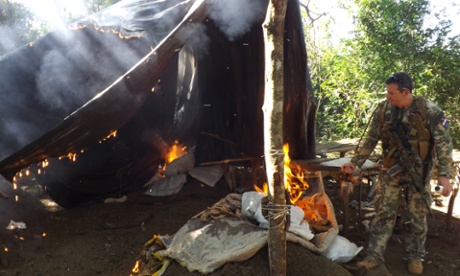 "We realised that we couldn't just continue with the strategy of cutting and burning marijuana. We had to investigate the structures behind it, just like with cocaine … And we had to realise that we don't know how much marijuana there is in Paraguay. We don't know about its economic and social impact. We don't know anything."
Senad has since paid more attention to capturing and getting information from the kingpins. Rojas is creating a centre for research into marijuana trafficking, and is boosting rehabilitation and education efforts. The next challenge is to pass laws on campaign finance and property forfeiture, preventing drug bosses from controlling politicians and operating from jail. "It's painful to admit the reality, but it's the only way to build intelligent public policies. The rest is bullshit," says Rojas.
For the PPP's Flecha, the changes – if delivered – will not come a moment too soon. But he disagrees with the claim that poor farmers turning to drug cultivation for survival is a thing of the past, and with the "militarisation" of the countryside.

"The Paraguayan campesino's form of subsistence is under attack from the big latifundistas [landowners] and agricultural exporters," says Flecha. "There's no escape, and so he falls under the control of the mafia. To genuinely combat the narcotraffickers, the government should have a policy for small producers, and strengthen traditional production."
Supporting smallholder farmers
The southern department of Alto Paraná represents the problem in microcosm. While international agricultural firms show off gleaming rows of tractors and pesticide sprayers at a local trade fair, Francisco Pereira drives around the backroads, engaged in a tireless struggle to encourage local communities to hold on to their lands and forests and resist what he calls the "soybean-isation" of the countryside.
Pereira, policy director of the World Wildlife Fund's Paraguayan chapter, points out the fields of the stunted crop, creeping up on both sides of the road and planted within two metres of a local school's windows, liberally sprayed with pesticides thanks to minimal restrictions by the state. "From the production perspective, soy brings greater earnings for Paraguay," he agrees. "But from the point of view of the schools, of the families who are left with the soil, it's a problem. There's a real risk of the misuse of agrotoxins having a severe effect on campesino and indigenous communities."
The health concerns and economic pressures prove too much for many farmers, who sell up and move to the towns.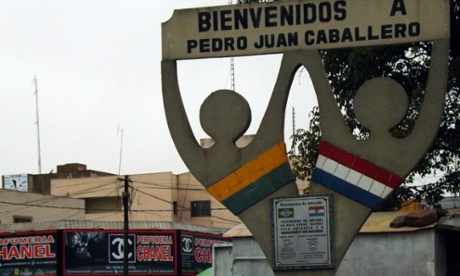 But Pereira and a handful of local NGOs are helping communities diversify into small-scale production for local sale and export. Farmers can secure significant returns from medicinal plants, and crops like watermelon and yerba mate — the bitter leaf drunk nationwide. And such products provide employment for the whole community, planting the seedlings in the village nursery, transferring them to the fields, and eventually harvesting them.
Four years of encouragement from the WWF has turned things around in the village of Tavapy, says resident Simeon Luis. "All these trees that are here now are proof, and the houses too. Before there wasn't anything. We're thinking about moving into floriculture, and we've planted over 200,000 yerba plants. Within three or four years, they'll begin making money. And then we'll be able to breathe."
Restoring optimism and technical knowhow to Paraguay's small farming communities so they can support themselves is "the missing component" in tackling marijuana cultivation, Chamorro admits. The government is already investing more in schools, but improvements will take time. And for some, changing the habits of a lifetime will be hard.
Néstor is just getting started again after leaving jail. "I know a guy who owns a favela in Rio. There, a kilogram of marijuana gets 1,000 reais ($300; £191), so a thousand kilograms will earn me a million reais. Then I'll be back in business," he says.
• This article was amended on 26 June to clarify that hashish is made using the resin of the cannabis plant rather than the sap, as originally stated.