The following is an extract from Michael Yokhin's article from the latest issue of the Blizzard. The Blizzard is a quarterly football journal available from www.theblizzard.co.uk on a pay-what-you-like basis in print and digital formats.
Russia 1–1 Ukraine
Euro 2000 qualifying tournament, Luzhniki Stadium, Moscow, 9 October 1999
"Please don't remind me of the most terrible moments of my life. I am trying to forget them. None of us wanted to live after that game against Ukraine. We felt like it would have been better to shoot ourselves or at least to quit football forever. I don't remember what exactly happened afterwards, it's all in a fog. That was cruel and undeserved after all we had achieved, as if we had run a marathon and then dropped dead."
Those are the words of Oleg Romantsev, earlier in 2014, when the fateful game was mentioned on a TV show. The former Russia coach will never be able to come to terms with the experience. Neither will the entire country. Neither will Ukraine. When the English referee David Elleray blew the final whistle in Moscow on that rainy October night in 1999, it was immediately clear that this match would be remembered forever.
Where do we start? We probably should go back to 1991, when the Soviet Union ceased to exist. A united team of Commonwealth of Independent States appeared at Euro 92, but thereafter each country went its own way.
Fifa and Uefa decided that Russia would be the natural heirs of the Soviet team, taking its coefficients and history, while other newly independent nations had to start from scratch. Ukraine understandably felt that such an approach was unfair, given that they provided the nucleus for the USSR team for many years. In the reign of Valeriy Lobanovskyi in the late 80s, for instance, the lineup was mainly based on Dynamo Kyiv stars. No fewer than seven starters in the Euro 88 final were Ukrainians.
To add insult to injury, Fifa allowed each player to choose which country he wanted to represent and many Ukrainians preferred Russia as it gave them a much better chance of playing at major tournaments. The likes of Viktor Onopko, Andrei Kanchelskis, Igor Nikiforov, Ilya Tsymbalar and Sergei Yuran – all Ukrainians – went on to play for Russia, leaving the young nation with few experienced players to count on. It is hardly surprising, then, that Ukraine struggled in the 90s, failing to qualify for the World Cup and the European Championship. Only the emergence of the younger generation, led by the phenomenal Andriy Shevchenko, gave them fresh hope.
Russia were supposed to take advantage of the situation, but failed to do so. Their organisation was very poor in the 90s, leading to the infamous conflict ahead of the 1994 World Cup which saw some of the biggest stars refusing to take part in the tournament. They went out at the group stages in the United States, failed again at Euro 96, and didn't qualify at all for the 1998 World Cup. A very talented crop of players were desperately underachieving on the international stage and Euro 2000 was their final chance of glory.
At the same time, Ukraine finally felt they had a team that was ready to compete with the best. They had a very good qualifying campaign for the 1998 World Cup, finishing runners-up in a difficult group, ahead of Portugal and just two points behind Germany. Losing to Croatia in the play-offs was painful, but the future looked bright.
Fate decided that the rivals would be drawn together in the Euro 2000 qualifiers, joined by the world champions France in a very tough group. Iceland were considered clear underdogs, but – quite sensationally – they were to play a significant part as well. The team that finished first were to qualify for the tournament directly; the runners-up had to go through the play-offs.
Adding another layer of intrigue, Russia named Anatoliy Byshovets as their new coach in the summer of 1998 to replace Boris Ignatyev, who was blamed for the fiasco in the previous campaign. Byshovets, who led the Soviet Union to gold at the 1988 Olympics, but failed with CIS at Euro 92, was born in Kyiv and spent all his playing career at Dynamo.
Back in 1996, when Ukraine were looking for a coach, Byshovets was considered for the job. Josef Szabo, who had been born in Hungary but played for Dynamo in the 60s alongside Byshovets, suggested that he should apply for the post. The talks with the federation were unfruitful, though, and it was Szabo who eventually got the job. Now, all of a sudden, the former team-mates were up against each other.
The first game of the campaign took place in Kyiv on 5 September 1998. It was the first official match between Ukraine and Russia and some journalists labelled it the Game of the Century. They couldn't have guessed what would happen a year later.
Russia's preparations for the all-important game were, to put it mildly, dreadful. The most bizarre moment took place at the Moscow airport when the team was supposed to fly to Kyiv. Officials refused to let the plane leave before they received payments for fuel and the players waited for two hours before the money was eventually delivered – in cash.
Byshovets, who went to visit his parents' graves in Kyiv, knew Ukraine very well and feared them as opponents, especially because Russia were missing their key defenders, Yuri Nikiforov and Dmitri Khlestov. The Celta Vigo star Aleksandr Mostovoi, who wasn't fully fit, claimed that he was ready to play from the start, but Byshovets decided otherwise and left out Igor Dobrovolski as well.
To the delight of the 82,000 Ukrainian fans in the stands, the hosts took an early 2-0 lead thanks to the goals of Sergei Popov, who used to play for Byshovets at Zenit, and Sergei Skachenko. Mostovoi only entered the field after 65 minutes and, almost immediately, his free-kick resulted in a goal for Yevgeni Varlamov. The Russia keeper Dmitri Kharine was then controversially sent off for supposedly bringing down a young Sergei Rebrov in the penalty area and the striker himself converted the spot-kick. Onopko made it 3-2 to set up a frantic finale, but Ukraine deservedly prevailed in the end. "Our team has been rather unpopular with fans lately, but I hope that this performance will change that," Byshovets said. "We fought until the end, with 10 men, and proved our strong character."
As for the ecstatic Ukrainian players, they received a present in the dressing room of US$100,000 from the Shakhtar Donetsk president Rinat Akhmetov. They were even happier after hearing that France had dropped points in a 1-1 draw in Iceland. The campaign couldn't have started better for them.
Russia lost another friendly in Spain before facing France in Moscow in October 1998, and fans' expectations were extremely low. Just like Ukraine, France raced into a 2-0 lead thanks to young Nicolas Anelka, who scored and assisted Robert Pires. Russia came back and equalised thanks to Andrey Yanovsky's header and a brilliant curling Mostovoi shot. But nine minutes from time, Alain Boghossian netted the winner, while Laurent Blanc missed a penalty in injury time.
"Byshovets can quietly prepare the team for the 2002 World Cup now," claimed the sarcastic headline of Sport Express. The coach was blamed for constantly changing the lineup and the situation became unbearable for him four days later when Russia lost 1-0 to Iceland in Reykjavik. Byshovets had chosen a cautious lineup with five defenders and his team rarely threatened before Yuri Kovtun headed an unfortunate own goal on 89 minutes. This was the nadir. Never before had Russia started a qualifying campaign with three consecutive defeats.
At the same time, Ukraine enjoyed easy wins over Andorra and Armenia and topped the table with nine points. France were second with seven points, Iceland had five. Russia had none, just like Andorra.
Byshovets's record stood at six defeats in six games and he was sacked. Romantsev was asked to replace him, while continuing to work with the perennial champions Spartak. His job was to prepare the team for the World Cup. Nobody expected any miracles. That's when the miracles started.
It was, of course, little surprise that Russia won 3-0 in Armenia and 6-1 against Andorra in March 1999, but other results went their way. Ukraine did brilliantly to take a point in a goalless draw in Paris, but then drew 1-1 with Iceland in Kyiv and their momentum faltered. Then came June, and Russia achieved what will forever be remembered as one of their most famous results.
A win at the Stade de France was needed to keep any realistic hopes of qualifying alive. Les Bleus also needed the three points to improve their chances of finishing ahead of Ukraine. Zinedine Zidane was missing for the hosts, but Russia had problems of their own as Mostovoi was highly doubtful because of injury. Romantsev eventually gambled on him and the playmaker asked to be substituted after just 26 minutes. It was a severe blow, but that's when the Russians suddenly discovered a new star in the diminutive striker Aleksandr Panov.
The Zenit forward had only played once for the national team prior to the game, but he had scored a brace in the Cup final and Romantsev decided that his speed and audacity would be his secret weapon against the experienced French rearguard. It was an inspired gamble, as Panov opened the scoring towards the end of the first half. France deservedly came back and took a 2-1 lead at the start of the second half thanks to Emmanuel Petit and Sylvain Wiltord, but Panov made it 2-2 after 75 minutes, netting a screamer after receiving a long ball from Khlestov.
France were furious. They made every possible effort to score the winner and Aleksandr Filimonov had to make a few difficult saves before the Russians stole it at the death. Tsymbalar, a technically gifted and visionary midfielder, put in an inviting cross. Panov tried to reach it, was fouled, and the ball fell to Valery Karpin, who slotted it home and started the celebrations.
Four days later, 38,000 fans filled the Dinamo stadium in Moscow to see the game against Iceland. Astonishingly, Iceland were still unbeaten at that stage and had started to believe that they could stun the world and win the group. It wasn't to be. Karpin scored a crucial goal again and Romantsev was delighted with a 1-0 win – his fourth victory in a row. It was even more significant because Ukraine could only draw 0-0 in Yerevan against Armenia.
September saw Ukraine play against France. An extremely nervous affair finished goalless and Russia were delighted. Having won 2-0 against Armenia, they knew that another six points would see them through. The sixth consecutive win arrived when they overcame Andorra 2-1, with Onopko scoring a rare brace. Not only had the impossible mission become possible – they felt then that they were the favourites.
Ukraine also considered themselves favourites. Szabo was especially proud of his defence, which had held firm in both games against France and did a great job again in Iceland, where a Rebrov penalty gave them a 1-0 win. Ahead of the final games, the table couldn't have been more exciting. Ukraine had 19 points, Russia and France 18 and Iceland 15. Russia hosted Ukraine, France played Iceland, and all four teams needed to win. Ukraine were certain of finishing first and qualifying for their first ever major tournament if they took the three points in Moscow. A draw would send them to the play-offs if France won their game, while a defeat meant they were out if France avoided defeat.
The wait for the big game was almost unbearable in Russia and Ukraine. Both teams knew that their fate was in their own hands and each had good reason to believe that they would prevail.
The Russian government, which couldn't have cared less about the team just a year previously, wanted to show the strongest support possible. Generous bonuses were promised to the players for qualification. The prime minister Vladimir Putin, the Moscow mayor Yuri Luzhkov and various politicians were to witness the game from the stands of the Luzhniki and there were rumours that even the president, Boris Yeltsin, wanted to attend in spite of his poor health.
Russian journalists tried to guess who would be given the task of personally marking Shevchenko. Some claimed it should be Khlestov, others were certain that Alexei Smertin was better suited for the job, having played brilliantly against Anelka in Paris. The eventual decision took everyone by surprise. Romantsev picked Lokomotiv Moscow's utility man Yuri Drozdov to take on Shevchenko. He was supposed to follow the Milan star everywhere he went.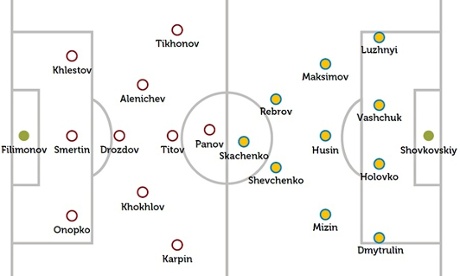 The Ukrainians were much more consistent and their lineup, based on the Dynamo Kiev side coached by Lobanovskyi, was easier to predict. The tight and organised defence was intact, with Oleksandr Holovko and Vladyslav Vashchuk having great mutual understanding in the centre and Oleg Luzhny, who had just signed for Arsenal, as the leader and captain at right-back. The keeper Oleksandr Shovkovskiy was in a great form, as opposed to Filimonov, and proved it when Dynamo forced a 1-1 draw at Bayer Leverkusen in the Champions League.
Ukraine began brightly and their pressing was effective in the first 10 minutes but the first clear chance fell to Russia as Karpin found Dmitri Khokhlov, who was bravely stopped by Shovkovskiy. That changed the momentum and Russia started running amok, making their advantage in midfield count.
After 21 minutes, news came from Paris, where an own goal had put France in front. Les Bleus temporarily moved top of the table, Ukraine dropped to second place and Russia moved to third. Moments later, the visitors almost made Russia pay for some dreadful defending, but Rebrov's shot went just wide.
Russia looked shocked, but they came back strongly. Khokhlov, who was having a good first half, fired in an unexpected low shot forcing Shovkovskiy to make a brilliant diving save.
Russia smelled blood and organised another brilliant attack, as Dmitri Alenichev found Victor Tikhonov totally free in the box. Shovkovskiy came out to close the angle and the Spartak winger sent a cross to Panov who was waiting in front of the empty goal. Had the 'Russian Owen' been a tiny bit taller, he would have scored, but his 171cm weren't enough to reach the ball properly and he missed. The best chances of the first half were wasted and Youri Djorkaeff made it 2-0 to France in Paris.
Szabo lost patience quickly, feeling that another man was needed to stop the buoyant Russians. Three minutes before the break, he took off the ineffective Metz striker Skachenko and replaced him with the Shakhtar left-back Volodymyr Mykytyn.
The second half started exactly like the first, with the Ukrainians finding some confidence and pressing expertly. They almost took the lead when Rebrov was gifted an absolutely free header once again, but the 25-year-old, who would move to Tottenham Hotspur the following summer, missed.
Encouraging news arrived from the Stade de France, where Eyjolfur Sverrisson had pulled a goal back for a stubborn Iceland. Then, amazingly, Brynjar Gunnarsson scored on 56 minutes and made it 2-2. Suddenly, luck was smiling on Ukraine and Russia.
Gradually, Russia regained superiority in midfield. Alenichev shot wide, Panov couldn't beat Shovkovskiy from a tight angle, but overall Ukraine were much tighter at the back with Mykytyn on the pitch, and so Romantsev changed his tactics and added a second striker, introducing Vladimir Beschastnykh for Tikhonov.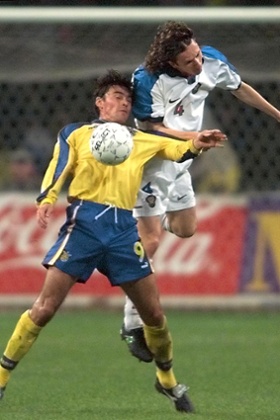 A very open game in Moscow was still goalless when France found the net for the third time. David Trezeguet gave them the lead with 19 minutes to go and Russia knew the situation was becoming desperate.
Then the referee made a crucial contribution. It was Elleray's first game on Russian soil and he was very generous to the hosts in awarding them a dangerous free-kick for no apparent reason. Karpin, who became the ultimate hero of the campaign, scoring the winners against France and Iceland, seemed to have done it again. His fierce shot went through the poorly built wall and Shovkovskiy, who didn't see the ball properly, could only pick it out of the net. That was the first away goal he had conceded in the tournament.
Putin jumped to his feet in the stands, together with more than 68,000 Russian fans who had been lucky enough to get tickets. The noise was deafening. With just a quarter of an hour to go, Russia climbed to the top of the group for the first time in the campaign. Ukraine dropped to third and needed a goal unless Iceland equalised again in Paris.
Szabo immediately made two attacking substitutions, sending on Sergei Kovalyov and Gennadiy Moroz for Yuri Dmytrulin and Yuri Maksimov. Romantsev strengthened his midfield, sending on the calm CSKA Moscow youngster Sergei Semak in place of Panov, and the hosts dropped back to defend their precious lead.
As Romantsev lit another cigarette on the bench, a very curious incident unfolded. It only became publicly known years later that Yeltsin, who watched the game on TV at home, demanded that his press secretary called the First Channel general director Konstantin Ernst. The president wanted the commentator Viktor Gusev to congratulate the team on winning and qualifying for the European Championship. "But the game hasn't ended yet. We might bring bad luck," Ernst said.
"That doesn't matter," the press secretary answered.
"I'll see what I can do," Ernst replied.
While he was making the call, Smertin pushed Sergei Mizin and Ukraine won a free-kick on the left side of the pitch with two minutes left to play. It wasn't especially dangerous and Shevchenko couldn't really shoot at goal from such a position. Everyone expected a cross, including Filimonov, who made a couple of steps forward. Shevchenko decided to take a shot. He probably didn't place it exactly as he wanted, because the ball was too close to the keeper, but it curled wickedly.
Filimonov, who had to make a step backwards, could easily have punched the ball away, but he tried to catch it. That decision ruined everything. The ball bounced off his hands and went into the net. "Ohhhh my God," Gusev mumbled. The Russians couldn't believe their eyes. They had made an incredible effort and it was destroyed by a single, absolutely incredible, mistake. The Ukrainians looked astonished as well. It took them a few moments to understand what had happened. Shevchenko, who missed some great chances against France, celebrated his first goal in the campaign. He left it very late, but his timing was perfect. "I knew that the chances of scoring were very small, but I hoped that the keeper would make a mistake. He made it," Shevchenko said after the game.
Shocked, Russia needed to score a winner in four minutes of injury time, but Ukraine needed another goal as well. They got another free-kick from exactly the same spot. Shevchenko went for a more direct effort this time and sent a brilliant shot towards the far top corner. That was the toughest test for Filimonov in the entire game and he made an expert save, tipping the ball over the crossbar. Why couldn't he have been as confident a couple of minutes earlier? That was the question every Russian fan asked himself.
With one minute of stoppage time left, Alenichev made one final run on the left. His cross was cleared by Mizin, but the ball fell to Khokhlov. That's where the despicable Sovetsky Sport headline could have come true. It didn't. Khokhlov didn't kill Ukraine, as his shot went high and wide. That was the end for Russia.
France finished first, Ukraine ended their campaign unbeaten but had to go to the play-offs, Russia were out. Szabo kissed Shevchenko on their way to the dressing room, while the players in white tried to come to terms with their fate. "This is tragedy. I simply don't want to discuss this game. We should have won," Karpin said.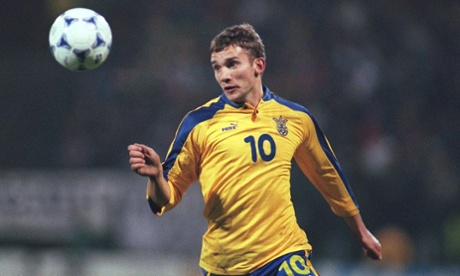 "When Shevchenko scored, I was very close to having a heart attack," admitted Vyacheslav Koloskov, the president of the Russian Football Union.
Romantsev opened the post-match press conference by saying, "Please don't ask too many questions, because I feel terrible. Fate was against us. How can a goalkeeper not catch a ball like that? Right now, I feel like quitting football forever, but I know that this is temporary and I will continue working with the team." Asked about his decision to select Filimonov, the coach answered, "Unfortunately, he trained much better than Nigmatullin who seemed to be in poor shape."
According to later reports, the keeper broke down in tears in the dressing room and his team-mates did their best to console him. To their immense credit, none of them blamed him. Szabo was emotional at the press conference, but surprised everyone by saying, "I am sorry for Russia," before adding, "It's a pity that we didn't finish first after topping the table for so long, but it was a very tough group."
The Ukrainian press celebrated the achievement wildly. An editorial in Den newspaper claimed: "Justice was finally done when Ukraine prevented Russia from qualifying for Euro 2000. We have waited for this day for eight long years, while the Russians exclusively enjoyed the legacy of Soviet Union which we built together. We must remember what a bitter feeling it was when, after voting for independence in December 1991, we could only watch how Russia participated in the World Cup draw at our expense. Why did that happen? Why did the Ukrainian players represent the CIS, a team without a flag or an anthem, at Euro 92, and then become Russians and go on to play for them? Our politicians were too cautious and we paid the price. Now we have prevailed – on a football pitch and not in Fifa offices."
Russian newspapers were merciless in their sarcasm. Moskovsky Komsomolets claimed, "This is our second present to Ukraine. The first was Crimea." Moskovskiye Vedomosti called Filimonov a "goalkiller", and added, "The only consolation would be to see Ukraine losing in the play-offs. Let us die together, as eternal rivals."
They had that consolation. When anticipating the draw, the Ukrainians wanted to avoid England and dreamed of being paired with Slovenia. Their prayers were answered and Shevchenko and his teammates were clear favourites against their tiny rivals. Fate this time, though, was against them and it was Shovkovskiy's turn to make a terrible blunder. In the first leg in Ljubljana, he poorly cleared a ball right to Milenko Acimovic whose speculative shot from the halfway line flew into the net. Slovenia won 2-1 and managed to get away with a 1-1 draw in Kyiv in the return leg four days later, leaving the Ukrainians empty handed and heartbroken.
France were the only team from the group to qualify for the tournament and they went on to win it.
Romantsev stayed on and Russia qualified for the World Cup in 2002, but he has never quite recovered from that fateful evening.
The Luzhniki stadium management decided to punish the goal itself and destroyed it completely, sending away the waste. Filimonov's career could also have been destroyed – but it wasn't. The keeper proved to be very tough mentally and overcame the crisis, winning another league title with Spartak. He never fulfilled his potential, though, and was forced to leave the club in 2001, having the courage to sign for Dynamo Kyiv.
Filimonov represented smaller teams until 2011, when he switched to beach football and helped Russia to win the World Cup with some outstanding performances. He then came out of retirement and continued his football career with Arsenal Tula, coached by his friend and former teammate Alenichev, working as a goalkeeping coach at the club as well. With him between the posts, Arsenal enjoyed two successive promotions and joined the top division for the first time in May 2013.
The 40-year-old is thus the only player who remains active from that fateful Russia lineup. Who would have believed that in October 1999?
Michael Yokhin is a European football writer with a keen interest in the history of the game. He writes a regular column for ESPN and contributes to the likes of FourFourTwo and Champions. Follow him here on Twitter.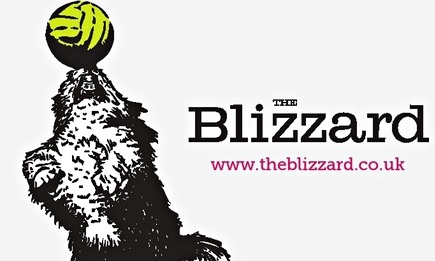 The Blizzard is a 190-page quarterly publication that allows the best football writers in the world the opportunity to write about the football stories that matter to them, with no limits and no editorial bias. All back issues are available on a pay-what-you-like basis in both print and digital formats from www.theblizzard.co.uk, with digital issues available from just 1p.