An Italian court has declared the Serie A club Parma bankrupt in a hearing that lasted only 10 minutes.
It is not yet clear whether Parma will be able to finish the season though Associated Press reported that there was a plan in place with the league's governing body and the Italian football federation to fund the club for the rest of the campaign.
"I believe we'll play on Sunday against Torino," a board member Osvaldo Riccobene said.
The club appaear to have two options for the future. They could find a new owner to pay off their debts or they could begin again in the fourth division with a new name.
The move closes a torrid few weeks for the league's bottom side who have twice been docked points this season and comes a day after police arrested the club's owner and 21 others on charges including embezzlement and money-laundering.
The league has said earlier that were the club to be wound up, all previous results this season would stand and future results recorded as 3-0 wins to the opposition.
The owner Giampietro Manenti is accused of investing illicit funds as part of an investigation that has led to dozens of raids across the country. A police source said the public accounts department of Italy's treasury was among the sites raided.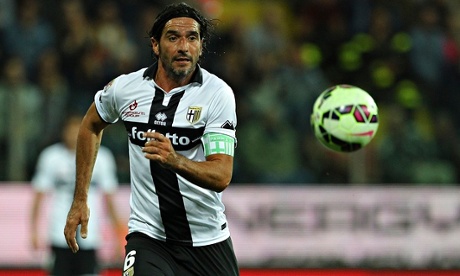 Manenti, who took over as Parma's owner and president in February after paying the Russian-Cypriot conglomerate which owned Parma €1, had agreed to pay off the club's £72m debt. They are 16 points from safety having been loaned £3.6m by the other Serie A clubs to help them complete the season.
The prosecutor Michele Prestipino Giarritta said the Manenti case related to a group of suspected information fraudsters and money-launderers who had moved millions of euros from a Swiss bank using cloned credit cards.
Prestipino alleged the group "made available to Manenti a sum of around €4.5m (£3.3m) through a system which you could call banal but was certainly simple".
Parma's players have not been paid all season and have to do their own laundry and drive their own team bus. Games were postponed because the club could not afford stewards or police at their Tardini stadium.
"This is turning into a farce," the club captain Alessandro Lucarelli told La Gazzetta dello Sport at the time. "I want to understand the legal reasons, whether Parma is involved or not."
Parma's best days came in the 1990s when the team won two Uefa Cups and one Cup Winners' Cup and were Serie A runners-up in 1997.