Alfredo Di Stéfano, who has died aged 88, was the inspirational leader of the Real Madrid team of the 1950s, one of the best, and certainly one of the most successful, club sides of all time. It won five European Cups in a row, starting with the inaugural tournament in 1956. He was a centre-forward of versatility and authority: his greatness lay not only in his prolific goalscoring, but in his ability to influence play in all areas of the pitch in an era when players stuck to their positions and were relatively static. His stamina was legendary and even in his veteran years he could bring off a sliding tackle in his own penalty area, then in the next minute pop up at the other end for a shot at goal. This individual brilliance, combined with an imperious air, enabled him to orchestrate a team to play to his command.
The young Bobby Charlton watched Di Stéfano from the stands as a Manchester United reserve at Real's Bernabéu stadium in 1957, and later wrote that his first impression was: "Who is this man? He takes the ball from the goalkeeper, he tells the full-backs what to do; wherever he is on the field he is in position to take the ball, you can see his influence on everything that is happening … I had never seen such a complete footballer … It was as though he had set up his own command centre at the heart of the game. He was as strong as he was subtle. You just could not keep your eyes off him." Di Stéfano was not as naturally gifted as Pelé or Diego Maradona, but Charlton is one of many former players and managers who regarded him as the best all-round footballer in the history of the game.
Over a 20-year period, Di Stéfano was the guiding light of three teams in three countries: at River Plate, briefly, in his native Argentina; at Millonarios of Bogotá in Colombia; and then, most famously, with Real Madrid in his adopted Spain. Extraordinarily, he also represented all three of those countries, but despite his dominance at club level, Di Stéfano never played in the World Cup finals.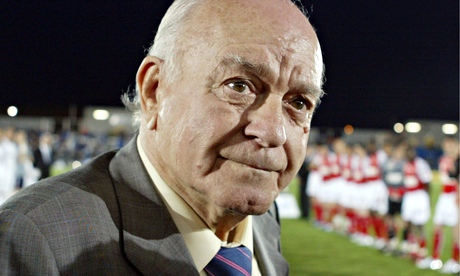 Di Stéfano was born in Buenos Aires, the grandson of immigrants from Capri and son of Alfredo Sr, also a footballer who had played for the Buenos Aires club River Plate, and his wife Eulalia, who was of French and Irish origin. He grew up and learned to play football in the streets of the working-class suburb of Barracas and later, after his father had retired from the game, on a farm on the edge of the city.
Curiously he was still in River Plate's third team at the age of 19, as an outside-right, and after quarrelling with the club over money he was loaned to the neighbouring Club Atlético Huracán. But River Plate soon took him back and he became a star, winning the Argentinian championship as top scorer in 1947, and nicknamed the Blond Arrow for his explosive speed. The same year he helped Argentina win the 1947 South American championship, scoring six goals in six matches – his only appearances for his native country.
In 1949, a footballers' strike in Argentina prompted Di Stéfano and many other Argentinian players to defect to a breakaway Colombian league that was outside the remit of Fifa and therefore not obliged to pay transfer fees, but able to pay big wages to some of the world's best players. Along with two other Argentinians, the legendary striker Adolfo Pedernera and defender Néstor Rossi, he joined Millonarios. There he won three league championships in four years and, despite the dubious status of the Colombian set-up, the team was considered one of the best in the world.
"We succeeded in building a team so strong and so homogeneous," Di Stéfano said, "that it was hard to find another like it." But Millonarios's bubble burst in 1953 when Colombia rejoined Fifa and Di Stéfano suddenly found himself without a club, and with heavy losses when he had to sell his property in Bogotá. On Millonarios's final tour of Europe, Di Stéfano ran rings around the Real Madrid defence, and the Spanish club coveted him from that moment.
His move to Spain was one of the most acrimonious and bizarre transfer deals in football history. Real wanted him and agreed a fee with Millonarios, but so did their bitter rivals Barcelona, who tried to outflank Madrid by agreeing a transfer with his former club River Plate, who still held Di Stéfano's official registration, claiming his move to Colombia had been illegal.
He eventually signed for Barcelona but the Spanish football federation failed to recognise the transfer and, in a Solomonic judgment, decreed that the two clubs share him and he play alternate seasons for each. Crucially, however – and the Catalan club claimed, with Francoist backing – the federation gave Real first bite. When Di Stéfano started his first season slowly, Barcelona were persuaded to sell their rights to the player – a decision they would regret.
Four days later he scored a hat-trick against Barcelona, and that was just the start. In just 30 games that 1953-54 season he scored 27 goals, leading Real to the Spanish championship for the first time in 21 years and sparking an unprecedented era of domestic and European domination. In 11 seasons at Real he won eight Spanish titles (he scored 218 goals in 282 games and was the league's top scorer in four seasons straight); five consecutive European Cups (scoring in all five finals); the inaugural Intercontinental Cup in 1960, played between the European and South American champions; and was named European Footballer of the Year in 1957 and 1959.
Real's apotheosis was the 7-3 victory against Eintracht Frankfurt in the 1960 European Cup final held at Hampden Park, Glasgow. In the autumn of his career he struck up a famous partnership with another great striker of the 1950s, the Hungarian Ferenc Puskás. Both were then in their mid-30s, Di Stéfano balding and Puskás with a pot belly, but that evening more than 125,000 Scottish fans were held spellbound by their sublime, almost exotic skill in what is still regarded as one of the greatest games ever. Di Stéfano scored three goals and Puskás four.
Di Stéfano scored 49 goals in 58 European Cup ties, a remarkable feat, while the sheer elan of the Real Madrid side quickly established the cup as the world's greatest club competition. Yet despite the dominance of both the player and Spanish clubs in European competitions, neither he nor Spain fared as well at international level.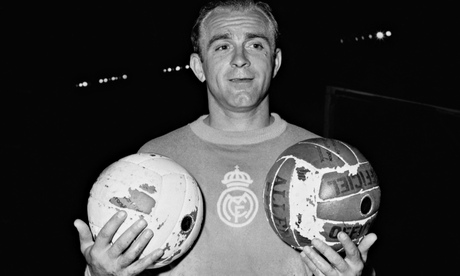 While he was still eligible to play for Argentina, their football federation withdrew from the 1950 and 1954 World Cups. In 1949, at Millonarios, he played four games for Colombia, though they were not recognised by Fifa. He took Spanish nationality in 1956, but his adopted country failed to qualify for the 1958 World Cup, and after helping them reach the finals in Chile four years later, at the age of 35, he was injured and did not play in the tournament, or again for Spain.
He never exerted quite the same influence or elicited the same success for Spain as with Real. Perhaps this was because he could not aspire to running the show, as he did with Real, when there was the twin presence of the powerful Barcelona midfielder Luis Suárez Miramontes and his mentor Helenio Herrera, the national team's flamboyant but defence-minded manager, a fellow Argentinian whom Di Stéfano could not abide.
But "Don Alfredo" never did share his podium willingly with anybody, as the brilliant Brazilian inside-forward Didi and the Swedish international centre-forward, Agne Simonsson, found when they joined Real Madrid after the 1958 World Cup, in which both had flourished. Di Stéfano practically refused to pass the ball to them and Didi would later complain that his time at Real Madrid was the worst of his career.
Even Puskás, a dominating figure himself, the captain and star of the dazzling Hungary team of the early 1950s, had to compromise and found his modus vivendi with Di Stéfano when, level on goals with him in the last league match of a Spanish season, he passed to let Di Stéfano score, rather than score himself.
On leaving Madrid in 1964, aged 38, Di Stéfano finally went to play in Barcelona, but for the city's "other" team, the royalist Real Club Deportivo Espanyol rather than Barça, one final rebuff for the fiercely partisan Catalan club.
Di Stéfano was a de facto coach on the pitch, so when he retired from playing, aged almost 40, moving into management was a natural progression. He managed eight clubs in almost 25 years (three of them on more than one occasion), guiding Boca Juniors and River Plate to Argentinian league titles, and Valencia to the European Cup Winners' Cup and Spanish title. He returned to his beloved Real Madrid in 1982 but that season ended in despondency when the team finished runners-up in five competitions: the Spanish league, the Copa del Rey, the Spanish Supercup, the Copa de la Liga and to underdogs Aberdeen in the European Cup Winners' Cup final.
However, despite his success as a coach, as with many great former players turned managers he felt like an impotent bystander on the touchline, once commenting that, "Apart from [the compensation of] working with the young," he said, "it's the most horrible profession that could exist."
In 2000 he was made honorary life president of Real Madrid, and in 2006 the club named a stadium at its new training facilities after him.
His wife Sara died in 2005; they had six children.
• Alfredo Stéfano Di Stéfano Lauhlé, football player and manager, born 4 July 1926; died 7 July 2014