When the Guardian's sports editor asked me to go to Brazil as a features writer during the World Cup, I reckoned that the biggest problem I'd have would be that I knew nothing about football. This turned out not to be a problem at all because I wasn't being sent there to write about the football – perversely, the editor reckoned that the dozen-and-plus-some specialist football writers he also sent would be the better bets for writing match reports than the one person who didn't even know that the World Cup is only once every four years ("Oh, like the Olympics!" I said to my new and very stoical sports colleagues. Behind them, I could see one of the Sun's blustery sports writers make a vom face.) No, my biggest problem turned out to be that I was almost arrested when I landed.
I was pleased to see there were several proper sports journalists on the plane from London, all also flying out for the World Cup. Oh yeah, Freeman, I thought to myself, you're rolling with the groovy sports kids now. When we landed in São Paulo, I sought out one of them, the esteemed Jonathan Wilson, and chatted confidently with him about my plans for the week as we walked towards passport control. Oh no, I wasn't too worried about my football ignorance – I had, after all, pretty much completed my Panini sticker album. Would he like to see? (He wouldn't.) These next few weeks were going to be a breeze, I trilled, as customs officers led me away, took my passport, my baggage and proceeded to detain me for the next 13 hours.
At first, I assumed the passport official might be one of the Guardian's below-the-line commenters who had already expressed rage that "the fashion girl had blagged a jolly to Brazil" (commenters can be sweetly incapable of telling the difference between "blagging a holiday" and "being sent on a work trip"). One friend suggested that this was Brazil's elaborate revenge plot on Britain after Metropolitan police detained Glenn Greenwald's Brazilian partner at Heathrow last year. In fact, it turned out to be a problem with my visa, but while this was the trip's only low point, it did confirm my fictional alter ego: I was William Boot of the World Cup.
This was also the moment I began to appreciate the power of football – or, to be more precise, Fifa. As I already mentioned, prior to this trip I had no interest in football, let alone knowledge of it. But despite this heresy, the god of football smiled on me forgivingly before I set off and whispered in my ear that I should print off the letter from Fifa announcing that I had been accredited to cover the World Cup. This turned out to be wildly fortuitous because it was only when I showed passport officials this letter that they began to give me a break.
Once I was allowed to leave the airport things quickly improved, mainly because none of it felt wildly unfamiliar. I have been at the Guardian for 14 years now, and for the first eight of those I covered fashion shows. My new sports colleagues visibly balked whenever I said this to them (meaning I said it often and loudly), but the truth is covering the World Cup is pretty similar to covering fashion weeks.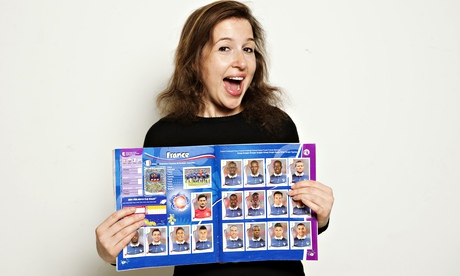 OK, there are some differences, the main one being that the celebrities and models you see at fashion weeks are always much tinier than you expect, but the athletes I saw at the World Cup were about twice as big as they look on TV (I actually think Thierry Henry might be a giant.) But really, sport and fashion journalists aren't that different in the sense that they are nominal adults who have managed to wangle a career out of something they quite enjoyed as teenagers. This achievement is not exclusive to fashion and sports writers: music and film hacks have also done this, for example. But sport and fashion always struck me as especially similar because (a) the subjects don't really have any cultural credibility and are riddled with drugs, eating disorders and bad behaviour, so are only justifiable by people's enjoyment of them and the money they bring, and (b) the people who write about these subjects have been frequently parodied in films and books, and those parodies are, to various degrees, pleasingly fair. Just as I once delighted in overhearing an American fashion journalist in Paris go nuclear down the phone at her poor assistant in New York for shipping over the wrong Balenciaga ankle boots, so I was pleased to eavesdrop on one particular English tabloid sports writer scream down his phone at his desk assistant in London to find a direct flight to Recife "or I'll go fucking ballistic". Like fashion weeks, the World Cup allows adults with responsibilities to duck out for a few weeks and live in a pretend world where they can geek out about their chosen subject as if it actually matters, before returning, sated and bleary-eyed, to their real lives. It's a bit like space camp for grownups.
At the World Cup, journalists fret over who has tickets to what event, press conferences are conducted in meaningless lingo, and hyper-sensitive emotions are taken as a given – so far, so fashion week. I was probably the only person at one of Roy Hodgson's many – indeed, seemingly hourly – sad press conferences to be reminded of Italian designer Roberto Cavalli, but that's only because the sports journalists never witnessed the designer weepily explain for 45 minutes that he was cancelling his show in a manner decidedly reminiscent of the owlish England manager announcing, post knockout, that he was in a "a realm of despair" – a description the Daily Telegraph's Matt Law rightly described as Ron Burgundy-esque.
But this is not to insinuate that sports journalists don't work hard, because they really, really do. One of my favourite online cartoons satirises the fatuity of sports cliches ("We sportsed our best and scored points, but the other team was sportsing, too, and they scored even more points"), and it's only by attending that I appreciated how hard sports writers have to work to make sports press conferences ("Do you think you will win the next match, Neymar?" "Yes") sound vaguely interesting. Unlike dilettante-esque me, most of the journalists out in Brazil will be there for the full five weeks. Many had also been away for five weeks to Australia in the winter covering the cricket, and some had also done two weeks in Sochi for the Olympics. I'm not entirely sure how any sports journalist has a functioning family life, but they seem to manage it. Fashion journalists also have to deal with long trips away: the women's ready-to-wear shows last five weeks, twice a year, and that's not mentioning the menswear shows, couture, and resort shows. But it is a rare fashion writer who does all the shows, because most fashion editors are women and are sympathetic to the need for being back home, whereas most sports editors are men who, according to some of the sports writers I talked to, are not.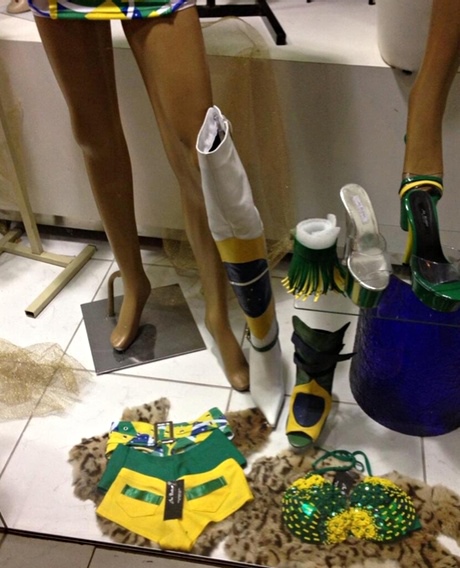 Which brings us to the big difference between fashion and sport: the gender balance. One connection between sport and fashion writing is that they come with very lazy gender assumptions: sportsing for the boys and lah-di-dah clothes for the gals. After having spent eight years going to fashion shows, I assumed I was well accustomed to working in an environment with gender imbalances, but I was wrong. Whereas at a womenswear fashion show, about a third of the audience will be male, at the World Cup, days – hell, weeks – would go by when I would be the only woman in any room or vehicle I was in. I was the only woman from the whole of Fleet Street out for the World Cup, and I wasn't even writing about the football. Occasionally, I'd spot another woman at a team training camp, and they were always – always – a glammed-up TV reporter, all prettified in high heels and heavy makeup, while all around them were slobby male newspaper reporters. "There are no mediocre female football writers – they all have to be very good or excellent. But there are plenty of average males ones," one sportswriter told me. When I was in Manaus, where England lost to Italy, the concierge told me I was the only woman in the whole hotel, which was otherwise filled with male England supporters. It felt a bit like crashing a really depressing stag weekend, but if no female supporters fancied spending five days at the Novotel in Manaus then that was their choice and more power to them. The lack of any female football writers out there was more bizarre, because they exist and yet almost none were sent to cover the biggest football event of the decade.
Since having come back to London, I've spoken to a few of these rare exotic birds – the Femaleus footballus writerus – and all have stories of casual sexism: being mistaken for tea ladies in the press centre; being condescended to by managers in press conferences; being demoted by their bosses when they have children, which is most definitely not a problem in the more female-dominated fashion business. But none of them want to complain because they don't want to sound like a victim, be treated as a token, or look as if they expect special treatment. When I asked the heads of sport at the BBC and ITV why they didn't have any women pundits, they said it was because they were covering a men's sport. But when I asked John Ashdown whether there were female sports writers at the women's World Cup when he covered it for the Guardian, he replied that it was pretty much all men there, too. No one seemed sure whether the relative scarcity of female football writers came from women being put off by the macho environment, or the macho environment weeding out the women.
One female football writer said to me: "I've been a sports writer for many years and nothing's really changed in terms of gender or diversity. Football is very slow to modernise. Why are all the English football journos almost exclusively white? And yet we write about black sports stars day in day out."
But I don't want to end my World Cup adventures on a downbeat note, because the weirdest thing of all about my trip was how much I enjoyed it. In fact, I loved it. It turns out that going to Brazil to watch the World Cup is extremely good fun (this may come as less of a revelation to every other person on the planet than it did to me). I loved the travelling, I loved the football writers (who were all, to a man, delightful) and, most astonishingly of all, I loved the football. In fact, I enjoyed it so much that at my last game I decided to record the moment. So, sitting at my seat in the press box, I held up my phone and took a selfie. As I lowered my arm, I saw the Sun's chief sports writer watching with a look of pure scorn on his face. William Boot's work was done, and it was time to go home.