André Villas-Boas has insisted that Tottenham Hotspur have "moved on" from Gareth Bale, who has finally completed his world-record €100m (£85.2m) transfer to Real Madrid.
Bale has signed a six-year contract at Real, which is worth £170,000 a week after tax, and he will be presented at the Bernabéu at midday BST Monday.
Arsenal, meanwhile, are attempting to sign at least one player from Madrid. They are in talks over a deal for the €45m-rated midfielder Mesut Ozil and they are willing to shatter their transfer record for the Germany international but would also be open to a season's loan. They also retain interest in Real's winger Angel di María and Palermo's goalkeeper Emiliano Viviano.
Bales's move was confirmed after Tottenham's 1-0 defeat in the north London derby, with the player quoted on Spurs' website as saying that it represented a "dream come true". The 24-year-old has been desperate to join Real and Real alone, and late interest from Manchester United made no difference to him.
It is understood that United had indicated a readiness to pay even more than Real for Bale and also include the striker Javier Hernández as a sweetener. But Bale had long since set his heart on the Bernabéu. United had their chance to sign him when he left Southampton for Tottenham in 2007 and Sir Alex Ferguson, the club's former manager, is on record as saying that the failure numbered highly among his regrets.
The Bale saga turned ugly at the very last, with the player refusing to report for training this past week, having already said his goodbyes to team-mates at the end of the previous week. Villas-Boas expressed his frustration on Wednesday, suggesting that Spurs ought to fine him, while the chairman, Daniel Levy, made his feelings perfectly clear in a statement issued by the club.
"Gareth was a player we had absolutely no intention of selling as we look to build for the future," Levy said. "He is a player whose career we have fostered and developed and he was only a year into his new four-year contract.
"Such has been the attention from Real Madrid, and so great is Gareth's desire to join them, that we have taken the view that the player will not be sufficiently committed to our campaign in the current season. We have, therefore, with great reluctance, agreed to this sale and do so in the knowledge that we have an exceptionally strong squad to which we have added no fewer than seven top internationals.
"More importantly, we have an immense team spirit and a dressing room that is hungry for success."

If that sounded uncharitable, Bale's comments to the Tottenham website were more conciliatory. He spoke of it being "the right time to say goodbye" after "six happy years" and he thanked everybody at White Hart Lane, particularly the "fantastic fans," who, he hoped, would "understand this amazing career opportunity". He added: "I know many players talk of their desire to join the club of their boyhood dreams but I can honestly say this is my dream come true."
Five of Tottenham's new signings played against Arsenal, although the midfielder Etienne Capoue suffered a nasty-looking fibula injury, the full extent of which will become clear after scans. Erik Lamela made his debut as a substitute and Villas-Boas has Vlad Chiriches and Christian Eriksen, who signed on Friday, to come. He admitted that the change to his team was marked and they would need time but he expressed his confidence for the future because "the ability is there".
"The Bale situation hasn't really had an effect on us," Villas-Boas said. "The player is going to join Real Madrid and we wish him all the best. He has moved on and we move on as well. We've moved forward with our work and our transfer activity. Did we miss him today? Yes, but it's part of change.
"It raises anxiety in people but we have to move forward. We have great confidence this could be our season. Tottenham has made some great reinvestments with the money that will come from Gareth Bale."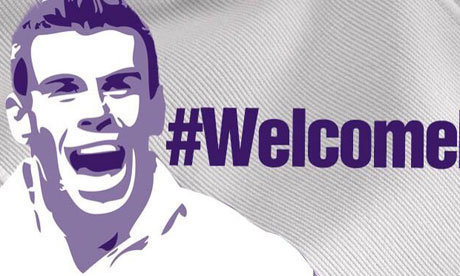 Arsène Wenger enjoyed what he described as a "convincing win in a very intense game" and the Arsenal manager will now attempt to strengthen his squad before the closure of the transfer window on Monday night.

"We need one or two super players and we will try to add that," he said. "There are 24 hours left. Maybe we can surprise you, maybe not. I am ready to pay what we can afford. Even if it is a bit over the market, as long as it is not crazy … It is a little bit a domino game. It is very difficult to predict."