Arsène Wenger has revealed Arsenal are close to signing striker Yaya Sanogo from Auxerre. The France Under-21 international is out of contract with Auxerre but Arsenal would need to pay compensation under the Bosman ruling.
"We are advanced with him, but it is not done," said Wenger. "I am very confident. He is a young striker who is promising, and has a big talent."
Arsenal are expected to strengthen the squad during the summer, with a reported £100m to spend in the transfer market. It has been suggested that Wenger is considering a move for Wayne Rooney, but the manager refused to be drawn on whether Arsenal would be moving for the Manchester United striker, who has put in a transfer request.
Asked if his club could afford Rooney, Wenger said: "That is not even a question at the moment. We have not gone into that. At the moment we have no interest in anybody, we have only one interest and that is of course Sunday's game."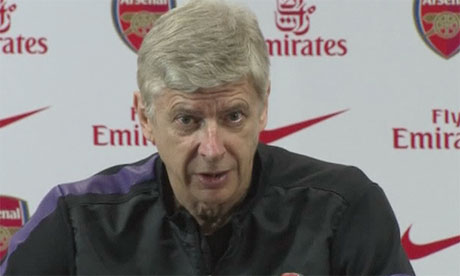 Arsenal knowing victory at Newcastle United will secure qualification for Champions League next season and leave Tottenham in the Europa League. "I know for a long time that for us, when we were seven points behind, we would all be happy that it goes to the last day," Wenger said. "We are in a position where nobody expected us to be. We have our destiny in our hands, our fate in our hands and that's what you fight for in the game. It is a game that we will now want to win but at least we fought back to be in a position where we master our own fate."
Arsenal look set to be without the midfielder Mikel Arteta, who is struggling with a calf injury. Jack Wilshere, the England international set for summer surgery to clear up a niggling ankle problem, is on stand-by.
"I have a few options. I've not made a decision yet because I have to see how everybody responds in training," Wenger said. "I will make a very late decision on that problem. First I have to wait if Arteta is completely out and after that I will decide how I build the team certainly very late."
The striker Olivier Giroud will return for selection following his three-match suspension.